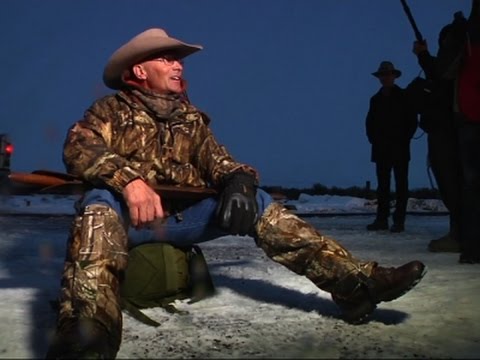 View 8 Items
Associated Press

BURNS, Ore — Days into their takeover of a federal wildlife refuge, protesters were still standing their ground late Tuesday afternoon.
The following are links to and excerpts from published articles, as well as information to help readers understand the basics of the takeover.
Background
Demonstrators first took part in a "peaceful rally over the prison sentences of local ranchers" Dwight and Steven Hammond, according to the Associated Press.
A splinter group of about a dozen protesters then organized and occupied the headquarters of the Malheur National Wildlife Refuge in Burns, Oregon. The group is led by Ammon and Ryan Bundy, sons of Cliven Bundy, who made national news in 2014 during a weeks-long armed standoff with federal officials over grazing rights.
The Hammonds, the ranchers who were the subject of the initial protest, were recently ordered by a judge to serve four years prison time in addition to initial sentences of three months for Dwight and one year for Steven.
Three years ago, the Hammonds were convicted of arson for setting fires in 2001 and 2006. In October, an appellate judge ruled that the prison terms served did not meet federal minimum sentencing requirements.
The Hammonds turned themselves in to authorities Monday and said they did not ask for the protests.
Protesters claim to be prepared to stay on the property for years (although, according to Upvoted, the group, dubbed by some as "Ya'll Quaeda," was petitioning for help with snacks on Tuesday).
Town watches warily as armed protesters take over refuge
BURNS, Ore. — People in this rural eastern Oregon town are used to worrying about friction between the federal government and locals, but the armed takeover of a nearby national wildlife refuge is raising concerns to a new high.
Keith Landon, a longtime resident of Burns and employee at the Reid Country Store, said he knows local law enforcement officials who fear their kids will be targeted by angry militia members.
The mother of one of his kids is now involved with an officer, and they decided to send their children to another town after feeling threatened by an angry protester, Landon said.
"I'm hoping most of it's just muscle, trying to push," he said. "But it's a scary thing."
Armed protesters, who authorities say are coming from outside the area, took over the Malheur National Wildlife Refuge south of Burns on Saturday after participating in a peaceful rally over the prison sentences of local ranchers Dwight and Steven Hammond.
— Associated Press
LDS Church condemns seizure of Oregon federal facilities by militia citing Mormon beliefs
SALT LAKE CITY — LDS Church leaders on Monday plainly and roundly denounced a militia whose organizers cited Mormon scriptures in the months before they seized a federal facility in Oregon on Saturday.
"While the disagreement occurring in Oregon about the use of federal lands is not a church matter," the church said in a statement, "church leaders strongly condemn the armed seizure of the facility and are deeply troubled by the reports that those who have seized the facility suggest that they are doing so based on scriptural principles. This armed occupation can in no way be justified on a scriptural basis. We are privileged to live in a nation where conflicts with government or private groups can — and should — be settled using peaceful means, according to the laws of the land."
Ammon and Ryan Bundy, who are Mormons, are leading a hastily organized militia group of 15 in an occupation of the headquarters of the Malheur National Wildlife Refuge in Burns, Oregon. The group is protesting the treatment of two ranchers in the eastern Oregon area.
The ranchers did not request the brothers' help.
— Tad Walch
Oregon showdown echoes Utah frustration over Western lands fight
SALT LAKE CITY — Some of the same armed protesters who seized an Oregon wildlife refuge took part in an illegal ATV ride in southeastern Utah to protest federal land management practices in 2014.
The ride that San Juan County Commissioner Phil Lyman led in Recapture Canyon came on the heels of rancher Cliven Bundy's confrontation with the Bureau of Land Management in Bunkerville, Nevada. Bundy's son, Ryan Bundy, was among those who showed up at the canyon protest.
"It was very close to becoming one of these more troubling encounters and confrontations between law enforcement and armed extremists," U.S. Attorney for Utah John Huber said Monday.
He said it would be too strong to say organizers of the ATV ride invited or solicited the Bundy supporters' participation, but not an overstatement that they were welcomed.
"Some of the same characters you see in Burns, Oregon, and in Bunkerville, Nevada, were right here in southeastern Utah at the Recapture Canyon ride," Huber said on KSL Newsradio's "The Doug Wright Show." "These situations are very delicate and very unpredictable."
— Deseret News
In our opinion: Oregon lawbreakers are not friends of liberty
The people forcibly occupying a federal wildlife refuge facility in Oregon are lawbreakers, not friends of liberty. Despite their protestations, they are not patriots standing in defense of the Constitution.
That is an important distinction for any who might be confused about how to settle differences in a nation controlled by laws. Myriad legitimate ways exist to change laws or challenge their validity. Mob action is not one of them.
And while a building on the Malheur National Wildlife Refuge may not be the most important of federal properties, this armed action — as with the one sympathizers staged in southern Nevada in 2014 — sullies the real concerns many people have with the way Washington manages its vast holdings in the West.
Those concerns are important to Utah, where the federal government owns 67 percent of the state.
— Deseret News
Truck blocks entrance to US land as armed standoff persists
BURNS, Ore. — A pickup truck blocked the entrance Tuesday to a national wildlife preserve where a small armed group upset over federal land policy has occupied the frozen swath of remote Oregon since the weekend.
From a watchtower, a member of the group looked out over the snowy grounds. The activists who came to the Malheur National Wildlife Refuge were bundled in camouflage, ear muffs and cowboy hats in the bleak, high desert of eastern Oregon where they seemed more likely to encounter wildlife than people.
That may be a key reason why law enforcement has not taken action against the group of about two dozen activists opposing the imprisonment of father-and-son ranchers who set fire to federal land.
"These guys are out in the middle of nowhere, and they haven't threatened anybody that I know of," said Jim Glennon, a longtime police commander who now owns the Illinois-based law enforcement training organization Calibre Press. "There's no hurry. If there's not an immediate threat to anyone's life, why create a situation where there would be?"
— Associated Press
Armed group in Oregon fears raid; critics decry goals
BURNS, Ore. — The small, armed group occupying a remote national wildlife preserve in Oregon has said repeatedly that local people should control federal lands a sentiment that frustrates critics who say the lands are already managed to help everyone from ranchers to recreationalists.
With the takeover entering its fourth day Wednesday, authorities had not removed the group of roughly 20 people from the Malheur National Wildlife Refuge in eastern Oregon's high desert country. But members of the group some from as far away as Arizona and Michigan were growing increasingly tense, saying they feared a federal raid.
Arizona rancher LaVoy Finicum said Tuesday evening that he believes federal officials have issued warrants for the arrest of five group members including himself and Ammon Bundy but Finicum offered no details.
The FBI in Portland referred calls to the Harney County Joint Information Center, which said in a statement it had no information on arrests or arrest warrants and that authorities were "still working on a peaceful resolution."
— Associated Press
Twitter: whitevs7