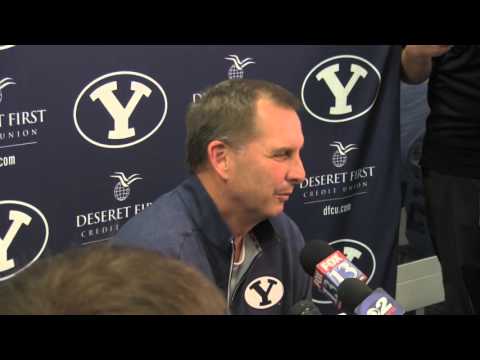 View 16 Items



PROVO — Whether it was talking about their thoughts on schemes and recruiting, or fielding questions about personnel and what brought them to Provo, new BYU football assistant coaches Ty Detmer, Ed Lamb and Ilaisa Tuiaki spoke with the Utah media Tuesday for the first time since their hires.
Detmer took home quote of the day honors when he was asked about Cougar quarterback Taysom Hill. Hill's status is currently up in the air, as he weighs his options after suffering a season-ending Lisfranc injury in BYU's opener at Nebraska.
"He's probably the greatest athlete to play the quarterback position here, no offense to Steve Young. Taysom's put together a lot better than Steve was," Detmer said. That elicited an "ooh" from a couple of the media members in attendance.
"(Steve) would give me a hard time about my chicken legs," Detmer quickly quipped, "so I've got to take my shot while I can."
Detmer, BYU's new offensive coordinator, then emphasized he would like Hill to stay in Provo.
"Taysom's a great player, we want him back. He's been a leader for this team and this unit," he said.
Watch the full media sessions for Detmer, Tuiaki and Lamb here.
Email: bjudd@deseretdigital.com; Twitter: @brandonljudd