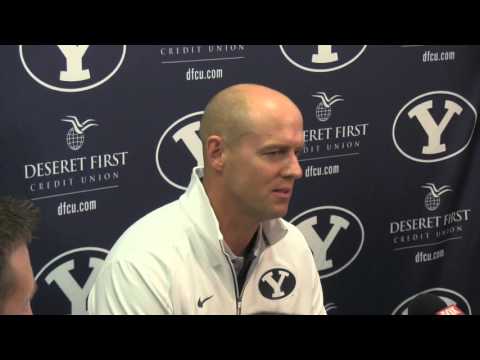 View 16 Items



There's going to be some learning curves and some things that come up that I haven't been involved with before on that side of things at this level. But I feel like that with the guys we're going to have around me and around our staff that I'll be a quick learner and hopefully we'll overcome those things.

—New BYU offensive coordinator Ty Detmer
PROVO — Having won the Heisman Trophy 25 years ago at BYU, Ty Detmer is regarded as a legend here.
Cougar Nation has dreamed of him returning to his alma mater in some capacity and, on Christmas Eve, BYU announced that Detmer had decided to join new head coach Kalani Sitake's staff as the offensive coordinator.
"With my age, I'm feeling like, if you're ever going to do it, now's the time," Detmer, 48, said Tuesday. "Things fell into place and I felt really comfortable with coach Sitake and everybody that's coming on board. You pray about it and you get those answers. I felt like it was the time."
Detmer was formally introduced to the media Tuesday, along with the other two members of Sitake's new staff — assistant head coach Ed Lamb and defensive coordinator Ilaisa Tuiaki. Sitake and his three assistants met with BYU players for the first time Tuesday.
In addition to spending a lot of time away from his family, Detmer is making other sacrifices, such as leaving behind his high school coaching job in Texas as well as his beloved ranch — where he loves to hunt — to take on this new challenge.
But Detmer is determined to commit himself fully to BYU.
"I wouldn't be here if I wasn't. I know what I'm getting into," said Detmer, who explained that his family will remain in Texas until July, when his wife and children will move to Provo. "I'm prepared to do whatever I need to do to see things continue to be successful here … I made the commitment to come here and be the best coach I can be. With that, you give up other things that are maybe aren't as important at this time."
During the 20-plus minutes that he fielded wide-ranging questions from reporters, Detmer revealed that the plan is for him to also serve as quarterbacks coach. He intends to bring back the tight end as a weapon in the BYU offense and he's actively recruiting quarterback Taysom Hill.
Meanwhile, Detmer admitted that going from being a high school coach, as he has done the past six years, to coaching at this level is "a big jump" — and it played a role in what was a "really tough" decision to return to his alma mater.
"I was well-aware of the pressures here and the scrutiny that may come with (the offensive coordinator job)," Detmer said. "But I felt like that given the opportunity, and people believed in me that we're going to jump right in and go to work. There's going to be some learning curves and some things that come up that I haven't been involved with before on that side of things at this level. But I feel like that with the guys we're going to have around me and around our staff that I'll be a quick learner and hopefully we'll overcome those things."
Nobody knows yet what kind of offensive coordinator Detmer will be at the collegiate level, but certainly, there's an aura around him.
"I'm still star-struck. I'm still a fan," Tuiaki said of his fellow coordinator. "It's awesome to be around a legend like that. And he's a great person, which adds to it."
"My time at BYU was just after Ty Detmer's," Lamb said. "And now all of the sudden, I'm sitting in a meeting or having lunch with a Heisman Trophy winner. If you know Ty, you'd never guess that he's had that kind of NFL success or collegiate success. He's a very down-to-earth guy."
While Detmer is happy to have quarterback Tanner Mangum on the roster, he's hopeful that Taysom Hill, who suffered a season-ending injury in the season opener against Nebraska, will play one more season for the Cougars. As a senior graduate, Hill could transfer and play immediately elsewhere.
"The conversations have been great with Taysom. He's a great person and I've had a relationship with him over the last couple of years," Detmer said. "I've really appreciated what he's brought to the program. I definitely hope he's back. We want him here."
Detmer was impressed with the way Mangum played last season as a freshman, only months removed from missionary service.
"Tanner's a very poised young man. He's been on a mission and he's a little older than a typical true freshman," he said. "To come in and have to play in that situation, it was remarkable what he did. He didn't have an offseason to get ready. I can't say enough good things about the way he handled himself and the way he played. I know he's excited to have an offseason and get his body going and get his feet underneath him for the next year."
Detmer loves the idea of having both Mangum and Hill at his disposal.
"If Taysom comes back, I fully expect those two to push each other. I'd love to have Taysom. Two guys are better than one, I know that. Nothing's been set in stone. Nobody's been promised anything. We want both guys back and they ought to push each other and work together through this whole thing and support each other."
Lamb said that he's had conversations with running back Jamaal Williams, who withdrew from school last August. "I did speak with Jamaal a few days ago and he was really excited about being here," Lamb said.
What kind of offense will Detmer run at BYU?
"As a coach, it's my job to figure out what we have to work with and then scheme around those guys," he said. "There are certain things you come in with an idea you'd like to do but as you go through spring ball and you get an idea of what those guys can do best, then we'll tailor the offense around that skill set."
Detmer explained that he wants balance on offense.
"People have the impression that we threw it every down back (when Detmer played)," he said. "There were games where we did have to throw it 30 or 50 times. But for the most part it was 25-30 and we ran the ball. There's been thousand-yard rushers here. You want to be balanced. In today's game, you have to keep the defense honest ... and move the football. We'll take our shots. But I'd like to see more use of the tight end. There'll be some two-back and we'll get to multiple formations. As I told the guys this morning, if you can play, we'll find a spot for you and we'll create some opportunities for you."
On the defensive side, Tuiaki has been running a 4-3 defense for years while BYU has been running a 3-4. He explained that he'll implement a defense that best fits the personnel.
33
comments on this story
"For the last 10 or 11 years, the recruiting has been for the 3-4 or the 3-3-5," he said. "We've got to make sure we do what's best for the kids and what fits the personnel first. We've got different ideas for doing a little bit of both."
Both Tuiaki and Detmer are interviewing candidates for the other assistant coaching positions.
Tuiaki said he would like to have the defensive staff set "as soon as possible, but I don't want to put a deadline to it because we want to make sure it's the right fit and the right guys. We're still working through that."
EMAIL: jeffc@deseretnews.com