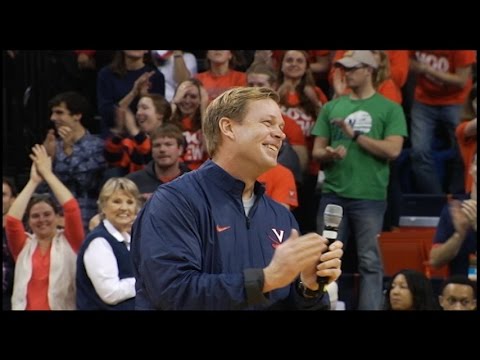 View 2 Items

His introductory press conference was more than three weeks ago, but on Wednesday, former BYU football coach Bronco Mendenhall got to address fans of his new employer, the University of Virginia, for the first time.
Appearing at center court during halftime of the fifth-ranked Cavaliers' men's basketball game, Mendenhall spoke for about 90 seconds.
"What I promise you is that there won't be anyone that will work harder than I will, and I only know winning football," he said. "I don't know what it's like to be home in the holidays. Bowl games happen with this program. If the past is any indication, 11 years as a head coach, 11 straight bowl games, and why not start making it 12 this next season?"
BYU Athletics' Kalani Sitake throwback feature
Back in 2000, Kalani Sitake was a rather unheralded fullback playing for the pass-happy BYU Cougars.
He was a team captain, however, and a story written then by Byron Goodrich of BYU Athletic Media Relations highlighted the importance of his leadership.
Sitake, of course, is the Cougars' new head coach. The story was posted on the BYU Athletics website Wednesday.
"Kalani has made a major impact on this team," then-head coach LaVell Edwards said. "With the nature of his position, you don't get the ball very much." Edwards continues," But he is a great blocker and a very good pass receiver. He's a great leader both on and off the field."
Danny Ainge discusses Kobe Bryant
Los Angeles Lakers guard Kobe Bryant played in Boston for the final time Wednesday night, writing one final chapter against the rival Celtics.
Earlier in the day, a story by CBS Sports' Ken Berger featured former BYU star and current Celtics president of basketball operations Danny Ainge discussing his first impressions of Bryant.
As the head coach of the Phoenix Suns back in 1996, Ainge attended a pre-draft workout of Bryant's, and on Wednesday he recalled how impressed he was with the teenager.
"Here was an 18-year-old who was so skilled, competitive, driven, so athletic, so bright," Ainge said. "I can still picture the workout today, and that's always just stayed with me — how driven he was. You could see it. You could see his talent and potential, and I've always admired his work ethic, and his greatness. It's been fun to watch."
Ryan McDonald is a sports reporter at DeseretNews.com. Follow him on Twitter @ryanwmcdonald.