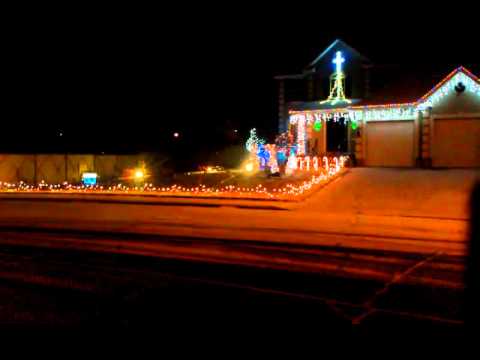 View 6 Items


SPRINGVILLE — Most of us throw up some Christmas lights, plug them in and poof, you have Christmas lighting. Others go to extremes, like spending over a year and 1,000 hours of design work and planning, like Jim and MaryJane Hewitt of Springville.
A few years ago, they had heard about someone in Meridian, Idaho, who had put music to their Christmas lights. After going to witness it for themselves, they were hooked. They decided to do it — some day.
Last year, though, they began to seriously think about doing the same thing. So, Jim Hewitt, an engineer for 30 years, and MaryJane Hewitt, a lifelong musician, who live in my neighborhood, decided to embark on a grand Christmas lighting project.
Once Jim Hewitt decided on the size and type of light display they wanted, he did the research, wrote a family proposal and created an estimated budget. Hewitt sadly discovered that his initial budget was too high.
"I broke the display into a base set with annual expansions and recalculated the budget," he said. "With that, I was able to get agreement/approval from MaryJane."
Once Jim and MaryJane agreed on the new budget, they developed an intensely detailed plan with specific monthly objectives. According to Jim Hewitt, he used Microsoft Excel to create 130-plus individual sheets for each aspect of the project.
"Yeah, I'm weird," he said. "I followed what in software development is loosely called the EVO process: It is an outward spiral of analysis, design, implementing, testing and then repeating back into ever more or larger features. At the end of each (informal) cycle, I paused to revise, refine, update the plan for the next step. Repeat until done."
The most difficult part of the project was to keep within the set budget he and his wife initially put together.
"Actually," he said with a chuckle, "I am under budget, but I am over years, meaning that I have actually completed and burned through the budget for the planned first three years (and this is only year one). So, for Christmas presents, we might be sending out Christmas cards with the printed URL to the YouTube videos of the light show."
Choosing and sequencing the songs was a joint affair. They watched videos of other people's music selections and lights. They listened to a particular song "about 10 to 20 times," identified the various beats, wrote down impressions about what they heard and typed the lyrics. Once they identified key verses or other parts they wanted to repeat, they, according to Jim Hewitt, "began assigning certain light and element patterns to them and replicating where they repeat."
It's tedious work to sync a song to lights. They "banged one song out in about two hours, but another took perhaps 10-15 hours total. It takes a lot of patience," he said. "I look for a song with a strong beat or repetitious theme."
Despite the success of the project, their family gave them a bit of grief because of the amount of time they put into this musical extravaganza. But for Jim Hewitt, this project could be listed as a personal hobby.
"Few of my other hobbies have been so grand," he said, "but I absolutely love learning, and when I get into something, I really get into it."
And lighting was one of those things he got into. Everyone knows that songs have a boatload of notes. For him, syncing the music with the lights required a software package and a ton of time. First, he created a grid of squares, one line for each light or element, and one column for each event time in the song. Every light is timed to come on for a certain amount of time and then off for a certain time.
He mentioned each light string is plugged into one channel and that affects the control. For their show, they put approximately 175 channels in operation. But they had to be careful to schedule everything so they wouldn't come on simultaneously, because that would have popped one of the circuit breakers.
One of the most amazing synchronizations is the inflated airplane, strategically placed on a beautifully lighted runway.
When explaining it, he was quite matter of fact.
"That is one that looks so much better than the technology I used to create it," he said. "It is simply an inflatable Santa that I control just like a light. I have a special relay, controlled to pass 120v or not pass it (no dimming on this one). If I turn it off, he deflates. On, and he inflates, staying up as long as I leave it on."
Actually, they attempted to keep the Santa as invisible as possible until he suddenly appears in all of his splendor at once.
"We timed it carefully so he's inflated when the lights come on, but it can be changed if he gets too much snow on him, thus I have to de-ice him every now and then," he said.
Why go to all that trouble? He quickly answered, "Mostly for ourselves. We wanted to do it to be able to do it in future years and to see it. We also knew it would bring joy to many other people who watch it."
How do you broadcast a Christmas show? The sign on the Hewitt's lawn answers the question: "Tune to FM 106.9." While there really isn't an actual FM 106.9 in the area, the Hewitts operate the station under the FCC unlicensed operation of "Low Power Broadcast Radio Stations." Thus, FM 106.9 only plays music when he opens up the station.
So, if you want to experience an incredible Christmas light show, drive over to 1761 Cobblestone Road in Springville, pull off to the side of the road, turn your radio to FM 106.9, sit back, relax, and listen to the glorious tunes as the Christmas lights dance to "We Three Kings," "Wizards in the Snow," "Santa Claus is Coming to Town" and others.
See facebook.com/Hewittlights5 for more information about their light show.
Hewitt Christmas lights: 'We Three Kings'
Hewitt Christmas lights: 'Santa Claus is Coming'
An Idahoan, Darrel Hammon likes being outdoors, growing things and seeing things the way they could be. You can read more of his musings at darrelhammon.blogspot.com. He and his wife served a mission in the Caribbean Area Welfare Office.