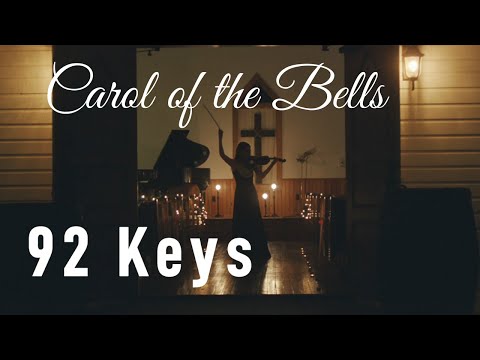 View 4 Items
92 Keys

Brigham Young University-Idaho student Crista Guthrie and 92 Keys pianist Trevor Loucks recently released a cover of "Carol of the Bells."
The video features the two musicians playing the arrangement at Still Water Hollow in Nampa, Idaho, where they both reside. Although the dominant tune is the "Carol of the Bells," violinist Guthrie also adds themes from "Away in a Manger," transitions into a variation of "River Flows in You" and plays part of a rhythmic motif from Niccolo Paganini's 24th Caprice for Violin in her arrangement.
"I love adding elements of classical music into arrangements like this because it sort of reminds me that amazing composers only existed 100-200 years ago, and I only find it fair to continue to incorporate their ideas into new music," Guthrie said.
Guthrie, who has played the violin since she was 3, is studying violin performance at BYU-Idaho and a member of The Church of Jesus Christ of Latter-day Saints. Although she wrote her own violin arrangement, Loucks, a pianist and the founder of 92 Keys, arranged the music for the video. He is also a Seventh-day Adventist.
Both Loucks and Guthrie expressed gratitude for the support the group has received.
"Thank you to all of you who have supported us. It means more than you probably realize," Loucks wrote on the 92 Keys website.
The song has more than 150 beats per minute, and it is the pair's first Christmas song, according to 92keys.com. Although they began arranging the song in April, the video wasn't released until Tuesday, and it garnered more than 195,000 views in six days.
Watch the complete music video on YouTube here.
Email: ajohnson@deseretdigital.com
Twitter: @axelrad_