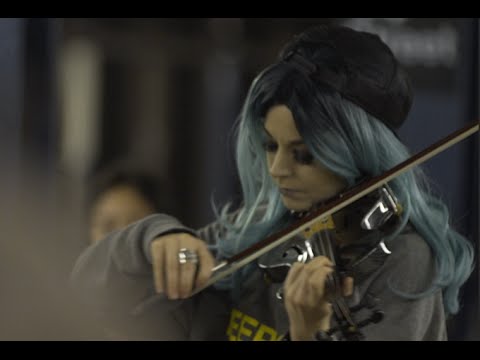 View 2 Items

Monday's contribution to the LDS Church's "12 Days of Social" campaign came from dancing violinist Lindsey Stirling. The video shows a disguised Stirling performing "Hallelujah" in a subway station, where no one recognizes her or acknowledges the Nativity scene she has placed on the ground in front of her.
Intermixed with the subway scenes, the video also shows clips of Stirling meeting fans throughout the world. At the end of the video, the camera zooms in on the Nativity scene and poses the question, "Do you see the gift?"
Stirling, who has been open about a battle with anorexia, concludes the video by sharing memories of her personal struggle with self-worth and how her knowledge of Jesus Christ has helped her.
"There is one person that I have learned always sees the beauty in us, and that's our Savior Jesus Christ," Stirling said. "And this is the time of year that we have the opportunity to celebrate his birth, and he was the greatest gift that we have ever been given. And his gospel allows us the knowledge to know that we can be with our loved ones forever. And in my darkest moments, Jesus Christ has given me hope. ... Please know that there is a gift inside of you. He sees it. I see it, and I really hope that you can see it."
Stirling has more than 7.3 million subscribers on YouTube.