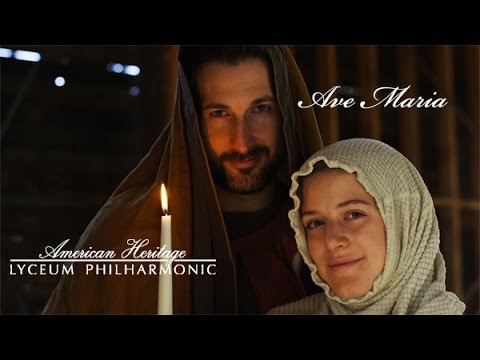 View 2 Items

The fourth day of the LDS Church's "12 Days of Social" campaign features Lexi Walker and the American Heritage Lyceum Philharmonic performing "Ave Maria." Walker, a 13-year-old soloist from Cottonwood Heights, Utah, joins fellow teenage musicians ranging from ages 14-18 in performing the popular composition.
As part of the "12 Days of Social," at the end of the video, Walker and orchestra director Kayson Brown invite viewers to watch the "A Savior is Born" video recently released by The Church of Jesus Christ of Latter-day Saints.
"Be sure to check out 'A Savior is Born,'" Brown says. "This is the new video that the LDS Church has put out to help remind us all to keep Jesus Christ in Christmas. That's why we made this video for you. Really, that's what this season is all about."
Walker is well-known for her performance of "Let It Go" in Alex Boye's video of the "Frozen" hit that collected more than 73.8 million views. Her rendition of "The Star-Spangled Banner" at a Real Salt Lake Game in 2013 has garnered more than 3 million views.
The American Heritage Lyceum Philharmonic is an orchestra program hosted by American Heritage School and is "open to students regardless of where they attend school," according to the orchestra's website.
The video shows actors playing the roles of Joseph, Mary and baby Jesus. Another recognizable face, LDS actor and singer Dallyn Vail Bayles, is featured in the video as Joseph. The video was directed by Wilson Hansen.
All videos released as part of the "A Savior is Born" initiative can be viewed on mormon.org.