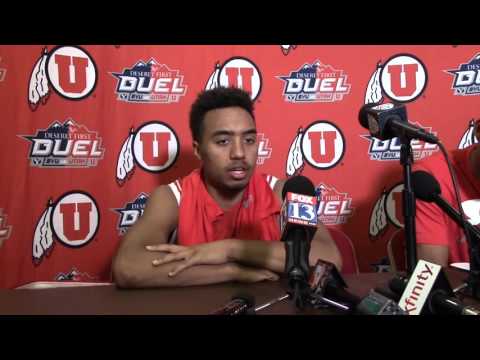 View 50 Items


I saw him basically punch Brandon then tell him to stay on the ground after he punched him. That's what got my undies in a little bit of a bunch. Crazy things happen in this game and I just hope that's something we would never do.

—Utah coach Larry Krystkowiak said of Emery's punch
SALT LAKE CITY — Utah won the battle over BYU Wednesday night, but after the Utes' 83-75 victory, everyone was talking about the punch thrown by BYU freshman Nick Emery on Utah senior Brandon Taylor late in the game that sent Emery to the showers early.
The Utes were leading 80-64 with 1:50 left on a 3-pointer by Kyle Collinsworth when Emery knocked Taylor to the floor under the BYU basket. The crowd went wild as did Utah coach Larry Krystkowiak, who said he saw the punch "live.''
"I saw him basically punch Brandon then tell him to stay on the ground after he punched him,'' Krystkowiak said. "That's what got my undies in a little bit of a bunch. Crazy things happen in this game, and I just hope that's something we would never do.''
Emery was assessed a flagrant 2 foul and ejected and was showered with boos as he walked off the floor.
"It was a dirty play and I don't have respect for guys like that,'' said Taylor, who added that Emery made a comment to him afterward. "I'm not going to repeat it. Not only did he hit me, but he said something very foul, I'm going leave it at that.''
BYU coach Dave Rose apparently didn't see the play, but was told by the officials that it was "an easy call'' to make. Some on the BYU side said that Taylor had shoved Emery with a forearm before the punch.
As he was leaving the press conference, Krystkowiak reminded the media that another BYU player, Eric Mika, was ejected in the game two years ago in Salt Lake.
POELTL COMES UP BIG: The Utah basketball team counted on hot shooting in the first half, but when Utah shooters went ice cold in the second half, they relied on, who else, center Jakob Poeltl to pull them through in the victory over BYU.
The 7-foot sophomore from Austria scored 26 points and grabbed 13 rebounds while blocking five shots. He decisively won the battle of centers decisively against BYU's Corbin Kaufusi, who went scoreless on 0-of-3 shooting with zero rebounds.
"He was solid from the beginning,'' said Krystkowiak. "Jakob does a nice job in the post and he did exactly what he needed to. It all did start with Jakob, no question about it.''
Poeltl had 12 points, seven rebounds and two blocks in the first half when the Utes relied on the shooting of their outside players, who sank 8 of 19 3-pointers.
Poeltl put an exclamation point on his outing with an authoritative block of a Chase Fischer shot with 4:27 left, swatting the ball into the BYU cheerleaders.
OGBE GETS START: It was a surprise to most fans when Kenneth Ogbe was announced as the starter for Utah against BYU. After all, the junior from Germany hadn't played much this year after coming off a groin injury, getting into just three of the Utes' six games and averaging 3.7 points.
But Ogbe helped get the Utes off to a quick start in their victory as he scored 11 points in the first half when the Utes raced out to a 23-point halftime lead, making 3 of 5 3-pointers. Just as important was his defense on BYU's senior guard Chase Fischer, who came in averaging 11.4 ppg, as Fischer went scoreless in the opening half.
Krystkowiak said his starting lineup isn't set in stone and that he started Ogbe because of his 6-foot-6 height to defend BYU's shooter.
Ogbe got in foul trouble and didn't play much in the second half and finished the game with 13 points.