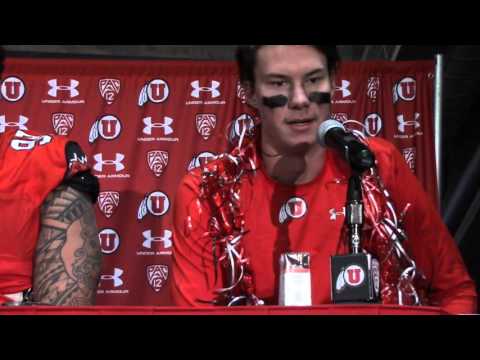 View 95 Items


It's been a good season . . . the first time we got six wins in the Pac-12. I looked at the stats and in 123 years of Utah football there's only been six times there was a 10-win team and so hopefully we can be the seventh.

—Kenneth Scott
SALT LAKE CITY — Despite an injured foot that left him hobbling as he headed for the locker room, Utah receiver Kenneth Scott noted the significance of Saturday's 20-14 win over Colorado at Rice-Eccles Stadium.
"It's been a good season . . . the first time we got six wins in the Pac-12," Scott said. "I looked at the stats and in 123 years of Utah football there's only been six times there was a 10-win team and so hopefully we can be the seventh."
The Utes (9-3, 6-3) can reach the milestone with a victory in a yet-to-be-determined bowl game.
"I am so proud of our seniors and so very happy for those guys. They deserve this. They deserve to go out on a winning note to end the regular season," said Utah coach Kyle Whittingham, who added that being co-champions of the Pac-12 South (with USC) is a great accomplishment. "It was a nine-win regular season, which is an all-time high since joining the Pac-12. I just can't say enough good things about those guys."
Whittingham praised the seniors, who were honored in pregame ceremonies, for their leadership, work ethic and determination in leading the Utes through the journey.
However, capping off Utah's most successful Pac-12 season since joining the conference in 2011 proved to be a challenge. For the fifth consecutive year, the game between the Utes and Buffaloes was decided by seven points or less.
Every year, Whittingham explained, seems to be a battle.
"They play very hard and they are well-coached. They have gotten better every year by my estimation — but sometimes you record doesn't reflect that," he said. "They took USC and UCLA right down to the wire. I have a lot of respect for coach (Mike) MacIntyre and what he is building there."
Colorado finished the season 4-9 overall and 1-8 in Pac-12 play. The Buffaloes were in contention right down to the end, although the Utes never gave up the lead.
"I'm really happy with how we finished and just happy the seniors could get a win on their last day here," said Utah quarterback Travis Wilson. "It's definitely an emotional day and it's crazy to think this is my last game at Rice-Eccles. But I'm glad we got to end on a high note."
Running back Joe Williams led the offense with 187 yards rushing and a touchdown while linebacker Gionni Paul finished with a game-high 13 tackles for the defense.
Despite turning the ball over three times (two fumbles and an interception), Utah led 10-7 at halftime. The Utes scored on 16-yard touchdown pass from Wilson to Scott in the first quarter and on a 37-yard field goal by Andy Phillips in the second.
The Buffaloes cut into the 10-0 deficit late in the half with a 28-yard scoring strike from Cade Apsay to Nelson Spruce.
There were five takeaways over the first two quarters. Jered Bell and Jordan Carrell recovered fumbles — and Tedric Thompson picked off a pass in the end zone — for Colorado. Utah, meanwhile, benefitted from interceptions by Marcus Williams and Cory Butler-Byrd. In addition, Kylie Fitts blocked a 31-yard field goal attempt by the Buffaloes.
When play resumed, the Utes added 10 points in the third quarter to pull away. A 5-yard touchdown run by Williams and another PAT from Phillips made it 17-7. Phillips added a 27-yard field goal at 6:48 to extend the lead even further. An interception by Paul set up the latter.
It turned out to be enough, just enough, to get the job done.
Although Utah added a 27-yard field goal by Phillips midway through the fourth quarter, Colorado answered with an 18-yard TD pass from Jordan Gehrke to Phillip Lindsay with 4:13 remaining to set the stage for a dramatic finish.
After forcing Utah to punt on the ensuing possession, the Buffaloes got the ball back less than two minutes later. They moved across the 50-yard line before Viliseni Fauonuku recorded his fourth sack of the game (tying a school record) and jarred the ball away from Gehrke. Linebacker Jared Norris recovered it and the outcome was sealed.
"We knew as a defense we had to come out and win it for us and that last drive the whole defense knew that," Fitts said. "So we came out firing and made the plays when we needed to."
Utah's defense finished with nine tackles for loss, six pass breakups, six sacks, three interceptions and a fumble recovery.
"Our defense just hung in there and kept giving the ball back to the offense," Whittingham said.
Twitter: @DirkFacer