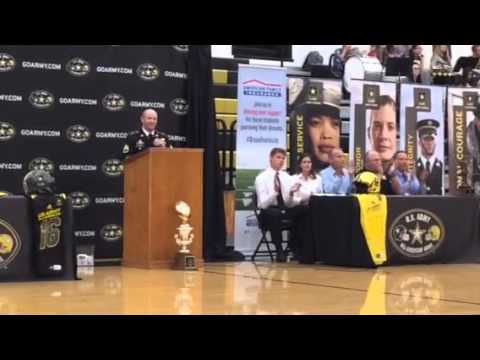 View 4 Items


He's phenomenal. He's done a lot of this on his own with the support of his parents and his team. He's a great student, great in the halls, just a great leader.

—Wasatch coach Steve Coburn said of Southam
HEBER CITY — Wasatch senior Skyler Southam worked hard for two years to make his dream of earning Army All-American honors a reality.
But when it was his turn to stand in the spotlight and accept that accolade, the BYU-commit said he wanted to share it with someone else.
After accepting his yellow jersey for the Army All-American Bowl, the nationally-ranked kicker invited several of his teammates to the podium. He and two other players presented to team manager Carlos Holguin a ball with the signatures of the entire team and a jersey.
"It's always been a dream of his to play football, but he hasn't been able to play because of some disabilities that he's had," Southam said. "But he's a great teammate. He's a hero to us. He's the real All-American in all of our eyes."
Holguin, who has cerebral palsy, was visibly touched by the gesture, which only made it more satisfying for Southam.
"It was awesome," Southam said smiling. "It was nice to see he's grateful for us, and we're grateful for him."
Southam is the first Army All-American to represent Wasatch High in the national all-star game, which will be played in Texas on Jan. 9, 2016 in the Alamodome. It will be broadcast live on NBC.
Southam said it's something he's wanted since he played in the freshman U.S. versus Canada game.
"It was just a cool atmosphere to be there in Texas, to be honored by the military, it's just the biggest All-American game you can get to play in high school. It's always been a goal of mine since being there."
The honor wasn't just a recognition of Southam's talent and hard work, it was also a recognition for the Wasp program.
"To Wasatch and Wasatch football it's huge," said head coach Steve Coburn, who was invited to the all-star game's coaching clinic. "It just kind of sends a message that Wasatch football has arrived and people are excited about what's going on here. We have a player who can compete at the state level as well as the national level. It's been huge for us."
Coburn said the recognition also sends a message to his players.
"That hard work can pay off for them," Coburn said.
It is also satisfying to see a player and team leader like Southam earn national recognition.
"He's phenomenal," Coburn said. "He's done a lot of this on his own with the support of his parents and his team. He's a great student, great in the halls, just a great leader."
Twitter: adonsports