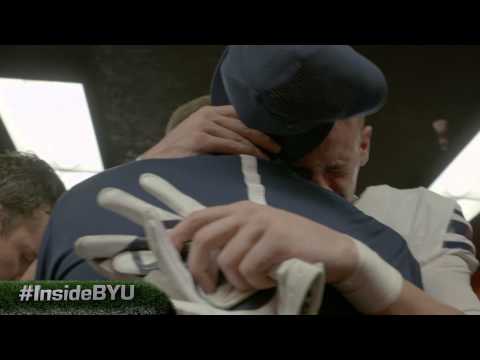 View 56 Items
BYUtv Sports

PROVO, Utah — One week before BYU opened its season against the University of Nebraska, Taysom Hill and his wife, Emily, sat contemplating the bruises and breaks in the backfield of his career and the wide-open field ahead.
As most in the college sports world already know, Hill, born and raised in Pocatello, Idaho, had previously suffered season-ending injuries in 2012 and 2014. But this was a new year, and the all-everything quarterback was set to begin his senior season as a Heisman Trophy hopeful.
To no one's surprise in Provo, Hill was on virtually every postseason award watchlist. Impressively, everyone from USA Today to Fox Sports had him in the running — and passing — for the biggest trophy of them all.
One of the greatest all-around athletes ever to play at BYU was entering his last campaign with health, hope and a history of beating defenses.
During that final summer week before his final fall season, Hill sat by his wife on the couch and with a smile said, "Can you imagine getting hurt a third time? I mean, nobody could be that unlucky."
Then, on Sept. 5, with a national television audience watching every snap, crackle and pop, Hill suffered a serious Lisfranc sprain on his right foot during the second quarter against Nebraska. Remarkably, he returned and played until early in the fourth quarter, when he hobbled off for the final time.
(Note: I've suffered a Lisfranc injury, and it's extremely painful. Not only could I have never run back on to the field, I also couldn't have played "Madden" on the Xbox.)
The Cougars went on to beat Nebraska with dramatic flair on a Hail Mary from backup QB Tanner Mangum, but the win was clouded by the loss of their team leader. While the team regrouped, Hill underwent surgery.
After a painful month since another end of another beginning, Hill talked about his status as an elite college athlete who lost three seasons to completely unrelated injuries.
"I have felt so much support," Hill told me during a recent interview. "I was talking to my mom last night — she's a fourth-grade teacher in Idaho — and she says 75 percent of the kids and parents ask about me and express concern. I've felt support before, but not like this."
That support, Hill says, starts at home. "After my first injury, as a freshman, it was tough. Hobbling around on crutches and in a brace? It was so much harder than this. Being married is such a blessing, and my wife has been a rock. I rely on her for emotional support. She's with me every step in every way."
Beyond his wife, Hill also points to his service in the Australia Sydney Mission for helping prepare him to cope with the emotional toll of losing his much-anticipated senior season.
"I still feel the influence of my mission every day," he said. "I learned about the good times, the hard times and all the decisions a missionary makes. Missionaries learn to manage situations and to rely on the Lord."
This principle of leaning on Jesus Christ became the most important lesson from his mission, and during his quiet hours since his season ended, he's realized how that lesson lives on.
"If I could do it in the mission field," he said, "I can do it at home, on and off the football field."
Speaking quickly and with the confidence one expects from an elite performer, Hill reflected on returning home from Australia after playing an integral role in the work. For the returned-missionary quarterback, there are similarities between finishing his full-time mission and seeing his season end.
"It's the same overarching theme," he said. "As tough as injuries are to overcome, the hardest part was playing such an important role and then going to nothing. I'll admit, that's been tough."
Like his mission, football has been an important part of his life. But Hill didn't want our discussion to move downfield without clarifying the sport's real role.
"It's been so important," he said. "Football has molded me in many ways, and I've had great experiences. But when I step back, I know that football is not what drives me. It's not really what's important."
Hill recognizes that ever since his early days of dominating open fields in Pocatello, football was always just a means to an end.
"Life goes on," he said. "Right now, it's about my little family, church and school."
Despite the zigs and zags of our conversation, Hill returns often to his mission and its importance in shaping him for this life and the next. I wondered aloud if he ever considered forgoing a mission for football and stated the obvious: he would have been two years younger when the NFL draft arrived.
"No," he said with precision. "I have always attributed my abilities to play football, and really all other skills and attributes, to God."
He acknowledged that it's a personal decision for everyone, but Hill said he would have felt ungrateful had he not served.
"I wanted to give back," he said. "But I also wasn't naive, because I knew I'd gain so much. When we serve, we get back so much more than we could ever give."
Hill serves as first counselor in the Young Men presidency of the Oak Hills 7th Ward in Provo and tells his young men often that today is the time to choose to serve a mission.
"I knew when I was very young I would go," he said. "I didn't have to decide later. The decision was made. Football or not."
Obviously, faith is a comfortable topic for the quarterback. Hill spoke freely about his testimony and desire to share it.
"I have never doubted," he said. "I have had a firm belief in God and in the teachings of the church. No, I'm not perfect in any way. But I want to be better and to influence people for good in any way I can."
Since the injury, Hill has come to accept that God could have prevented his injury but that it's all right that he didn't.
"Listen, trials and difficult times can help you become better and move forward, or they can cause you to step backward," he said. "It's how you handle those situations that shows who you can become. I view this as an opportunity to share my faith with others."
While he uses this unique experience to share the gospel, he knows that his future is also of great interest to BYU fans. "People stop me on campus every day, and I just don't have an answer yet." Hill said he's not bothered by the questions because the same fans have supported him throughout his entire career.
"I'm in no rush to decide," Hill said. "These are three separate injuries with no correlation. These are freak things. Do they end my career? Not necessarily. I have the option of a medical redshirt and one more year after I graduate this December. Then maybe I pursue the NFL. Who knows?"
Whether he ever plays again, Hill has a passion for finance and looks forward to a professional career where he suits up every day in a very different way. More than anything, Hill wants fans to know he's taking all the necessary steps to be successful, whether in football or in finance, and that no decisions will be made until next year.
In the meantime, he hangs on to the knowledge of what's most important in his life. He wants to be the best husband and father he can be and to maintain balance.
As a final observation, I noted how Hill seems unique from others who endure unexpected trials. Others often speak of their faith being much stronger on the other side of the obstacle.
"Honestly, nothing has changed," he said. "I don't feel I've had to make any major changes to grow closer to the Lord. We studied our scriptures and prayed before, and we do the same now. My faith isn't stronger because of the injury, it's stronger because we're trying our best to know him."
With his trademark speed, Hill quotes Mosiah 5:13: "For how knoweth a man the master whom he has not served, and who is a stranger unto him, and is far from the thoughts and intents of his heart?"
The verse has always been an anchor for Hill. "It's all about our relationship with the Savior. We can't have one if our thoughts are not with him and if we don't enjoy his scriptures."
Somewhere on a couch in Provo, Taysom and Emily are contemplating the future. Instead of injuries and regret, they see health and hope. Rather than looking over their shoulders at what might have been, they look ahead at another open field.
Defenses beware.