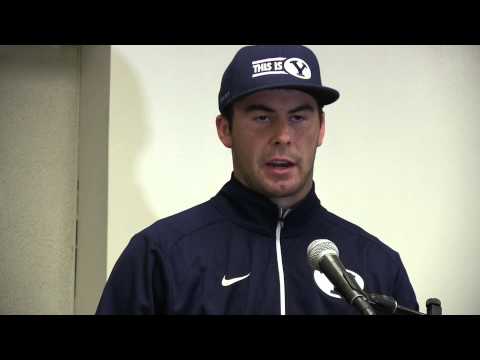 View 25 Items



We didn't make the critical play right at the end. Now we're on the other side of the coin, to lose a close one.

—BYU offensive coordinator Robert Anae
PASADENA, Calif. — There were no Tanner Mangum miracles this time.
On Saturday night at the Rose Bowl, it was No. 19 BYU that couldn't hold a fourth-quarter lead and the freshman Cougar quarterback couldn't bring his team back after two consecutive last-minute heroics to open the season.
No. 10 UCLA (3-0) went ahead for the first time with 3:21 left in the game on a three-yard touchdown run by Nate Starks and defeated the Cougars, 24-23, before a crowd of 67,612.
"We didn't make the critical play right at the end," said BYU offensive coordinator Robert Anae. "Now we're on the other side of the coin, to lose a close one."
The Bruins did most of their damage with a punishing run game. Paul Perkins gained 219 yards on 26 attempts and Starks gained 60 yards on four carries on the game-winning scoring drive.
"The difference in the game was Perkins, their running back," said Cougar coach Bronco Mendenhall. "He had a really great game and he was very difficult to tackle. He was the catalyst for their team."
BYU (2-1) had a chance to win the game at the end — like it had in its two victories with Hail Mary touchdown passes against Nebraska and Boise State.
"I had every confidence in the world that we were going to score," Mangum said. "We believed that we were going to do it. It's a team effort. We fought hard. UCLA played really great. They're a tough team. They showed why they're a top 10 team in the country."
The Cougars drove to the UCLA 42, but on fourth-and-7, Mangum, looking for Mitchell Juergens, was picked off by Miles Jack with 58 seconds remaining to seal the UCLA victory.
"I didn't have a whole lot of guys open," Mangum said of BYU's final offensive play. "I rolled out and tried to create something. I was trying to make a play. It didn't work out this time."
Mangum completed 30 of 47 passes for 244 yards with one touchdown and the pick. Running back Adam Hine rushed 23 times for a career-high 149 yards and a touchdown.
"We had to overcome a lot to win that game tonight," said UCLA coach Jim Mora. "There was a lot of adversity. It starts with a very good BYU team. They were physical and tough and gave us all that we could handle."
The Cougar defense struggled at time to keep up with the Bruins' fast pace. "UCLA's offense was the fastest we've seen so far," Mendenhall said.
UCLA freshman QB Josh Rosen completed 11 of 23 passes for 106 yards, one touchdown and three interceptions.
BYU extended its lead to 20-10 early in the fourth question after a 45-yard field goal by Trevor Samson. The Cougars drove from their own 11-yard line and was highlighted by a 22-yard run by Hine.
UCLA cut the deficit to 20-17 after a 19-yard touchdown pass from Rosen to Jordan Payton on a drive that took just 1:20. The Cougars responded with a 32-yard field goal by Samson on a drive that saw BYU convert four times on third down to make it 23-17 for BYU with 5:39 remaining.
The opening minutes of the third quarter saw a big momentum swing.
BYU was driving on the UCLA defense and Mangum connected with Juergens for a 37-yard completion, on a third-and-4 play, that would have given the Cougars the ball inside the red zone.
However, a holding penalty on left tackle Ryker Mathews nullified the big gain. That was followed by a false start on Mathews and a sack on Mangum. BYU was forced to punt, and Devin Fuller returned it 56 yards, which led to a five-yard touchdown run by Perkins. It was the Bruins' first TD of the night.
But BYU answered with a solid seven-play, 75-yard drive that took just 3:01 off the clock. A 28-yard run by Hine, which included him hurdling a would-be tackler, set up a 14-yard touchdown pass from Mangum to Mitch Mathews.
That gave the Cougars a 17-10 lead with 6:26 left in the third quarter.
BYU opened the game with an impressive 71-yard, 11-play drive that featured a nice mix of running and passing and benefitted from a targeting penalty on UCLA linebacker Kenny Young.
The drive was capped by a seven-yard run by Hine to put the Cougars up 7-0 with 9:39 left in the first quarter.
From there, the BYU offense sputtered in the first half as Mangum was sacked three times. The Cougars gained just 78 yards of total offense in their seven drives of the half.
The Bruins' passing game struggled in the first half as Rosen completed 5 of 15 passes for 52 yards and three interceptions. Rosen was picked off twice by linebacker Harvey Langi and once by Kai Nacua. Nacua's pick came in the end zone.
UCLA running back Paul Perkins starred in the first half, rushing 12 yards for 129 yards, including a pair of 44-yard runs. His second 44-yard run, at the end of the first quarter set up the Bruins' only score of the first half, a 35-yard field goal by Kaimi Fairbairn early in the second quarter.
BYU added a 40-yard field goal by Samson with 9:18 left in the second quarter.
The Cougars visits Michigan next Saturday.