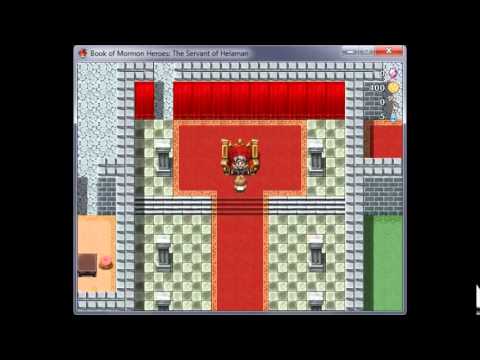 View 4 Items
Levi Hilton

Many members of The Church of Jesus Christ of Latter-day Saints have heroes from the Book of Mormon, but a 14-year-old Utah boy is creating ways to actually be those heroes.
Levi Hilton has coded a video game, "Book of Mormon Heroes: The Servant of Helaman," specifically for Latter-day Saint audiences. The game follows Helaman's servant from the Book of Mormon story in Helaman 2. Villains Kishkumen and the Gadianton Robbers plan to assassinate Helaman, the chief judge, and the servant has to stop them before they can succeed.
Hilton said his game-making hobby started when he was 13. He was introduced to simple coding in school, and it stuck.
"I got really into it and started making apps," Hilton wrote in an email.
His father, BYU religion professor John Hilton III, gave him programming software for Christmas, and Levi used it to learn more complex coding and create his games. Now he knows the software well, and his skill came in handy when he was looking for a way to earn extra money.
"It was my dad's idea," he wrote. "I was currently teaching piano lessons to children in the ward, but I wanted more work opportunities."
John Hilton suggested that his son start selling the games he was coding. In order to create a video game with high demand, Levi took his dad's advice to make a game targeted specifically to LDS audiences, and his first Book of Mormon video game was born.
Levi did his research to make "Book of Mormon Heroes: The Servant of Helaman" as accurate as possible, from the scriptural currency to the ancient environment. The game character collects senines (a Book of Mormon monetary unit) instead of the typical gold coins that serve as awards in most video games.
John Hilton said in an email that Levi also used the book "Mormon's Map," by scholar John L. Sorenson, to make sure the historical settings in the game are correctly located in relation to one another.
Levi launched a free download of the game Aug. 10. He also started a Kickstarter campaign for the game in April.
What's next for Levi is moving backward but only in terms of the books of the Book of Mormon. Levi is now working on a second installment, "Book of Mormon Heroes: The Servant of Teancum," from chapters at the end of the book of Alma.
"I'm really proud of Levi," John Hilton wrote. "I think it's been great for him to work on a meaningful project, and he has created something that is both fun, educational and spiritually uplifting."
To learn more about Levi games, visit bookofmormongames.com.