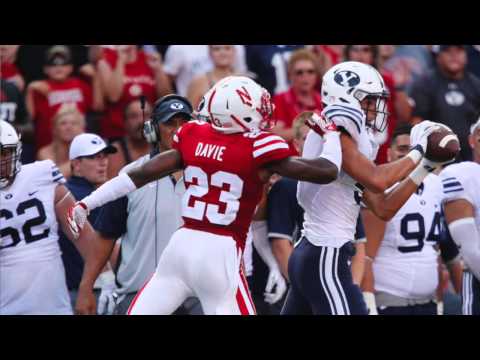 PROVO — BYU's wide receivers rose to the occasion in the season-opening 33-28 victory over Nebraska last Saturday.
From junior Mitchell Juergens' 14-yard catch on the game's opening play to senior Mitch Mathews' game-winning 42-yard touchdown grab as time expired, eight Cougar wide receivers caught passes against the Huskers. The wideouts accounted for 370 of BYU's 379 receiving yards.
Even against a Nebraska team that listed four starters in its starting secondary 6-foot or taller — including 6-foot-2 safety Nate Gerry, who intercepted BYU quarterback Taysom Hill — the Cougars still managed to get 68.8 percent of their receiving production from the 6-6 Mathews, 6-5 Nick Kurtz and 6-5 Terenn Houk. Kurtz had a team-best 123 receiving yards, while Mathews had 69 yards and two touchdowns and Houk added 59 receiving yards.
While BYU struggled to convert third downs (3-for-14) and fourth downs (2-for-4) against Nebraska, that receiving trio accounted for all five conversions. Their presence and production, along with a deep group of wide receivers, will be vital to the BYU offense going forward under freshman quarterback Tanner Mangum, who takes over after Hill was lost for the season with a Lisfranc sprain.
"We know we can trust each other; we know we're there for one another," Mangum said of his wide receivers. "Those guys make it easy, honestly. It's nice having big targets, guys who have great hands (and run) great routes. I can just go out and do my part and they go make plays."
The BYU wide receivers are showing confidence in their new signal-caller.
"He can throw the ball really well, and he's not a running quarterback, but he's pretty mobile," Mathews said of Mangum. "He can move in the pocket. You see him set up to pass, roll out, set up to pass again, and that just opens up for big plays."
It was those roll-out skills from Mangum that helped set up big plays like Mathews' Hail Mary touchdown and a 38-yard pass to Kurtz on fourth down setting up a field goal.
What challenges are in store for the Cougar wideouts through the rest of a tough September schedule as Mangum adjusts to being the starting quarterback?
"Good teams will take that event and use it as momentum for this game," Mathews said, with BYU closing in on its home opener against Boise State on Saturday (8:15 p.m. MDT, ESPN2).
Here's a look at the secondary personnel for each of the Cougars' next three opponents, their national pass defense rankings through Week 1 and how these teams match up height-wise with BYU's three tallest receivers.
No. 20 Boise State
Pass defense: 150 yards per game (31st nationally)
Pass efficiency defense: 97.43 (25th)
Tallest secondary player on two-deep: Senior safety Darian Thompson (6-2)
The Broncos return three starters in the secondary, including Thompson and corners Donte Deayon (5-9) and Jonathan Moxey (5-10).
Thompson, a CBSSports.com All-America second-teamer in 2014 and the team's star in the secondary, is the Broncos' best matchup possibility against the Cougars' tall receivers. He and Deayon rank in the top three nationally in career interceptions among active players. Thompson had the Broncos' lone interception against Washington in Week 1 in Boise State's 16-13 victory.
Deayon, a two-time All-Mountain West Conference Second-Team honoree, was ninth in the country with six interceptions last year and he's a former high school teammate of BYU wide receiver Devon Blackmon. Deayon had three tackles and a tackle for loss against the Huskies.
Boise State does not have a cornerback over 5-11 on the team. At safety, three of the four Broncos on the two-deep stand 6-1 or taller, including sophomore Dylan Sumner-Gardner, a former four-star recruit who had five tackles — four solo — against Washington.
While one game isn't enough of a sample size to determine how tough the Bronco secondary could be come Saturday, the win over the Huskies shows improved numbers from where Boise State ended last year. The Broncos finished 2014 31st in the country in pass efficiency defense (116.64) while giving up 232.9 yards passing per game (76th).
No. 13 UCLA
Pass defense: 238 ypg (78th)
Pass efficiency defense: 120.84 (66th)
Tallest secondary player on two-deep: Junior safety Tahaan Goodman (6-2)
Of UCLA's defensive secondary starters in a Week 1 34-16 win over Virginia, two of them are 6-0, cornerbacks Fabian Moreau and Marcus Rios. Starting safeties Randall Goforth and Jaleel Wadood are both 5-10.
Moreau, a second-team All-Pac-12 honoree while starting all 13 games in 2014, had a secondary-best six tackles against the Cavaliers, while the 5-11 Adarius Pickett had three tackles and an interception.
Goodman, who, like Goforth and Wadood, started several games last season, is the Bruins' top option in defending BYU's tall receivers.
The Bruins were without cornerback Ishmael Adams — suspended indefinitely after being arrested for suspicion of robbery — in their season opener, and it's unknown when he'll be back. The 5-8 junior started all 13 games and had 41 tackles and two interceptions for UCLA in 2014.
The Bruins showed marginal improvement in pass defense in their first game over 2014, when UCLA ranked 96th nationally, giving up 250.6 passing yards per game.
Michigan
Pass defense: 208 ypg (64th)
Pass efficiency defense: 119.62 (65th)
Tallest secondary player on two-deep: Senior safety Jeremy Clark (6-4)
Of BYU's next three opponents, the Wolverines may match up best against the Cougars' wide receivers. Of the nine players listed on the depth chart in the secondary currently for Michigan, only two stand under 6-foot.
It starts with starting strong safety Jabrill Peppers (6-1), the former national No. 2 recruit who had eight tackles and two tackles for loss in the Wolverines' 24-17 loss at Utah last week.
Jarrod Wilson (6-2), the starting free safety, added six tackles against the Utes, and starting cornerback Channing Stribling (6-2) also had five tackles.
Clark, who started for Michigan last season, had the Wolverines' lone interception against Utah and, at 6-4, is the best potential matchup in the next three games against BYU's 6-5 or taller wide receivers.
Despite a 5-7 record in 2014, the Wolverines were stout against the pass, 19th in the country by giving up 193.7 passing yards per game, and return plenty of experience — including three starters — from that secondary.
Up first, though, is a Boise State team that should provide plenty of challenges for a Cougar wide receiving group that lived up to the preseason hype in Week 1.
"The way that game (against Nebraska) ended was perfect," Houk said. "Using that momentum to spring us into Boise State really's going to help us."