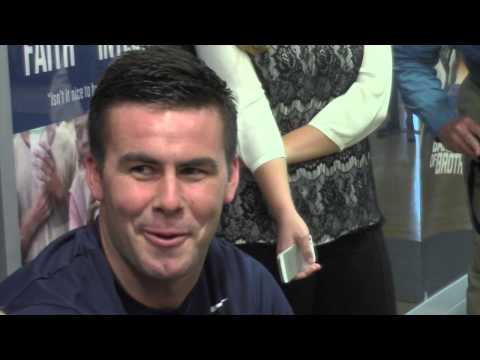 View 5 Items



(Tanner) was having fun. I mean I talked to him and actually wanted him to be even more nervous.

—Bronco Mendenhall said.
Tanner Mangum's face is stuck on smile.
Maybe this is just the way he is; it's his personality, his shtick. In his two major press conferences Saturday and Monday and in an appearance on ESPN Sunday, his smile just wouldn't stop. It may take a chin-forehead medical device to shut it down.
Mangum's toothy bright grin is high wattage, and his excitability meter is understandably redlining. His enthusiasm is a tangible thing you can almost touch. How long will it last? Is this just him? Does this all hatch out of the dramatic finish to a BYU win over Nebraska?Will it fade?
It remains to be seen, I suppose. You toss a Hail Mary game winner that's the No. 1 play on ESPN and grins spring up like dandelions.
Even Bronco Mendenhall took note of Mangum's magnanimous enthusiasm in his first college game at Nebraska.
Mendenhall told reporters he was stunned when the freshman came in to relieve injured Taysom Hill in the second quarter at raucous Memorial Stadium in Lincoln and appeared almost giddy.
"(Tanner) was having fun. I mean I talked to him and actually wanted him to be even more nervous," said Mendenhall on Monday. "'He was just excited to play. Hopefully what he didn't know then, (about being nervous) I hope he keeps the same mindset. He played like it was no big deal. I thought it was a big deal."
Nebraska aside, the stark reality of elevating Mangum as BYU's starter began after Mangum's first career touchdown pass, the now-famous-forever miracle throw and catch to Mitch Mathews.
As BYU's team celebrated loud and hard on Tom Osborne Field, I took note of BYU offensive coordinator Robert Anae walking off the field and into the portal that led to BYU's locker room. Anae isn't a do-a-cartwheel kind of guy.
Whatever celebration Anae took part of, it was not on his face as he made that short trek.
Anae had the look of a man who fully understood the loss of a veteran senior QB and the task of preparing an inexperienced freshman.
In losing Hill, Anae lost experience, knowledge, timing, chemistry, athletic ability, leadership and dynamic playmaking. Let's face it, Hill bailed out many a BYU play for Anae by sprinting for first downs and touchdowns when things failed the past four years.
I asked Heisman Trophy winner Ty Detmer what advice he'd give Mangum. Detmer kept it simple: "Play within the system and be smart with the football."
I posed the same question to Mangum's older brother Parker, who played quarterback and receiver for the Cougars.
"When you face adversity in the future — and you will — remember the poise, calm and confident demeanor you demonstrated in your remarkable debut," wrote Parker in an email.
"You've done it before, you can do it again," Parker advised his younger sibling. "Never let the moment become bigger than you and your teammates. Always stay humble, give credit where credit is due, and be the hardest working player in the huddle. And never forget to put your faith first, everything will ultimately fall into place…"
In the 48 hours after BYU's win over Nebraska, Mangum, Mathews, Mendenhall and others found themselves the center of 15 national press interviews from coast to coast including two separate sessions with local media and reporters via teleconference call in Boise. National outlets included Fox Sports, USA Today, ESPN, ABC World News Tonight and the Jim Rome Show.
Needless to say, that media storm had to be managed and organized amid travel, practice and team meetings.
BYU and rookie Mangum face a very active and talented Boise State defense in the home opener on Saturday. After that, it will be on the road to UCLA and Michigan.
This is not a picnic stretch where you "ease" a new QB into a role. There will be a learning curve.
Mangum has every reason to be nervous as a cat in a room filled with rocking chairs. And he may be. But I'm betting he'll still have that magazine cover smile. It's painted on.
This time, he won't be thrust into a game, unexpectedly. This time he will sleep on it, insert anticipation into his psyche, feel the weight and pressure of expectations and duty.
In the huddle against Nebraska, Mathews said Mangum was poised, confident and exuded a presence on the field that was tangible.
"As a freshman I've never seen the amount of poise he showed. It gave the receivers a lot of confidence. It wasn't like, 'well, here's a freshman, let's see what he can do,'" said Mathews.
Since the end of the game, Mangum told reporters his life has been turned a little upside down, but it was fun. "It wasn't what I expected going into the game. The main thing is we won and we're 1-0."
Now comes Boise. Mangum will face his hometown team and it will take more than a smile.
Dick Harmon, Deseret News sports columnist, can be found on Twitter as Harmonwrites and can be contacted at dharmon@desnews.com.