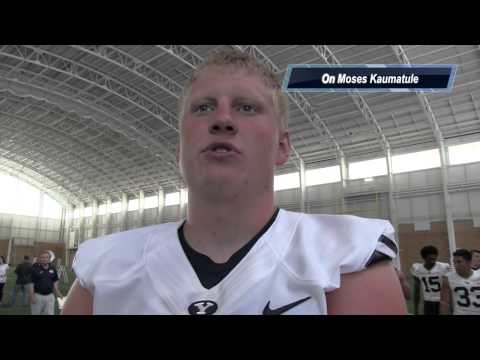 View 2 Items

Usually these freshmen come in, and they're a little slow, just to kick-start. But he's come out running and honestly it's been an impressive show to watch.

—Junior Mitchell Juergens said of Moroni Laulu-Pututau
Last year, BYU players Ului Lapuaho, Travis Tuiloma and Graham Rowley successfully transitioned from life as a missionary for The Church of Jesus Christ of Latter-day Saints to making a significant impact for the Cougar football team in their first season back on the football field.
That trio ended up starting a combined 28 games in 2014, and Lapuaho and Tuiloma are slated to start again this year, with Rowley a backup at defensive end. A fourth returned missionary from that 2014 class, tight end Tanner Balderee, is currently No. 1 on the depth chart.
Now a group of 14 returning scholarship missionaries has their chance to make an impact in 2015. Five dot the projected two-deep for BYU's season opener against Nebraska, including sophomore Micah Hannemann, penciled in as the starter as field corner, and freshman quarterback Tanner Mangum, the primary backup behind senior Taysom Hill.
Of those 14, a pair of aptly named returned missionaries — wide receiver Moroni Laulu-Pututau and defensive end Moses Kaumatule, whose first names are synonymous with the scriptures — also made strong impressions in fall camp.
Could Moroni enact his Title of Liberty by scoring touchdowns this season? Will Moses make a play that silences The Sea of Red on Saturday against the Cornhuskers?
Laulu-Pututau is listed on this week's two-deep as a backup with senior Kurt Henderson behind last year's leading receiver, senior Mitch Mathews.
"Usually these freshmen come in, and they're a little slow, just to kick-start," junior Mitchell Juergens said of Laulu-Pututau. "But he's come out running and honestly it's been an impressive show to watch."
That impressive show began with a 60-yard catch on the first day of fall camp. Junior college transfer Nick Kurtz, expected to play a big role in the Cougar passing attack, has noticed the work of the freshman wide receiver who is a product of Mountain Crest High.
"Moroni has done an excellent job. It is very hard coming in here as a freshman," Kurtz said. "Even me, coming in here as a junior college (transfer), it was really hard for me when I first got here because the offense is just really uptempo and it's fast. The altitude is really hard to breathe. Moroni is the guy who came in and he put in a lot of work, watched a lot of film, took a lot of notes, grasped the offense really fast."
Kaumatule returned from his mission early enough to join BYU during spring camp and has built on his performance from there.
"I don't know how much (playing time) he'll see, but I think he'll surprise people and be one of those under-the-radar type guys," senior Remington Peck said.
At 6-foot-2, 245 pounds, Kaumatule is the smallest among the players on the defensive line for BYU this season.
"Moses is undersized but he is excellent against the pass. He plays with really good leverage," BYU coach Bronco Mendenhall said.
From the onset, this is setting up to be an impactful class of returned missionaries on a BYU team that currently boasts 91 RMs.
In addition to Mangum, Hannemann and Laulu-Pututau, sophomore safety Matt Hadley and freshman linebacker Rhett Sandlin are also listed on this week's depth chart. Offensive lineman Austin Hoyt, wide receiver Talon Shumway and linebacker Butch Pau'u have also earned valuable practice reps.
Perhaps the two biggest areas of impact will be at defensive secondary and quarterback. Hannemann and Hadley played eight and seven games, respectively, for BYU in the 2012 season and add depth and some experience to a secondary trying to overcome a season last year when it gave up 269.7 passing yards per game, ranked 114th nationally. Their development could be key.
"We're training him at both (corner and safety)," Mendenhall told the Deseret News' Brandon Gurney of Hannemann. "Some of our corners are starting to play a little better than we anticipated and we have a little more depth there."
The hope for BYU is that Mangum, who like Laulu-Pututau served in the Chile Antofogasta Mission, isn't needed in any other capacity than to back up Hill and earn valuable experience in spot time. But with Hill's injury past — suffering season-ending injuries two of the past three years — developing Mangum becomes crucial.
"Tanner was here before the mission with (BYU offensive coordinator Robert) Anae and these guys, so certainly he has a leg up and maybe the expectation is a little higher," Hill said of Mangum, who grayshirted during the 2012 fall semester before embarking on his mission following spring camp in 2013.