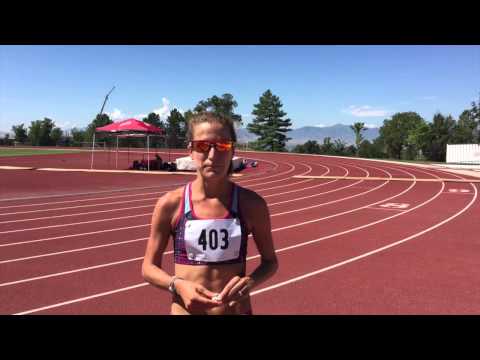 This really is the place. There's no place better for altitude training.

—Amy Hastings
SALT LAKE CITY — With the sun beating down on the University of Utah's bright red tartan track, a pack of runners rounds the final bend for the 16th — and final — time. The cadence and stride length of Amy Hastings picks up as she pulls away on the home straight. Following closely behind, but looking a little more labored, are three men.
In 2012 at the London Olympics, Hastings placed 11th. With the Rio Games just under one year away, Hastings and her husband, Alistair Cragg, a three-time Irish Olympian, visit Utah's thinly oxygenated, high-altitude training grounds.
Looking to Brazil, Hastings and Cragg believe being in Utah for month-long high-altitude training blocks gives them an advantage by naturally boosting their red blood cell counts — and thereby performance.
Hastings and Cragg aren't the only ones seeking out Utah's thin air these days.
Two days earlier, Bowerman TC, a team of professional runners sponsored by Nike, hammered out a series of high-intensity intervals on Utah's track. The workout was their last hard session before boarding a plane to East Asia.
Two standouts from the group include Olympic medalist Shalane Flanagan and Evan Jager, the fastest non-African ever in the steeplechase. Starting next week, Flanagan, Jagar and company will look to add to the resurgent American distance running performances at the track and field world championships in Beijing.
Perhaps the highest-profile group to call Park City home in recent years is the Nike Oregon Project. In 2007, Kara Goucher won a soon-to-be silver world championship medal with the outfit. In London, two men from the group, one British and one American, went 1-2 in the Olympic 10,000 meter final.
Driving out for the first time from their home in Providence, Rhode Island, Cragg wondered if trading Flagstaff, Arizona, for altitude-training in Utah would really pay dividends.
"Then I got to Wyoming and I was taken aback, the place had such a rough beauty," the Irishman, an avid fisherman, said. "As I got closer and closer to Utah, it just kept getting better and better."
When Brigham Young looked down from Emigration Canyon and said, "This is the place," distance running might not have been what he meant.
But for those who make their living wages by running really fast for long distances, it's more and more on their minds — and their itineraries.
"This really is the place," Hastings said. "There's no place better for altitude training. We'll be out here again, for sure."