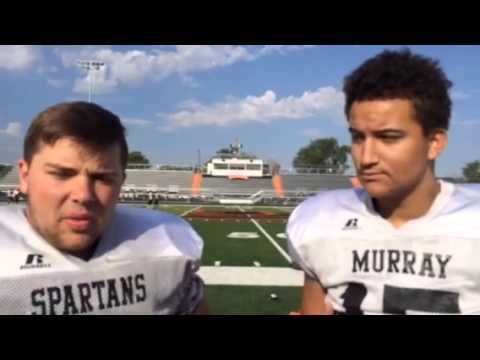 View 17 Items
Amy Donaldson

---
Note: Murray finished with a 6-4 overall record in 2014 and tied for second in Region 7 with a 4-2 record. It lost to Sky View 42-14 in the 4A first round.
---
MURRAY — As sophomores they were asked to play roles for which they weren't physically or emotionally ready.
As juniors, they helped their team to its best season in many years, including a playoff berth.
And in their senior season, the Murray Spartans said the lessons learned in that painful sophomore season are critical to the team's efforts to build on last season's success.
"We have a lot of kids who played a lot of varsity football," said head coach Mike Richmond. "Three years ago, when our program was really struggling, they were having to play varsity football. Physically they were probably not ready to, but they were the best players we had in our program." Among them was quarterback Drew Cash, who threw for more than 2,200 yards and tossed 28 touchdowns last season.
"We know how to win now," Cash said of the difference between the program his sophomore season and the program he guides as a senior. "We know how to compete. There is a lot of experience on this team, so I think we'll be ok."
He said the experiences they had as sophomores, while painful, made them stronger.
"Mentally it made us more mature as a group," Cash said. "Just confidence and game experience — we have a lot more leaders because of playing the games when we were younger." Richmond said he feels like last year was the reward they'd worked toward for several years.
"I think we've got the program headed in the right direction," Richmond said. "We made the playoffs last year for the first time in a lot of years. We're excited because we keep most of our staff, and we have a great group of returning players."
That doesn't mean the Spartans don't have issues with which to contend.
"We have some big holes to fill, some kids who were all-state players, who've graduated and moved on," Richmond said, adding that it also helps build the program to see Murray players succeeding at the college level.
"We've got a good group, a lot of contributors from last year's successful team are back this year. So now it's building, it's trying to build on that momentum." Richmond said he can feel — and see — a difference in the commitment level of players in the program. "You can see it in the work ethic of the kids in the offseason," he said. "Last year's team had a phenomenal work ethic and it didn't just start in the spring. It started way back in the winter."
He said his players now understand the effort required for success on the field. "I think the kids have learned now the type of commitment that it takes, that translates into success," Richmond said. "You don't win games in the fall; you win them in the spring and summer. I think our guys are finally buying into that approach."
The Spartans have to replace some key linemen, as well as two talented receivers who graduated and are now playing college football.
He said lineman Luke Shipley, who will likely start at center and defensive end, has emerged early as a team leader.
"Luke's a very strong leader with his actions, and also verbally, he does a very good job of getting our team ready and motivated to play," Richmond said. "And it's always fantastic to have your quarterback back. …We really expect good things from (Cash). He's had a really good offseason. He's poised and this is his second year with the offensive scheme." He also singled out Max Tupai, a first-team all-state defensive lineman, who may also see time on the offensive line, as the team needs his athleticism.
"He's a force to be reckoned with on both sides of the ball," Richmond said.
Senior center and defensive end Shipley said his sophomore season, while brutal, shaped the way he plays today.
"It definitely made me who I am today," Shipley said. "I wouldn't take that season back because, without that season, I don't think we would have had the season that we did last year." He said the team is excited about the new region, which includes old rivals like Olympus, Skyline and Hillcrest, as well as some new teams, like Cyprus and Kearns. The goals haven't changed for the Spartans, even with the new season and new players.
"We want to go back to the playoffs," he said. "It feels better (to have success), but we still have to work hard. We can't go back to our old ways. We just have to go back to the basics where we learned how to win."
Spartans at a glance
Head Coach: Mike Richmond enters his fourth year as the Spartans head football coach. The California native who played at Utah record is 8-21, with last year being the team's break-out season.
Offense: (7 returning starters; spread)
Offensive Coordinator: (Tarell Richards, second year)
Returning offensive starters
Drew Cash (QB)
Taylor Litson (RB/WR)
Isaiah Gibson (WR)
Luke Shipley (C)
McKade Adams (OL)
Hunter Jones (RB)
Moses Taeoalii (RB)
Defense (6 returning starters; 3-4 defense)
Defensive coordinator: (Roger Armijo, third year)
Returning defensive starters
Maxs Tupai (DE)
Zach Rose (DB)
Luke Dalling (DB)
Luke Shipley (DL)
Tim Nelson (MLB)
Gage Cuthbertson (CB)
Luke Shipley (DE)
Coaches preseason Region 6 straw poll: Second
Deseret News Region 6 prediction: Third
Bottom line: The development of Murray's linemen and receivers are key to the team's success. Drew Cash is a talented and athletic quarterback, but the team is replacing two collegiate-level receivers. Isaiah Gibson could be a standout offensively, while Maxs Tupai will lead the defense. The Spartans are capable of competing for a region championship and returning to the playoffs for the second straight season.
Last 5
2014 — 6-4 (4-2 in Region 7 – 4A First round)
2013 — 1-8 (0-6 in Region 7 – Missed playoffs)
2012 — 1-9 (0-5 in Region 7 – Missed playoffs)
2011 — 1-9 (0-5 in Region 7 – Missed playoffs)
2010 — 3-6 (1-5 in Region 2 – Missed playoffs)
Murray coaching history

2012-current — Mike Richmond (8-21)

2007-2011 — Dan Aragon (8-39)

2003-2006 — George Georgelas (18-24)

2002 — Wes Meier (2-8)

1988-2001 — Wade Meier (63-80)

1984-1987 — Dale Pehrson (10-28)

1981-1982 — Gene McKeehan (5-11)

1974-1980 — Ron Haun (44-19)

1972-1973 — Dan Slaugh (6-12-1)

1970-1971 — Gene McKeehan (8-10)

1969 — Jerry Saffell (3-6)

1968 — Rex Wright (4-4-1)

1965-1967 — Joe Hansen (8-19-1)

1964 — Wayne Reid (0-7-1)

1963 — Bill Dickey (2-6-1)

1956-1962 — Ray Oliverson (24-34-4)

1949-1955 — Allan Davis (36-27)

1948 — Ken Farrell (5-2)

1945-1947 — unknown (6-13-1)

1942-1944 — Verl Meyrick (7-14-2)

1937-1941 — Paul Rose (18-20)

1933-1936 — Gil Soesinger (16-12-3)

1932 — unknown (3-4)

1931 — Mr. Swenson (3-4-1)

1920-1930 — unknown (23-27-5)

1919 — W.L. Gardner (2-4-1)

1916 — unknown (0-3)

Deseret News First Team all-staters the past 10 years

2006 — James Aiono, DL

To view second team and honorable mention all-staters through the years, check out the Deseret News All-State Archives.