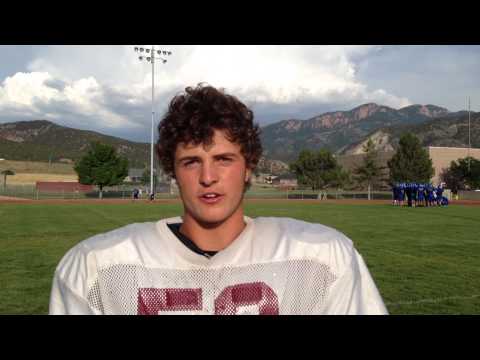 View 11 Items

---
Note: Juab finished with an 11-2 overall record in 2014 and first in 3A South with a 5-0 record. It lost to Judge 63-14 in the 3A championship.
---
NEPHI — When adversity punched Juab's football team in the gut not once, but twice in the same game last October, the players punched back.
Despite losing two of their best offensive weapons to season-ending injuries in Week 8 last season, the Wasps regrouped quickly and won four straight to advance to the 3A championship game.
It was emphatically crushed by Judge 63-14 in that title game, but with how that season unfolded coach Mike Bowring was extremely proud of his team nonetheless.
"We got our butts kicked. I don't know that it would've been different for many teams in the state that night," said Bowring. "We had a great season, and yeah we fell one step short of the ultimate goal, but you don't have to win a championship for a program to be successful."
A championship is still the ultimate goal, and led by a handful of returning starters Juab has been working hard this offseason to try and take that next step.
"We had a great year last year and we played awesome in all of our games, but we just didn't get it done in that game," said Juab lineman Nick Wohlforth.
One of the biggest questions that needs to be answered for Juab this season is at quarterback.
For the past two years, Nick Robins was the catalyst of the offense, leading the team to a 19-6 record and back-to-back appearances in the 3A semifinals. He eventually signed with SUU.
Replacing him is unproven junior Ryker Osborne, someone cut from a completely different breed of quarterback. If Nick Robins' closest comparison is Tom Brady, then Osborne's would be Russell Wilson.
"He's not a pocket QB, he likes to be on the move a little more. We can use him to run and scramble a bit. We're still in the process of seeing what passes he's really good at and what he needs to work on," said Bowring.
Juab's coach isn't worried about Osborne feeling the pressure of replacing Robins. The key will be tailoring the playbook to his strengths and not worrying about what they could call last season.
"He does some things maybe better and some things not quite as good, and that's what I have to do a good job to see what he can do and what he can't do and put him in a position to be successful," said Bowring.
Osborne has some nice offensive weapons at his disposal this year.
Tyse Ostler and Nolan Nielsen both got plenty of playing time at wide receiver in Juab's spread offense last year and the team also has three returning contributors at slot back. Diego Carmona, Steven Orme and Payton Bowring all rotated at slot back, and their playing time was amped up when Dedric Davidson and Kayden Whiting were injured against Manti in Week 8.
Davidson and Whiting were two-year, two-way starters for Juab, and were impossible to replace. The trio, however, gained valuable experience as a result and that should benefit the Wasps.
Shawn Nielsen takes over at fullback, and the senior has big shoes to fill after Brandon Smith rushed for nearly 1,000 yards a season ago. Nielsen was the junior varsity fullback last year, and Bowring is confident in his chances for a big season.
"He's a good back, he's a good hard runner and we're expecting good things from him," said Bowring.
Nick Wohlforth and Jaxon Allred are returning starters on the offensive line that will be blocking for Nielsen, and Bowring said getting the chemistry down between this year's lineman is one of the main focuses this summer.
Defensively Juab has several more holes to fill than on the offensive side, but one area that should be a strength is linebacker. Ashton Seely returns after leading Juab in tackles a year ago, while Ostler is also back after a strong season. Carson Johnson and Ken Covington will try and solidify the depth at linebacker.
Bowring was impressed with Juab's secondary throughout the summer too, but the question mark is on the line, where Wohlforth will be lining up alongside varsity newcomers.
Juab Wasps at a glance
Coach: Mike Bowring is entering his 12th season at Juab with an 88-39 record. Prior to moving to Juab, Bowring was the head coach at Monticello for seven years and he won a state championship in 2001. His career coaching record is 134-69. Bowring is a graduate of San Juan High School.
Offense (6 returning starters; Spread offense)
Offensive coordinator: Mike Bowring
Returning offensive starters
Nick Wohlforth (OL)
Jaxon Allred (OL)
Tyse Ostler (WR)
Nolan Nielsen (WR)
Diego Carmona (SB)
Steven Orme (SB)
Payton Bowring (SB)
Offensive newcomers to watch
Ryker Osborne (QB)
Shawn Nielsen (FB)
Ashton Seely (OL)
Defense (4 returning starters, 5-3 defense)
Defensive coordinator: Ryan Warner (11 years as assistant)
Returning defensive starters
Nick Wohlforth (DE)
Ashton Seely (LB)
Tyse Ostler (LB)
Diego Carmona (DB)
Defensive newcomers to watch
Jaxon Allred (DL)
Carson Johnson (LB)
Ken Covington (LB)
Payton Bowring (DB)
Coaches preseason 3A South straw poll: First
Deseret News 3A South prediction: Second
Bottom line: Over the past two years Juab has been one of the best teams in 3A with a 9-1 record in region play and two semifinal appearances. Both seasons ended with blowout losses to Judge in the playoffs, but fortunately for the Wasps, two-time 3A champ Judge has been bumped up to 3AA. Without that monstrous mental hurdle to clear, Juab heads into the 2015 season as a legit state title contender despite question marks at quarterback and on the lines. It has enough offensive weapons to make up for lack of experience in some spots, and if everything comes together by October this might be the year Juab captures its first state championship in school history.
Last 5
2014 — 11-2 (5-0 in Region 3A South – 3A Runner-up)
2013 — 8-4 (4-1 in Region 3A South – 3A Semifinals)
2012 — 5-5 (1-4 in Region 12 -- Missed playoffs)
2011 — 6-5 (2-3 in Region 12 – 3A First round)
2010 — 8-4 (3-2 in Region 12 – 3A Quarterfinals)
Juab coaching history

2003-current — Mike Bowring (87-40)

1999-2002 — Will Biesinger (18-25)

1992-1998 — Paul Messersmith (48-26)

1991 — Alan Sperry (3-6)

1988-1990 — Raymond Nielsen (4-21)

1985-1987 — Fenton Broadhead (8-18)

1976-1984 — Lee Scott (35-54)

1971-1975 — unknown (24-25-2)

1967-1970 — Dennis Hansen (18-19)

1964-1966 — LeRoy Davis (1-23)

1962-1963 — Verl Shell (2-14)

1960-1961 — unknown (1-15-1)

1959 — Cary LaComb (3-4)

1957-1958 — unknown(4-11)

1956 — Marcus Garrett (2-6)

1955 — unknown (0-6)

Deseret News First Team all-staters the past 10 years

2014 — Nick Robins, QB
2014 — Dedric Davidson, WR
2014 — Ashton Seeley, LB
2013 — Nick Robins, QB

2013 — Brandon Morgan, WR

2010 — Elias Brooks, LB

2008 — Jordan Bainter, OL/DL

2008 — Jameson Izatt, OL/DL

2008 — Cody Keisel, FB/LB

2008 — Chandler Street, RB/DB

2007 — Kade Brough, OL/DL

2007 — Jordan Jones, QB/DB

2006 — Tyler Davidson, WR/LB

2006 — Landon Nielson, WR/DB

2006 — Todd Watts, OL/LB

2005 — Shane Blackett, QB/DB

2005 — Kyle Callaway, OL/DL

2005 — Trent Stowell, OL/DL

To view second team and honorable mention all-staters through the years, check out the Deseret News All-State Archives.