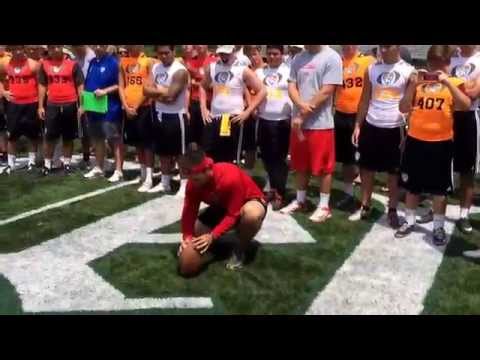 View 8 Items

It was unreal. Everything just felt right. My goals when I started kicking were to get a college scholarship and to have the opportunity to kick in college and here were both at the same time. And at BYU where I just felt really comfortable and blessed to be wanted by them.

—Skyler Southam
It has been almost three years since Wasatch High School senior Skyler Southam took the varsity football field for the first time. As a freshman, who was already showing the kicking talent of a senior early in that 2012 campaign, Southam was called upon to convert an extra point in the Wasps' second game of the season. He made that extra point — and subsequently every one after that, going 35-35 on the year, and he hasn't looked back since.
Southam recently returned from Dublin, Ohio, where he participated with the best 2016 football prospects from across the continent in the invitation-only FBU Top Gun Showcase. FBU (Football University) is an elite athlete product that works in conjunction with the U.S. Army All-American Bowl to assist in finding the top 90 prospects to participate in the game.
Southam was invited with a dozen other top kicking specialists in hopes of making the squad by coming out on top in both kick-off and field goal performances. After working his way into the final showdown with two other top prospects, Southam nailed the necessary 57-yard field goal, before a gallery of his peers, to secure his spot on the U.S. Army All-American Bowl Game roster.
The Wasatch High senior and future BYU Cougar will participate as the No. 1-ranked kicking prospect in the country for the West Seniors in San Antonio on Jan. 9, 2016, in front of a nationally televised audience.
The achievement was yet another goal reached for Southam, but not one that came without year-around hard work and dedication for the nationally ranked prep star. (Scout.com has the Wasatch product listed as the No. 1 recruit in the state.)
"This is something I really wanted," Southam said. "I've dreamed about it since I was a freshman and got to kick for the All-American freshman team. I just set it as one of my goals and kept working hard."
After his remarkable freshman season as the Wasps' varsity kicker, Southam was selected for the U.S. Army Eastbay Freshman All-American team and got to play for the American squad as it took on Canada in San Antonio's Alamodome in January 2013. That recognition put the Heber City native on the national map.
Despite basically having wrapped up a job as Wasatch's top kicker for the next three years, Southam stayed committed to becoming a better kicker and continued his work with kicking coach Dan Zeidman of Lifetime Kicking Academy and the National Camp Series.
Hours of training on kicking and punting techniques with Zeidman and miles of travel to NCS events to showcase his budding talents kept Southam busy but focused on his goals.
"I've always just worked at getting better," he added. "All the kicking coaches I've worked with have all said that consistency is the key. One good kick at a big camp is great, but there's another kid there who will make the same kick. So you just have to keep working on that consistency and getting better every day."
Southam's father, Denny, who played football at Utah State in the early '90s, recognized his oldest son's drive and potential early on. He wanted to make sure he was getting the best attention he possibly could for college coaches and discovered the Chris Sailer Kicking camps.
"We were so happy with everything Dan (Zeidman) and the National Camp Series had done for Skyler, we just felt making that jump to Sailer's camps was the next step," the elder Southam explained. "It's been a true blessing from that moment on. Chris' approach to kicking and how to mentally prepare have been a perfect fit. Just to see all of Skyler's training getting recognized from all these big schools. It has been such an amazing journey."
Sailer, who developed and personally runs what is arguably the largest kicking, punting and long-snapping camps with snapping specialist Chris Rubio for top prospects in the United States, raves about Southam. "Skyler is simply an outstanding kicker," Sailer said. "A great looking athlete with a big-time leg. He hits a great ball off the ground. His kickoffs are ready for D1 now. He's come a long way with his punting as well. He punts for outstanding distance and hang time."
These are not meaningless words or "coach-speak" from Sailer. His camps and affiliations have helped hundreds of kicking prospects gain college exposure. Many have gone on to compete in professional football, namely Super Bowl champion kicker Justin Tucker of the Baltimore Ravens, who Sailer has compared Southam to.
"Skyler does extremely well under pressure and has incredible overall potential. He's one of the very best that we have had in the past few years," Sailer said. "A fine young man with a great attitude and work ethic. I expect big things from Skyler."
Southam's father added that beyond the mentoring that his son has received since beginning to attend Sailer's camps, the personal experience has helped so much with the growth and maturity of the young prospect.
"Chris and his coaches create such a tight bond with these guys, they become like brothers," Southam said. "Skyler has made such good friends for life the past two years. Besides being an authority on kicking, Chris has been terrific in mentoring Skyler in all aspects of being a well-rounded athlete. There is no doubt he has been instrumental in all the success Skyler has been having."
The attention Southam was receiving early on at the Sailer camps began to pay off midway through his junior year when schools such as Georgia, UCLA, Stanford and Washington — among others, started contacting the young kicker expressing interest. For Southam, however, none of those contacts were bigger than Brigham Young University.
Once the coaches at BYU became familiar with Southam's potential, they began to actively recruit him, coming to watch him practice and inviting him to their Junior Day. After Southam's impressive workout for Cougar head coach Bronco Mendenhall, Southam received an offer to play for the famed program in Provo.
"It was unreal," said Southam. "Everything just felt right. My goals when I started kicking were to get a college scholarship and to have the opportunity to kick in college and here were both at the same time. And at BYU where I just felt really comfortable and blessed to be wanted by them."
Southam verbally accepted the offer, but is still being courted by Cal and Stanford with hopes he will change his mind. The Army All-American selection will certainly ramp-up the offers from others, but Southam intends to stick with his choice.
"I've planned things out academically to graduate early and go on my mission and BYU is planning on that too," Southam said. "That's been a huge part of it for me — everything fitting perfectly. Even though the other schools are pretty impressive too, I'm looking forward to being a Cougar."
The 2014 Deseret News Second Team All-Stater currently holds the Utah state record on punts with a 48.4 yards per punt average. After three varsity seasons as the Wasps' kicker, Southam is 81 for 82 on PATs, 16 for 23 on field goals, with his longest in a game being 55 yards.
Right now, with the 2015 high school season just weeks away, the young kicker is happy to put the talk of camp performances and college recruiting behind him. He is just looking forward to being one of the guys on the team and building on his impressive stats as a prep. "I'm done with the camps and all that for now," he said. "I'm really focused on having a good year for us and making a run at the playoffs."
Kenny Bristow is the sports editor and staff sports writer for the Wasatch Wave and contributes to the Deseret News high school coverage for the Wasatch region. Email: [email protected] and follow him on Twitter, Google+ and Facebook.