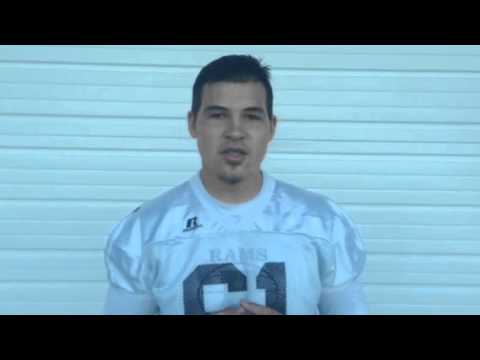 View 19 Items

---
Note: Highland finished with a 7-4 overall record in 2014 and third in Region 6 with a 4-2 record. It lost to Salem Hills 14-7 in the 4A first round.

---
SALT LAKE CITY — After suffering some devastating, game-changing injuries in last year's first round loss to Salem Hills in the 4A playoffs, Highland High School head coach Brody Benson knows just how important depth is to a team.
Although things seem to be looking good so far, he knows just how ugly things can turn.
"I feel pretty good about how things are going. The biggest concern is just the numbers, our depth. I feel really good about our starters and their leadership, but it's just about being able to maintain that when and if injuries happen. There just needs to be good competition behind them. That's our MO every year, is if we can stay healthy. But our attendance has been good, the attitude and effort level has been great, so I feel pretty good about where we are so far."
Last season, the Rams got off to a hot start and were a legitimate threat, winning five of their first six games and seven of their first nine, in which they averaged 27.2 points per game.
Then, in the final two games of the season — including its early loss in the postseason — Highland suffered some significant injuries and never got back on track.
The Rams dropped both of their final two contests and put up only 10.5 points per game as they watched their season end.
"It's going to come down to how healthy we can stay down the stretch. I feel very, very confident about our starters, but we have to have some guys behind them who are starting to push and see themselves being in that starting role. Last year, we had some bad injuries, especially in that playoff loss to Salem Hills, and it really hurt us," Benson said.
Despite getting off to such a great start and ultimately having a somewhat successful year, Highland did suffer its fair share of issues at the quarterback position.
Although a tremendous leader on and off the field, John Hunter completed just 75 of his 151 passes for 899 yards while throwing 14 interceptions and just seven touchdowns.
This is a hole the Rams hope to fill this season with James Pembroke, their third-leading rusher from last season.
Pembroke brings a lot to the table with his dual-threat ability. In just five passes last year, he threw for nearly 50 yards — for an average of 16.33 yards per completion — and one touchdown while also rushing for 307 yards and a team-high seven touchdowns.
Also returning for Highland are running backs Jake Boren and Devon Seui, who combined for 314 yards and two touchdowns last year.
"Last year, looking at Johnny Hunter, he was a smart football player and a great leader, but James does bring a little bit more athleticism to him and in this offense it helps so much to open everything else up. I think last year, teams just starting keying in on our fullback and really made our quarterback beat us, and down the stretch, we just didn't have the manpower to do that.
This year with James, it's going to open up our fullbacks as well as our wings. I feel as good about our wings as I have in a long time with Devin Seui, Jake Boren and Andrew Parkin. So I think that will add a more dynamic dimension to our offense as well. We're not changing anything — we're a triple-option offense and that's what we're going to hang our hat on, but it definitely helps having the right guy pulling the trigger," said Benson.
Meanwhile, on the defensive end, Highland has a total of six starters returning who bring experience and tremendous physicality to anchor the defense.
Safeties Seui (14 tackles) and Parkin (36 tackles, one interception) are both set to return as starters on the outside and play pivotal roles. Linebacker David Nonu (29 tackles, one sack) is also coming back to lead what should be a strong defense.
"Defensively, I feel really good about things. We are flying around and running under the ball. We are an attack defense. We aren't going to sit back — we are going to get after people. Our kids play loose and they play fast. When kids are confident that way and can fly around, you have a good chance to be successful," Benson said.
Some newcomers to watch and expected to make an impact include Braden Saddler (OL), Colton Pulver (OT) and wide receiver Christopher Shelton.
"Braden (Saddler) is just a junior and has had a really good camp and summer so far and seems really able to step in and fill that role on the offensive line. We have some guys coming in, like Shelton, who's just going to be a sophomore, who will really do a good job for us and really be what makes the biggest difference for us," said Benson.
Highland Rams at a glance
Head Coach: Brody Benson is entering his 10th season as Highland's head coach. He's amassed a 74-35 record and led Highland to the first round of the 4A playoffs last season. He's a graduate of Granger High School and Southern Utah University.
Offense (7 returning starters; Triple-option offense)
Offensive coordinator: Brandon Winn (11 years as assistant)
Returning offensive starters
James Pembroke (QB)
Andrew Gramer (C)
Talo Latu (FB)
Nathan Roderick (WR)
David Nonu (FB)
Jake Boren (RB)
Jayden Palauni (OG)
Offensive newcomers to watch
Christopher Shelton (WR)
Devin Seui (RB)
Braden Saddler (OL)
Colton Pulver (OT)
Defense (6 returning starters, 4-2-5 defense)
Defensive coordinator: Jon Jensen (11 years as assistant)
Returning defensive starters
Andrew Gramer (DT)
Jayden Polauni (DE/DT)
David Nonu (LB)
Talo Latu (LB)
Devin Seui (S)
Andrew Parkin (S)
Defensive newcomers to watch
Izzy Vaifoou (DE)
Mac Stevens (LB)
Coaches' preseason Region 5 straw poll: Second
Deseret News 3A South prediction: First
Bottom line: There's little doubt that Highland has what it takes to be one of the top four or five teams in 4A, but it will come down to the play of dual-threat quarterback Pembroke and a solid depth chart. Last year, the Rams jumped out to a hot start by winning seven of their first nine games of the season before suffering key injuries and dropping their final two games. If Highland can maintain its composure and its backups can step up and perform under pressure, the Rams will be competitive down the stretch. The pressure also is on Wright to add a new explosive dimension to the QB position.
Last 5
2014 — 7-4 (4-2 in Region 6 – 4A First round)
2013 — 7-4 (4-2 in Region 6 – 4A First round)
2012 — 8-5 (3-2 in Region 6 – 4A Semifinals)
2011 — 7-4 (3-2 in Region 6 – 4A Quarterfinals)
2010 — 10-4 (4-2 in Region 6 – 4A Champions)
Highland coaching history

2006-current — Brody Benson (74-35)

2001-2005 — Ray Groth (40-21)

1996-2000 — Larry Wilson (43-14)

1986-1995 — Tom Kingsford (76-36)

1977-1985 — Roger DuPaix (55-38)

1974-1976 — Dennis McLaughlin (7-20)

1971-1973 — Tony Polychronis (10-17)

1966-1970 — Jerry Simons (24-24)

1961-1965 — Bill Fickinger (40-10)

1957-1960 — Larry Palmer (24-9)

Deseret News Mr. Football recipients

1997 — Morgan Scalley, QB

Deseret News MVPs the past 10 years

2010 — Nate Orchard, WR/DL

Deseret News First Team all-staters the past 10 years

2013 — Bryan Mone, DL

2012 — Luti Nonu, OL

2012 — Bryan Mone, DL

2012 — Adam Webber, LB

2011 — Quincy Clark, DL

2010 — Sione Houma, RB

2010 — Ono Tafisi, OL

2010 — Desmond Collins, DL

2010— Hayes Hicken, K

2009 — Toi Tafua

2009 — Ono Tafisi, OL

2008 — Latu Heimuli, DL

2007 — Latu Heimuli, DL

2006 — Sean Swenson, QB

2006 — Liam McNally, RB

2006 — Braden Brown, TE

2006 — Tim Bickmore, OL

2005 — Thomas Bradley, QB

2005 — Jake Orchard, WR

2005 — David Nafe, DL

2005 — Brett Smith, DB

To view second team and honorable mention all-staters through the years, check out the Deseret News All-State Archives.
Ryan Love is a full-time student and has been a part-time sportswriter for the Deseret News since Oct. 2012.
Follow him on Twitter @RLove7724
EMAIL: rlove@deseretnews.com