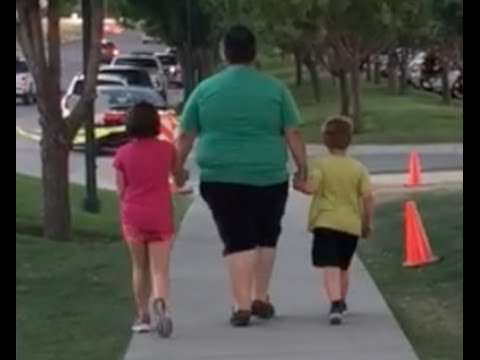 View 5 Items

Set that ultimate example for your kids. Trust me. They love you, they look up to you, they respect you and they're sponges.

—James Lawrence
LEHI — The most common reaction to James Lawrence's quest to complete the equivalent of 50 Ironman courses in 50 consecutive days in all 50 states was doubt.
There was also bewilderment, confusion, incredulity and, of course, admiration.
My first reaction was why?
Why would someone do something so extreme that no one is even sure it can be done?
His answer was simple.
Because it cannot be ignored.
And when you're ultimate goal is asking people to pay attention to a problem that most of us refuse to acknowledge, I guess outrageous seems more heroic than insane.
Childhood obesity is the issue that caused the man better known as the Iron Cowboy to embark on what might be the most grueling sports experience in history.
According to the Centers for Disease Control, childhood obesity (ages 6-11) has more than doubled in children in the last 30 years. It's quadrupled in adolescents during that same time.
In 2012, more than one third of children and adolescents were overweight or obese, the CDC said.
Still, most of us see it as a personal problem, not a societal issue. We see it as lifestyle choices that should be left to individuals. The reality is that obesity leads to a number of other health problems that tax our health care system and devastate families.
"The epidemic is big enough," Lawrence said. "I hold the world record for the most Ironmans in the world and nobody cared. So I needed to pick something big enough, and this is what I came up with."
So how does nearly killing himself address the issue of childhood obesity?
It gives him a platform.
"My goal was to finish the 50 so that we could continue to talk about it and spread the message," he said. "My goal is $1 million and I'm not going to stop until I get there."
Saturday wasn't the end of his effort. It was really the beginning. And in many ways, what comes next may be more difficult than completing 50 straight days of 2.4-mile swims, 112-mile bike rides and 26.2-mile runs. He still accepts donations at www.ironcowboy.com.
But the Lindon father of five is no stranger to a fight — even one that seems like a losing proposition.
In fact, he said he chose a seemingly impossible task for the opportunity it would provide afterward.
"I wanted to do something really hard," he said. "I wanted to find my mental and physical limits and I found those. And then I busted through them."
While raising money for the Jamie Oliver Foundation, which addresses nutritional education among children in a number of ways, he believes what he did will empower others to acknowledge, wrestle with and overcome whatever challenges they face, regardless of whether they're self-made or randomly imposed.
Lawrence has had many challenging moments the past two months.
One of them came during Saturday's final 2.4-mile swim at Deer Creek Reservoir.
"Hypothermia and cramping set in quickly," an update on his Facebook page stated. "James went through a seriously dark period out there in the water — sobbing, hyperventilating, and shivering uncontrollably as we tried in vain to stop the cramps and put another wetsuit on top of the one he was already wearing. In the end, he dug deep and pushed through the second half — disoriented and fighting for every stroke."
He exited the water, was wrapped in blankets and allowed to rest.
"One more to go," the post said. "It won't come easy. Send the Cowboy some love."
He chose not to discuss the dark times as he prepared to run the final three miles of his incredible journey. As any endurance athlete knows, focusing on the pain only increases its power.
"This is a high journey," he said. "The way I got to the finish line is my wife and five kids. I focused on the high points. Once I finish, I will dissect this and we'll talk about the low points."
He was grateful for the support he received as he traveled from state to state. But overwhelmed at the support he received from his home state as he finished. Lawrence relied on his wife and support crew, dubbed the "wingmen," to help get him through day after exhausting day.
Lawrence wanted attention and he got it. He sought a platform and now he's earned one.
Obviously exhausted, he stood on a wooden podium and asked parents to remember that they hold powerful influence over their children. That influence is the key to lasting change.
"Set that ultimate example for your kids," he said before the final 5K. "Trust me. They love you, they look up to you, they respect you and they're sponges."
The best way to help the effort, he said, is to educate oneself and share this collective story. Many people need information and we all need support.
"It's often said that children are a product of their environments," Lawrence said. "It's our responsibility as adults to set that ultimate example for them. Everybody is so focused on treatment when we need to be focused on prevention. Prevention comes with education and a little bit of effort. It comes with a little bit of activity and a lot of real food."
I took a lot of lessons from Lawrence's journey:
• Don't listen to the doubters. It's not their fault, but they don't know what you feel and they may not understand your purpose.
• Nothing great is accomplished alone. Every thing is easier with Wingmen (or wingwomen), even if they don't wear Speedos or fairy wings.
• A sense of humor is healing. It's transformative and it offers perspective and hope.
• When facing an overwhelming, seemingly impossible task, break it down into its smallest components. The longest journey consists of single steps linked together by constantly deciding not to give up.
• The most complex problems are unraveled one solution at a time. Skip one drive-thru; pass on a single desert; take the stairs; take a walk.
• Just do your best to give yourself a better life when you can. Don't beat yourself up or nag those you love. A better life isn't an all-or-nothing proposition.
• And seeking good health is not a competition.
It's a journey that will include good days and dark times. We'll struggle with heartbreak and regret, but we will also revel in joy and love.
Thanks to James Lawrence, the Iron Cowboy, Saturday night was an incredible celebration of the power one person possesses to inspire — and empower — positive change.