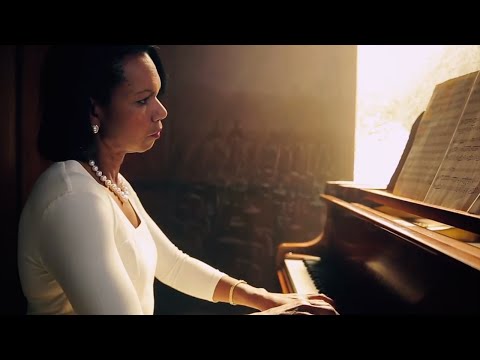 View 9 Items

Former Secretary of State Condoleezza Rice and violinist Jenny Oaks Baker have released a patriotic-themed music video of "Amazing Grace" just in time for the Fourth of July.
"It's one of my favorite pieces to perform," Baker, who is a Grammy-nominated, Billboard No. 1 concert violinist and recording artist, said in an interview with the Deseret News. "I'm grateful to be able to kind of connect it with the love I have for this country and the gratitude I have for those who serve."
Rice, known predominately for her role in politics and her work with President George W. Bush's administration, is also an accomplished pianist. According to a 2008 Time magazine article titled "Where Music and Politics Meet," Rice began seriously considering a career as a concert pianist at age 15.
"While she didn't go pro, at one point Rice did accompany cellist Yo-Yo Ma in concert at Washington's Constitution Hall," the article states.
The idea to collaborate with Rice on a rendition of the song came to Baker after she performed "Amazing Grace" at a BYU Management Society event in April 2012 that Rice was speaking at in Washington, D.C.
"I performed it right before she spoke, and I could tell that it really touched her because she was pretty emotional as she began to speak and talked a little bit about the song and how it meant a lot to her," Baker said.
Following the event, Baker gave Rice a copy of her album "Silver Screen Serenade," which includes a recording of Baker performing the song with a symphony. And while Baker says that it was "amazing" to meet Rice, she admits she didn't think much about it again until a few months later when she felt that she needed to make a music video for "Amazing Grace." As she mentally scrolled through the list of pianists she had performed with in the past, the thought came to ask Rice to accompany her.
Baker took the chance and got in touch with Rice through the BYU Management Society, and she was pleasantly surprised to hear that Rice was interested in the collaboration.
"I was pretty excited, but she's so busy that it took a year to be able to record the track," Baker said.
The duo recorded the track in July 2013 and a year later, Baker flew to San Francisco to record the video with Rice. Now, two years after the recording process began, the video is being released just days before Americans across the country gather in celebration of the country and those who have sacrificed for freedom.
The version Baker and Rice perform of the well-known song was arranged by Kurt Bestor and features patriotic scenes throughout, including footage of soldiers in uniform marching, boarding military aircraft and embracing loved ones. There are sobering images, such as a flag-covered casket.
The music video ends with the phrase, "May the grace of God continue to shine on lovers of freedom everywhere."
"My patriotism goes hand and hand with my gratitude to God for blessing us all with this amazing country and land and the freedoms that we enjoy, and music just brings it home for me," Baker said.
Baker said the opportunity to work with Rice, who is currently a senior fellow and professor at Stanford University, was a special one.
"She doesn't just speak the words — she's lived it — so it's really meaningful to be able to collaborate on a project like this with someone who has given their life in service to this country," Baker said. "She's a very accomplished pianist and performer and a woman of faith, so it was really a privilege."
The song is currently available as a single through iTunes. According to representatives at Shadow Mountain Records, all proceeds from the sale of the single will go to the Wounded Warrior Project.