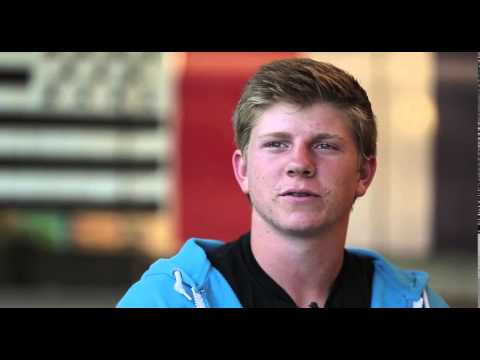 View 15 Items
Buy photos


SYRACUSE — Somewhere between the blissful ignorance of childhood and the angst of being a teenager, Hunter Woodhall noticed he was different.
The brothers he loved to imitate and the friends with whom he played all had feet, but he did not.
They had toes; he had stumps.
They learned to tie shoes and cleats, while he figured out how to do everything they did with his prosthetic limbs.
"I was really confused," said the 16-year-old whose feet were amputated when he was 11 months old due to a congenital defect called fibular hemimelia, which meant he was born without fibulas in his lower legs. "Not only did I really understand that I was different, but everybody around me was the same, and then there is me. It was really kind of confusing. I think my religion helped clear that up, helped me get through it all. In a way it kind of calmed me down and gave me the OK that it's going to be alright."
Hunter can't remember exactly when he started to care about being different, but knows what eased his worries, even if it didn't exactly answer his questions.
"When I was really young, it didn't matter," he said of growing up a double amputee. "When I started getting older, I started to realize what was going on. It was really confusing. I remember when I was younger I would pray, and then for some reason, it was fine. Like I just said, 'There is a plan for this. There is a reason for this. It's not just out of the blue that I got the short stick, per say.' I kind of thought of it as there is a bigger plan and right now I'm just not seeing the big picture."
Life-altering choice
It may have eased Barb Woodhall's mind if she could have seen the promising athlete her son would become when she and her husband, Steve, were deciding whether to amputate Hunter's feet, just about the time most babies are learning to walk.
"Initially, the hospital where he was born really didn't know what his condition was," Barb Woodhall said of the hospital in Georgia. "I mean, they knew from a textbook point of view, but they told us it could be fixed. So in our mind, it was going to be fixed."
In fact, they were told Hunter had a clubfoot and that surgery would help correct the situation. It wasn't until Hunter underwent surgery a few months later that doctors realized his ankle was actually fused and that his foot would never function normally.
Still, choosing to amputate was gut-wrenching.
"Our concern was you're making a decision for someone else that's permanent," she said. "And they have no say in it. We didn't know anybody else who was like him, who was an amputee. So for us, it was just having to make that decision for him that would affect the rest of his life."
Without their biological families nearby, the Woodhalls said their Assembly of God congregation became their support system.
"We had a really strong church family and they helped us through it," Barb said. "They were our support system. They prayed with us."
That spiritual support made a massive difference in how they felt as they contemplated treatment options for baby Hunter. Eventually, they concluded amputation would give him the best shot at a normal life. He had surgery to remove his feet and parts of his lower legs about a week apart — just before his first birthday.
"Once he went into surgery and the decision was made, we were fine with it," Barb said. "It was like, 'OK, this was the right thing to do.' "
As soon as his legs healed, Hunter was fitted with his first prosthetic legs at 15 months, and three months later the curious toddler was off and running.
Nothing to pity
Barb Woodhall understands some of the thoughts people may have when they see her son running around a track or on a football field on fake legs.
"People have questions, but once they see him doing stuff, that goes away," she said, grinning. "The initial thought is always, 'Oh, poor thing.' But don't feel sorry for him. He can do more than most kids do. There is nothing to feel sorry for."
Hunter hasn't missed out on much in his young life. He's been playing sports as long as he can remember — soccer, baseball and the family favorite — football. But it was after running some 5K fun runs at school that he decided running might be more than a hobby.
"I enjoyed long distance, but I didn't really know anything about sprinting," he said. "I'd just always liked running. As I started sprinting, it became a passion of mine."
Barb Woodhall can't actually remember why the family first decided to ask doctors for "running feet." But doing so changed the experience.
"I think he was just so active," Barb said. "Once we got his running feet, there was such a difference between his regular legs and his running legs that he just really enjoyed it."
Hunter's "running legs" are carbon fiber blades made by Icelandic company Ossur. The technology, however, was invented by a former University of Utah biomedical design engineer named Van Phillips, who sold his Flex-Foot company to Ossur in 2000. His was the first prosthetic to store kinetic energy from the wearer's movement, creating a spring-like effect that mimics the ability of biological legs to jump and bounce. The Cheetah blade was made famous by Olympian and Paralympian Oscar Pistorius, although Hunter's blades are a newer version of what Pistorius wore in the 2012 Games.
Syracuse track coach Roger Buhrley remembers seeing Hunter run a couple years before he began coaching him.
"When I first saw him running in junior high, I didn't pay a lot of attention," Buhrley said. "He was struggling in the 800, toward the back, and I just thought it was pretty neat that he was out there competing."
It was during Hunter's freshman year that he started working out with the high school athletes during the indoor season. He had participated in some adaptive sports camps and competitions, and he'd already started contemplating shorter distances.
"When he came up and started running with us, he wanted to be a sprinter," Buhrley said. "He'd already been competing with Paralympic (camps), and there were a couple of things that stuck out early."
First of all, Hunter wasn't content just to participate. As he had more success, he became even more determined.
"He wasn't out there as a novelty act," Buhrley said. "It didn't take us too long to figure out he'd be able to help us. When we got to the outdoor season, he was on our A-team 4 x 400 relay team, and he qualified for state as a freshman in the 400-meter sprint."
The fact that Buhrley allowed Hunter to compete with the varsity sprinters was evidence that he saw potential in him. In the Davis school district, ninth-grade students attend junior high.
"We have the option to bring freshmen up, which I hardly ever do," Buhrley said. "But I brought him up because he was running so well during the indoor season."
Finding a way
Buhrley said he'd never worked with an adaptive athlete like Hunter. That made it necessary for both of them to research what might work best for the teen in training and when racing.
"I've sought a little help, mostly from Hunter himself," Buhrley laughed. "He's gone to these (adaptive) camps and picked things up and tried to work on his mechanics."
The coach said the one thing he knows Hunter has plenty of is talent and determination.
"A couple of times he ended up on his face," Buhrley said. "His persistence there when it was early on, before he was having much success, that showed commitment. Once you start getting some success, you're a little more motivated."
At this year's state meet, Hunter and his Syracuse teammates earned two third-place finishes (4 x 100 and medley relay) and one first-place finish (4 x 400). Barb Woodhall said her son's success comes from his work ethic.
"He's always pushed himself," she said. "He's had to work harder than everybody else, just to be average. Then he's had to work even harder to be where he's at now. He's had to push himself."
Hunter matter-of-factly talks about how he adapts his workouts. For instance, he can't do squats the way his teammates do because he has no ankles.
And Buhrley points out that he starts running in the exchange area before able-bodied runners because his starts are generally slower.
"It just takes him longer to get to top speed," Buhrley said. "He has to leave sooner or the incoming runner will run right over the top of him."
Hunter doesn't resent the adaptations he has to make because he's been doing it his entire life. When he feels frustrated, he said it's his parents and coaches who help him channel that into focus and determination.
"If something (negative) got in my head, I just thought, 'Brush it aside,'" Hunter said. "Because it's not going to help. Complaining is not going to help. It's not going to change anything, so I might as well just go work my butt off and get to where I want to be instead of worry about it."
His parents said his personality and willingness to work hard have been his best weapons in battling self-pity.
"His competitiveness helps," Barb said, smiling. "He wanted to be doing what everybody else was doing. We did push him. We didn't let him quit or pout or slack off. He just learned that if he wanted to do that, he had to work a little harder sometimes."
The best remedy for a pity party?
"Dad," said mom as they both laugh. Then Hunter adds, "I get frustrated a lot when I'm training and I'm trying to get something down, and I keep messing up. A lot of the times, it's my parents, my coaches or somebody else who helps get me through it."
Barb Woodhall said they've worked so hard to help Hunter see a world without limits that when his older brother told him he was handicapped he didn't believe it.
"He was 7 before he realized he was handicapped," Barb said laughing again. "His brother told him he was handicapped, and he said, 'No, I'm not.' … He's just never thought of himself that way."
The Woodhalls never hesitated to allow Hunter to play whatever sport he wanted, including football (from age 8), soccer and baseball. After all, they had two older sons who also played football and competed in other sports.
"We learned really early there is nothing wrong with him," said Barb, smiling at Hunter, who sat across from her at the dinner table in their Syracuse home. "The only thing he doesn't have is feet. Other than that, he can't get hurt any more than the other two could. So we just let him go."
While Hunter said some children would ask questions or stare, he was rarely bullied. In fact, the biggest issue he's dealt with is having coaches treat him as fragile.
"I think they worried about him getting hurt," Barb said. "Even though we would say, 'Don't treat him any different.' But they did; most always have. They might not realize it, but they do."
Hunter said he doesn't see the adjustments as a big deal.
"There were some things that I had to do differently," he said. "But nothing too difficult to overcome."
Hunter shrugs and half smiles when asked about how others react to his obvious physical differences.
"I don't know," he said shrugging. "I just kind of do whatever. It's just life."
Big dreams
For the doctors who help children like Hunter, there is nothing more rewarding than when a child finds freedom to chase a dream thanks to a well-made prosthetic.
"There is nothing better than a little tiny kid," said Dr. Eric Green, CP. "I mean, it's sad that they're an amputee, but you see them take their first steps, and you give them a leg and it's like, Wow. It's like totally cool. It's just cool to see them take off, to do what they do, to see them take off or run for the first time."
Hunter works closely with Dr. Green, who makes and fits the various prosthetic legs the teen wears. While Hunter describes what is working — and what's not — Dr. Green finds ways to make everything he wants to do possible.
In 30 years in the business, Green has seen massive evolution in prosthetics.
"They've changed so much over the last 20 years," he said. "When I started making legs, you would never have even dreamt of a leg like that," he said, pointing at Hunter's Cheetah legs.
"There is just no comparison to what they look like now and how they move," Green said.
While much of the advancements in prosthetics have been influenced by athletes, Green said many of the improvements come from ordinary people hoping to live normal lives.
"People just wanted to move," he said. "The old rubber feet that we had, there aren't a lot of motion or mobility in them. Sure we made a good prosthesis for the time, but it's much better."
He rattles off all kinds of changes and improvements, some Hunter uses, some he does not.
"You just try to use what works best for the patient," he said.
Shriners Hospital doesn't deal with many patients who have Hunter's aspirations. "Not very many," Green said, noting the hospital did have three patients participate in the Sochi Paralympic Games. "We're always looking to collaborate with the patients because we want them to succeed and flourish. I call it arts and crafts. You have to think outside the box."
Thinking outside the box has helped Hunter make huge strides in just a year and a half. Not only has he helped his team win and podium in the state meet, the last two years, he also placed second in his classification in the 200 and 400 in the 2014 Paralympic Nationals. In the National Junior Disability Championships, he placed first for his age group and second in his classification in both the 200- and 400-meter races. Last month, his 400-meter time of 49.30 tied the Paralympic record.
When Barb Woodhall sees her son competing in high school or with the U.S. Paralympic team, she feels nothing but admiration and pride.
"It's rewarding," she said. "We know the work he's put into it. We know the training we've provided, and we know he's earned it."
Both she and Buhrley have heard people suggest that running on the Cheetah legs is actually an advantage for a runner because of the bounce offered by the prosthetic limb.
"If they'd just do their research, they'd realize that's not the case," she said. "The fastest Paralympic runner ever is still not fast enough to compete in the Olympics to win. … They don't have an advantage. They're missing a lot of body parts. All that spring leg does is put them almost equal to everybody else."
Buhrley said any help the spring legs offer don't make up for the disadvantage of not having feet and legs.
"If it's such an advantage, why aren't all the world records held by Paralympians," he said. "There are definitely some adaptations they have to make, and changes, and some view it as some type of an advantage. But they have to deal with a lot of issues. It's not an advantage."
He points out a meet in April in Logan in which Hunter fell. Barb said there was a slight alignment issue with the blades and he caught one of them on the other.
Hunter doesn't worry about whether people think he should be pitied or if his running legs give him an edge. He simply wants to run as fast as he can for the country he loves to give children like himself hope.
"He's kind of on a mission there to be a role model," Buhrley said. "He hopes he keeps getting better, and that kids that might be dealing with the same situation and their parents might see him and see what a success he's been and he'll be a role model for them."
Hunter smiles when asked what advice he'd give a young person struggling to understand why he is different than everyone around him.
"I'd probably say, that life goes on for sure," he said. "It's nothing that you can change. It's going to change your life, but not disable you. It's not going to limit you to do certain things. Doctors or people might say things, like 'He's never going to be able to walk or he won't have a normal life.' Everyone thinks those things. … And if you start getting those thoughts in your head, if you start thinking, 'Oh, I am disabled,' then you just have to get that out of your head. You might have to do things differently, but you can still do what you want."