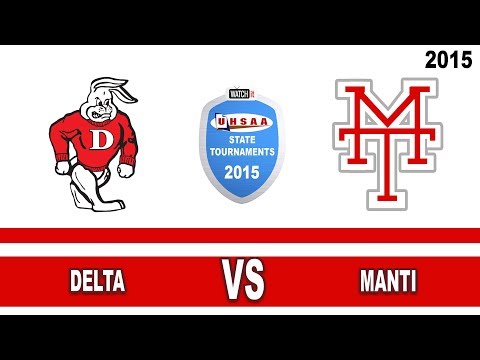 View 4 Items




OREM — With Delta down just 3-2 in the bottom of the seventh inning, and with runners on first and third with one out, Manti pitcher Kyle Robison needed to deliver in a big way.
True to form, Robison delivered.
Three pitches was all he needed to strike out the next batter for the second out before forcing a pop-out for the third out and the Templar win. With the win, Manti advances as one of just two teams left undefeated in the 2A state baseball playoffs.
"We're feeling really good right now," Robison said after the win. "We feel like we're on top of the world right now and that we can beat anyone. Our bats are coming through at the right time, our fielding is coming through at the right time — we're excited."
Not to mention the pitching coming at the right time, which proved huge for the Templars on Thursday. Robison provided a complete game effort from the mound, striking out 10 batters against no walks allowed.
"Kyle Robison really pitched a gem," said Manti Coach Jim Nelson. "His curveball was better than it has been all year, he stayed ahead of hitters (and) he was smart … he just had a great game. He's a great kid."
Unfortunately for Robison, his curveball left him in the seventh inning, giving the Rabbits a sudden window of opportunity.
The Templars entered the bottom half of the seventh up 3-0 and seemingly poised to cruise to the win. But Delta had other plans, and strung together three straight hits, topped off by an RBI double from Dakota Dutson to cut the lead to 3-1. A fielder's choice brought home another run to squeeze Manti's lead to just 3-2.
"My curveball just lost itself," Robison said of his sudden struggles from the mound. "It was either just too slow or not breaking enough, I don't know what it was. So I went to my fastball at the end."
Matching Robison's stellar effort from the mound through five innings was Delta's Tyler Young, before the Templars finally got to him in the top of the sixth. A triple off the bat of Wes Wright and a single by Kelton Pritchard provided two runs in the sixth. A sacrifice fly by Robison in the seventh extended the lead to 3-0.
With the win, Manti advances in the no-loss bracket and will take on Enterprise on Friday at Brent Brown Ballpark.
Enterprise slugs past Gunnison 13-5
The Wolves set the tone early, crossing the plate seven times in the bottom of the first inning to take a commanding 7-2 early lead. Kelton Hunt led the way with a game-high four RBIs while Chandler Bower provided six solid innings pitched from the mound.
Twitter: @BrandonCGurney