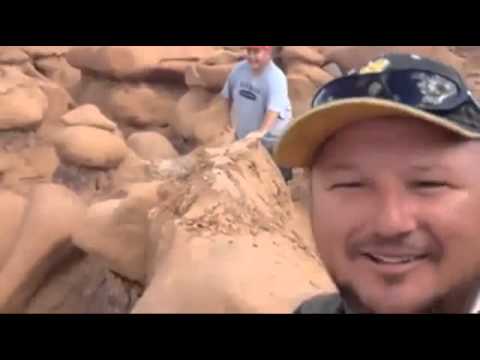 View 8 Items
Dave Hall

GOBLIN VALLEY — A Colorado River ferry operator named Arthur Chaffin created quite a stir more than half-a-century ago in 1949 when, armed solely with his camera, he set off from his cabin in Hite to a remote place in the Utah outback he'd known about for years he called Mushroom Valley.
When his photographs of the thousands of unique mushroom-shaped sandstone rock formations in the mile-long valley were published, people who had never before heard of the place jumped in their cars, made sure they had enough water and decent tires to cross the desert, and set out to see for themselves if the fantastic formations actually existed or if Chaffin had doctored his pictures and was putting them on.
He hadn't and he wasn't. Mushroom Valley was a real place, boasting some of nature's most unique productions — top-heavy red rock pillars that began forming 170 million years ago when southern Utah was on the edge of an ancient sea.
For many people, the mysterious rocks and eerie, isolated setting (50 miles southwest of Green River, aka the middle of nowhere), conjured up images of goblins, particularly when viewed at sunset. Soon enough, Chaffin's Mushroom Valley became known as Goblin Valley.
Goblin Valley grew so popular so quickly that by 1954, just as the Interstate Highway System was about to be established, the state of Utah turned the valley into a preserve to protect against vandalism. Ten years after that, Goblin Valley State Park was officially created.
Visits ebbed and flowed through the years until 18 months ago, when the next big publicity push occurred. This one also involved a camera.
In October of 2013, two men who might politely be called yahoos leading a group of Boy Scouts decided to tip over one of the goblins. One of them, David Hall, turned his cellphone camera to video and pointed it toward his friend, Glenn Taylor, as he pushed a rock about the size of a bale of hay onto the desert floor.
In 14 seconds, they sped up the erosion process by anywhere from 10,000 to 10 million years.
The men posted their video — complete with an end-zone type celebration as if they'd just scored against the Seahawks — on Facebook, igniting the kind of attention Arthur Chaffin couldn't have even dreamed of (4,888,883 hits on YouTube to date).
The outrage was as universal as it was swift. The men's claims that they toppled the rock out of concern it would fall and hurt someone were met with stunned disbelief. What would they do next? Tip over Balanced Rock? The Boy Scouts kicked them out forever. The state prosecuted them, they pled guilty to criminal mischief and were sentenced to probation and hefty fines.
The silver lining?
More people are visiting Goblin Valley than ever before.
A total of 94,222 people visited the state park in 2013. In 2014, that number increased to 109,593, a 25 percent increase. Virtually every month since, Hall and Taylor's stunt has brought new record attendance. The following spring nearly 60,000 people drove through the park entrance from March through June. That doubled the 30,081 who visited the entire year of 2006. In May of 2014, 22,111 visitors were recorded, by far the highest monthly total in park history.
"We knew attendance picked up," says state park ranger Nathan Martinez, Goblin Valley's assistant manager who has been in residence at the park nine years. "Ever since that happened, we've had tons of calls, tons of questions, tons of people."
He paused before adding, "Although that's not the way we like to receive attention."
The incident, he said, has spurred park officials to step up their education program about how to treat natural wonders. "We're doing more to help educate people what is a good way to preserve these resources," he says. "We have added more leave-no-trace programs. And people are listening."
Now that's something legit for the deposed Boy Scouts to high-five over.
The heightened attention also could prove to be a boon for a push by the state to greatly increase Goblin Valley's park boundaries. It has been proposed that the existing 3,500 acres be expanded to some 132,000 acres that would include a large section of the adjoining San Rafael Swell, with its labyrinth of slot canyons, narrows, reefs and buttes.
"There's so much here," says Martinez. "It's not just the goblins, it's also the slot canyons, the narrows, the vast desert to explore. There's so much for people to do and get out and enjoy. It's very much a hands-on experience out there."
Pun definitely not intended.
Lee Benson's About Utah column runs Mondays. Email: [email protected]