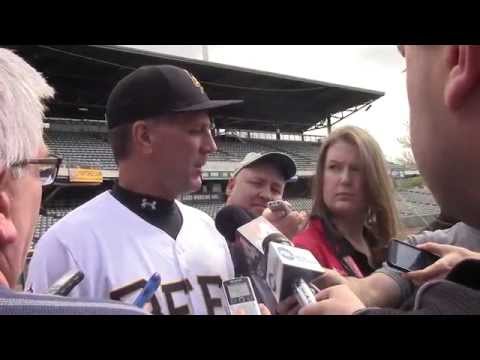 View 10 Items

The combination of the season starting a week later and opening on the road it seems like we're not opening until May. It just seems like forever. So, yeah, I'm excited to get going and see a baseball game. It'll be fun.

—Salt Lake Bees vice president and general manager Marc Amicone
SALT LAKE CITY — Marc Amicone was ready to play ball Tuesday. The vice president and general manager of the Salt Lake Bees couldn't help but feel that way as he stood near first base during the team's media day at Smith's Ballpark.
The boys were back in town — fresh off spring training in Tempe, Arizona — with the field and weather also contributing to the positive picture at the stadium.
Problem is, the Bees don't start the season until Thursday at Sacramento and their home opener isn't until April 17.
"The combination of the season starting a week later and opening on the road it seems like we're not opening until May," Amicone said. "It just seems like forever. So, yeah, I'm excited to get going and see a baseball game. It'll be fun."
New manager Dave Anderson is also eager to begin the season.
"I think we're all happy to be here," he said.
Anderson said this year's Salt Lake squad will be a unique club with a lot of different organizations represented and a lot of young guys. The season-opening roster features 17 players with experience in the majors and eight of the organization's top 30 prospects (as per MLB.com).
Only three players, though, have previously played for the Bees.
Outfielder Grant Green, the veteran of the group who played 48 games for Salt Lake last season, acknowledged that they're strangers in the sense that not many of them were with the Bees a year ago. However, he noted that they've gotten to know each other in camp.
"We have a really good mixture of people," Green said.
Top prospects include infielder Alex Yarbrough. The 23-year-old was the Texas League MVP last season with Double-A Arkansas.
"I had a blast last year in Arkansas," Yarbrough said. "I was in the Cal League two years ago and I had a lot of fun playing on the West Coast then, and I'm looking forward to getting started here, too."
Left-handed pitcher Andrew Heaney is the top ranked prospect (No. 26 by MLB.com) to play for Salt Lake since Mike Trout in 2012.
The roster isn't the only big change fans will see at the ballpark this season. Minor League Baseball has implemented a pace of game clock at the Triple-A and Double-A levels this season. Three clocks will be installed at Smith's Ballpark.
"It's not so much about shortening the game as it is just keeping things going between innings and between pitches," Amicone said.
Yarbrough, who played his college ball at Mississippi, doesn't expect it to be a problem. The SEC began using the clocks during his junior year.
Anderson also doesn't think it'll be a factor.
"I don't think it's going to affect the play that much," he said. "I don't think you'll see too much of a difference."
Anderson joked that games will still be about two hours and 45 minutes long.
Another change to play involves a humidor. There's now one at the stadium — for baseballs.
"At this altitude it's a way for the major league clubs to evaluate players as if they're playing at sea level," Amicone said. "It will normalize the ball so you evaluate pitching and hitting a little better."
Salt Lake joins fellow PCL franchises Albuquerque, Colorado Springs, El Paso and Reno in adding the humidors.
"Our purpose here, from a baseball standpoint, is to develop players," Amicone said.
Other stadium additions in Salt Lake include a new playground and Wiffle ball field for kids.
Twitter: @DirkFacer