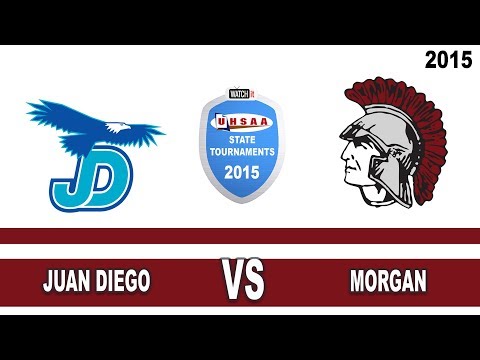 View 37 Items
Buy photos

WEST VALLEY CITY — When head coach Josh Archuleta first arrived at Juan Diego at the beginning of the year, he knew just how dangerous and dominant this team could be.
And boy, was he right.
In his first year at the helm of the Soaring Eagle, Archuleta meticulously pieced his run-and-gun team together until something instantly clicked.
"I knew we had the talent right away," Archuleta said. "I've had some of these kids from my club team on the high school team, and they had to transition a little bit, but we have battled so much adversity this year, and I couldn't be more proud."
Then, midway through the season, Juan Diego — which owned an undefeated record and had championship aspirations — a heartbreaking tragedy struck home with Archuleta, which immediately put everything basketball-related on hold for the first-year head coach, his entire team and community.
On Jan. 25, Archuleta's mother and three-time breast cancer survivor, Juanita Archuleta, eventually succumbed to her battle with cancer, which could have either derailed Juan Diego's pursuit of perfection or inspired it.
Fortunately for the Soaring Eagle, it was the latter.
"We buried her on a Friday (Jan. 27), and every single kid in our program showed up to both the viewing and funeral," an emotional Archuleta said of his team's constant support. "They've just really embraced me and my family, and I even went on to coach a game that night. Ever since that point, this team just bound together. These kids are amazing — I'm just speechless."
Juan Diego really rallied around its coach and played with passion in its final nine games — four of which came in the postseason — to honor the late Juanita Archuleta and its coach by capping off its perfect season with a 67-47 3A championship victory over Morgan Saturday afternoon. It is the school's first-ever 3A state title.
"It feels great. We went for it (state championship) for a long time and the last three years we couldn't do it," star forward Monique Mills said. "This year, we just have a great coach who draws up great plays and everybody played together and worked hard tonight."
Both teams got off to a sloppy start before the Soaring Eagle won the second quarter 14-6 to take a nine-point lead at the break.
Juan Diego's constant full-court pressure and half-court traps eventually seemed to wear down the Trojans, especially in the second half, as it held Morgan to just 22 percent shooting from the field and completely dominated the third quarter (26-11) to take a commanding 24-point edge into the fourth.
"That's been our motive all week here. We saved that trap for state to kind of give everybody a new look, and they did fantastic," said Archuleta. "We just tried to get them uncomfortable and kept throwing a couple kids at them, and our defense is what really got us going."
The Trojans seemed to get into a little bit of a rhythm offensively in the fourth before Juan Diego opened up its largest lead of the game at 27 points with just over three minutes to go and never looked back.
Monique and Dominique Mills continued to power Juan Diego as they both recorded double-doubles with 25 points and 12 rebounds and 16 points and 11 boards, respectively, in the emotional victory.
"I know she was watching (tonight), but I just wish she was here to see it," Archuleta said of his late mother with tears running down his face. "She would be so proud. These kids have been the best to me and they're a great group. I'm just overcome with emotion and couldn't ask for a better year as a head coach."
Girls 3A All-Tournament Team
MVP — Monique Mills, Juan Diego
Dominique Mills, Juan Diego
Ashley Beckstrand, Desert Hills
Savanna Brooks, Morgan
Jordan Scoggins, Carbon
Alyssa Park, Bear River
The All-Tournament Team was selected by votes from the Deseret News and Salt Lake Tribune.
Ryan Love is a full-time student at the University of Utah studying communications and has been a part-time sportswriter and scoreboarder for the Deseret News since October 2012.
Follow him on Twitter @RLove7724
EMAIL: [email protected]