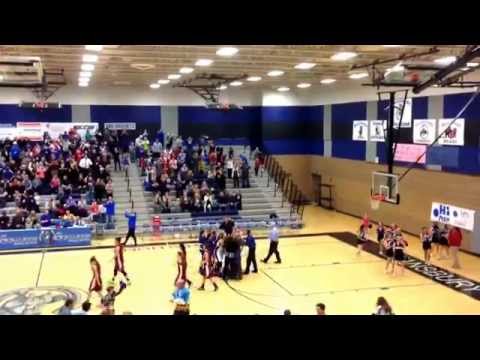 We've always fought back, and that's something I really admire about this group, they just never give up.

—Stansbury coach Kensie Newton
STANSBURY — Rachel Prescott doesn't like the spotlight, and at times this season has been perhaps overly unselfish passing up shots to get her teammates involved.
On Saturday, Prescott's coach wasn't about to let her shy away.
With seven seconds remaining in overtime against Uintah, Stansbury coach Kensie Newton insisted that her senior guard take the last shot. She basically told Prescott she had seven seconds to dribble the length of the court and get something off.
Prescott wanted to drive into the lane to get a shot off, but when she lost her dribble near the 3-point line, she scrambled back to retrieve the ball and chucked up a shot quickly knowing time was about to expire. Incredibly, that angle-right 3-pointer banked in at the buzzer, capping Stansbury's wild 46-43 come-from-behind victory over Uintah in the first round of the 3A state tournament.
"In the past she's wanted to dish to other players, but I said 'you are shooting the ball,' " said Newton.
With the victory, Stansbury advances to the 3A quarterfinals next Thursday at the Maverik Center at 4:10 p.m. and will take on Region 12 champ Carbon.
For most of Saturday's game, Uintah looked like the team headed to the quarterfinals. Stansbury couldn't get anything to drop in the first three quarters — it shot 21 percent — and found itself trailing 27-19 after three.
Newton knew she had to do something to inject life into the stagnant offense.
"We put in some shooters. Our penetration wasn't doing anything against that 1-3-1, so we put some shooters in the corners and that was the difference. Finally some shots fell and we were a little more patient in our offense," said Newton.
Stansbury made 7-of-11 from the field in the fourth quarter, including three 3-pointers, to eventually force the game into overtime. It had a good look at a baseline jumper at the end of regulation, but it bounced off the iron.
"I think our energy level just sped up, we knew we had to step up and make important shots," said Prescott.
In overtime, Uintah scored first to take a 40-38 lead, but Angie Kilpack responded with a 3-pointer giving the Stallions a 41-40 lead, their first lead since 2-0.
When Uintah missed a jumper on its next possession, Newton figured she had her best free-throw shooters on the floor so she told her team to spread the floor and stall. Uintah finally fouled with 22 seconds left, and Stansbury's Erika Lakin calmly hit both foul shots — her only points of the game — extending the lead to 43-40.
Uintah's Mallory Peterson responded by draining a high-arcing 3-pointer of her own, tying the game at 43-43 with seven seconds remaining. Peterson led all scorers with 17 points and three 3-pointers.
There was enough time, however, for Prescott to answer back with the dramatic game-winner.
"We've always fought back, and that's something I really admire about this group, they just never give up," said Newton.
James Edward is the Deseret News prep editor and Real Salt Lake beat writer.