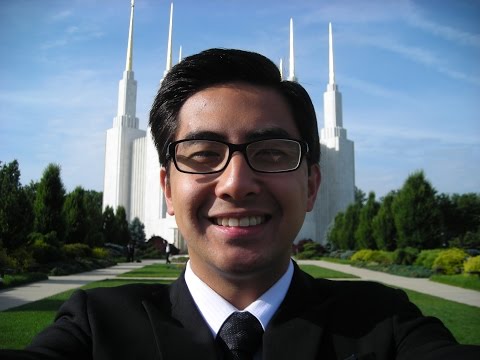 View 14 Items

For Gabriel Guerrero, taking a selfie every day while on his LDS mission was not only a way to journal his mission experience, but it also kept him smiling through the hard times.
Guerrero of Salt Lake City served a mission for The Church of Jesus Christ of Latter-day Saints in the Washington D.C. North Mission. He reported to the missionary training center in Provo on Dec. 12, 2012, and decided from day one that he would take a picture of himself each morning.
"I saw a lot of people online doing selfie videos, but I didn't see any missionary ones," Guerrero told the Deseret News in an email. "The funny thing was that I initially was going to not smile as the others had done, but then as I was doing it, I thought to myself, 'This is a happy thing! I should be smiling!'"
At first, Guerrero was concerned his companions would think he was strange, but his daily photo soon became something other missionaries looked forward to as well.
"As it went along, I would announce to each of them, 'Hey, I'm taking my daily photo!' and they would run and try to photobomb it," Guerrero said. "It became a fun experience for all of us."
After returning home on Dec. 9, 2014, Guerrero combined all the pictures to make a video. Guerrero posted the video on YouTube Jan. 26, and at the time of publication it had more than 35,000 views.
Reflecting on the experience, Guerrero is grateful he took the time to photograph himself smiling.
"Something that I learned during the tough times of my mission was to smile through them," Guerrero said. "For the days that did get tough, taking the photo in the morning reminded me that I was happy."
Email: spetersen@deseretnews.com | Twitter: @Sarah_DNews