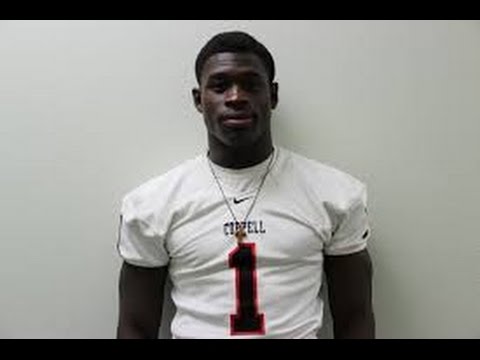 View 11 Items

The thing about him is when you think he's hit top-end, he's actually got another gear.

—Coppell (Texas) first-year head coach Doug DeWitt, on Charles West
It will be interesting to see what tweaks Robert Anae adds in his third season back as BYU's offensive coordinator. One future signee will make it even more intriguing.
Charles West, a committed recruit from Coppell High in Texas, is an interesting case study for the Cougar high school class of 2015.
If you watch West's highlight film — and it is chock-full of just what you'd expect, thrilling highlights — two things stand out.
First, West goes laterally and vertically with impressive speed and quickness. He explodes past linebackers and outruns corners and safeties time and time again, averaging just under 9 yards per carry.
Second, his thrilling highlights came against some of Texas' best in Class 6A, the state's biggest division of football. Coppell plays against powerhouse programs South Lake Carroll, Hurst L.D. Bell and Trinity Euless in realigned District 7. Coppell also played DeSoto.
How good was his competition? The Pac-12, Big 12 and SEC milk District 7 for talent every year.
Carroll, Trinity and Coppell combined to go 64-13 during the last district alignment cycle in Texas. Carroll has been to six state championships since 2002 and won five. Trinity has been to four during that same span and won three, according to The Dallas Morning News.
"He's very explosive and definitely a big-play threat every time he touches the ball," said Coppell first-year head coach Mike DeWitt.
"The thing about him is when you think he's hit top-end, he's actually got another gear."
Can West do it on the next level? "Absolutely," said DeWitt.
"We played some good teams this year," said West, who gained 1,465 yards and 13 touchdowns and was named District 6 offensive MVP in a league that might be the most competitive in the country.
On the phone, he's a polite, humble yet confident guy who believes in his heart of hearts he can only get faster. From running jet sweeps to stretching the outside corners of BYU's formations, West believes he can make an immediate impact as a running back, receiver, and special teams returner in Provo.
West said his decision to choose BYU came down to how he envisioned his future. It is textbook BYU 101.
"I see me going there to a place where I'm not really tempted to go out partying and drinking," said West. "I just want to focus on my schoolwork and football. Then there's a chance for early playing time, coming in and making an impact right away, and they have one of the most exposed programs in the country week in and week out." He plans to study broadcasting and communications.
West said he expects to get out on the edge in BYU's offense and if asked to be a receiver he will do it.
"The fastest I've run the 100 meters was a 10.42, but I can't find where it is in print. One that I can is a 10.58 in Dallas," he said.
At 5 foot 10, 185 pounds, West is a little smaller than Ronney Jenkins, one of BYU's quickest football players ever. But, if reports are true that he can run a sub-4.4 seconds in the 40-yard dash, will his speed be a break-out accessory for Anae in 2015?
BYU offered West last summer before he came to the school's football camp with two teammates, including 2015 preferred walk-on Scott Huntsman. While in camp, eyewitnesses said West slipped and dipped at the start of a 40-yard dash race and still clocked a 4.4-something hand-held timed finish.
He ran a 4.49 40 at a Dallas Nike Training Camp last April on a cold, wet day.
West told me he ran an electronically timed 4.38 40 at the Army Combine in June and has recorded a 10.5 clocking for the 100 meters. An April 12, 2014 report of a district track meet in The Dallas Morning News had West taking first place in the 100 meters with an electric timed clocking of 10.58. The second-place guy's time, Maurice Gordon of Denton-Ryan, was 10.70.
West's mother Bonnie competed as a three-time sprint champion in Louisiana and attempted to make the 1984 U.S. Olympic team.
"I grew up in Shreveport, Louisiana, before we moved to Texas and she competed for what is now Northeastern," West said.
This past year West collected almost a dozen offers besides BYU. They included Arkansas, Texas Tech, San Diego State, Arkansas State and Kansas State.
It would appear West could fit a piece of the puzzle for Anae, who has been hunting more speed out of his receivers and backs since returning from Arizona in 2013.
We shall see.
Get West, West.
Dick Harmon, Deseret News sports columnist, can be found on Twitter as Harmonwrites and can be contacted at [email protected].