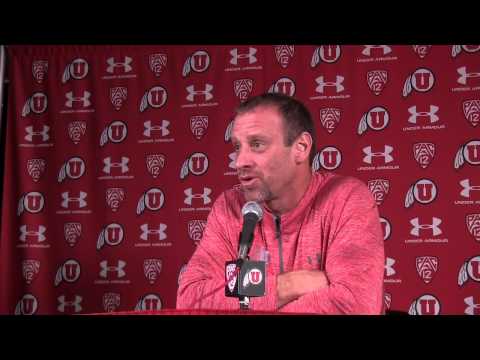 View 5 Items



They pounded us on the glass and it took the wind out of our sails.

—Utah coach Larry Krystkowiak
SALT LAKE CITY — For 16 games, Utah was pretty much a model of consistency when it came to rebounding. The Utes grabbed more boards than 14 of their opponents. They were even in one game and only came up on the short end once.
The latter came against UNLV in Las Vegas and Utah prevailed despite being outrebounded 41-37.
In Saturday's 69-51 setback at Arizona, though, the rebounding numbers took an ugly turn as well. The Utes were outrebounded 40-19.
"They pounded us on the glass and it took the wind out of our sails," said Utah coach Larry Krystkowiak. "It had an impact offensively also."
The Utes finished with just four offensive rebounds.
When it comes to rebounding, Utah forward Jordan Loveridge said it involves a couple of things.
"It's a little bit of technique," he said. "But it's just whoever's going to go get it really."
AFTER ARIZONA: Saturday's loss at Arizona dropped the Utes in the national rankings. They fell from No. 8 in both major listings to No. 11 in this week's USA Today coaches poll and No. 12 in the AP Top 25.
IN REVIEW: In reviewing the setback in Tucson, Krystkowiak noted it was a difficult environment. Thus, you have to be a realist about things and not be too drastic.
"I think it's been eye-opening. It's not time to jump ship and recreate the wheel. It was a good old-fashioned beat down," Krystkowiak said. "We were pretty competitive the whole first half and did some good stuff. The level of physicality, from top to bottom, was what affected us."
COOL COUGAR: Krystkowiak had plenty of praise for Washington State guard DaVonte Lacy. The senior, who averages 17.4 points per game, was part of the Pac-12 all-star squad that he coached on a tour of China in August.
"He's as solid a kid as I've come around. He's really mature and we spent a lot of time off the court together in China. He stands for a lot of things we talk about here in our program," Krystkowiak said. "He's very outgoing and was a team favorite. He represents his school and our conference extremely well. He took a leadership role with the club and doesn't have an ounce of selfishness."
Krystkowiak added that Lacy has a lot of pride and is having a great season.
"He's one of the top scorers in the league and is a handful to play against," Krystkowiak said.
OGBE UPDATE: Sophomore guard Kenneth Ogbe, who has missed the last four games with a groin injury, got a little bit active in workouts on the Arizona trip. However, Krystkowiak said Ogbe's situation is still kind of a precarious little deal.
"He's not pain-free and that's the issue," Krystkowiak explained. "When you're dealing with your groin — you can get that thing lit up pretty quick again if you do something."
As such, Ogbe's recovery has taken a conservative approach.
"I have no new news," Krystkowiak said. "It's just continuing to monitor the situation and making sure he doesn't put himself in harm's way."
Dirk Facer is the "Ute Insider" for "Keith Stubbs Sports" on ESPN 700 AM.
Twitter: @DirkFacer