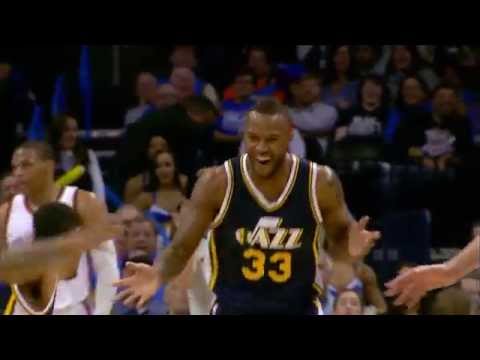 View 7 Items

Oh my goodness. I've never seen a shot like that in my life in basketball. I just bounced it to him. I didn't know what he was going to do with it, honestly.

—Gordon Hayward
OKLAHOMA CITY — Nobody had ever seen anything like it.
Well, Jazz forward Trevor Booker claims he and his cousin, Lakers big man Jordan Hill, had when they were kids.
They might be the only ones who'd witnessed what happened Friday night.
Kevin Durant was among the incredulous who'd seen a first.
"And," the star told The Oklahoman, "it won't happen again."
By the way, this isn't about the Utah Jazz giving a gutsy performance on the road against Oklahoma City and making the Thunder earn a wildly entertaining 99-94 victory at Chesapeake Energy Arena.
It's not often that Utah plays well in OKC, where the Jazz had lost seven straight games by double digits.
Nothing, though, was as rare as the shot Booker made in the first half of this competitive contest.
With 0.2 seconds remaining on the shot clock, the Jazz got the ball out of bounds on the far sideline. The only shot that can even be completed in that amount of time is a tip, and that's what Jazz coach Quin Snyder called for.
Booker said he didn't even know the play that his coach barked out, so he headed to the hoop thinking Gordon Hayward would probably throw a lob. When that didn't materialize, Booker rushed over toward Hayward and stopped with his back toward the basket.
That's when, as the NBA marketing department might say, amazing happened.
Hayward made a bounce pass to Booker, who creatively and instinctively tipped the ball with both hands and flipped it up and over his head in the nick of time. It's a move that might come in hand next summer when he plays volleyball again.
Incredibly, the ball plopped into the net, helping the Jazz take a 50-44 lead into the break.
"We try to cover a lot of game situations. That was not one," Jazz coach Quin Snyder said. "I have to say they manufactured that."
Hayward gave Booker all the credit.
"Oh my goodness. I've never seen a shot like that in my life in basketball," Hayward said. "I just bounced it to him. I didn't know what he was going to do with it, honestly."
The small forward didn't envision any way in which his teammate could score with his back to the basket like that.
"I threw it that way so they couldn't get a steal or something and get going the other way, and he tipped it up over his head," Hayward said, smiling. "You should ask him about that. Honestly, I have no clue."
Nobody aside from Booker and his cousin did.
"I know you won't believe me, but we practiced those shots all the time growing up," Booker said. "I guess you can say the hard work finally paid off."
Booker also credited Hayward for the pass, even though it wasn't intended to be an assist.
"It's kind of tough getting a shot off of a bounce pass with point-two seconds on the clock," Booker said. "You've got to give some credit to my man G for the pass. It was a perfect pass for that."
That's not the only thing Hayward deserves credit for.
Although he had a costly turnover and missed a free throw down the stretch, helping the Thunder eke out this win, Hayward turned in his latest all-around strong showing with 27 points, four rebounds and four assists.
Combined with another big night for center Derrick Favors (22 points, 11 rebounds, three blocks), a good game by point guard Trey Burke (20 points, five assists, five rebounds) and some solid performances from the supporting cast, including newcomer Elijah Millsap, the Jazz were in command of much of this game.
Think that 97-77 win at Chicago was a fluke?
Not the way this hungry, young group is playing despite the fact it's missing Enes Kanter, Alec Burks and Rodney Hood because of injuries.
"That's a good team right there. Let's not forget that they went to the Finals a couple of years ago," said Booker, who had eight points and nine rebounds off the bench.
"We're playing good ball right now, playing hard. I told the guys there's no group I'd rather go to war with than these guys."
In the end, the Thunder, who now own a deceptive 18-19 record, made all the right plays in the final two minutes to pull away while the Jazz faltered.
Durant finished with 32 points, Russell Westbrook contributed 25 points and 12 assists, and recently traded guard Dion Waiters hit a dagger of a late 3-pointer and scored 15 in his first game in Oklahoma.
"The result is disappointing, but two of the best players in the world picked their game up and made shots and we had some good looks," said Snyder, whose Jazz dropped to 13-24.
" … I'm just proud of our team. I thought we didn't make anything easy for them. They made some plays, and I thought it was a really good effort."
One really incredible highlight, too.
TWITTER: DJJazzyJody