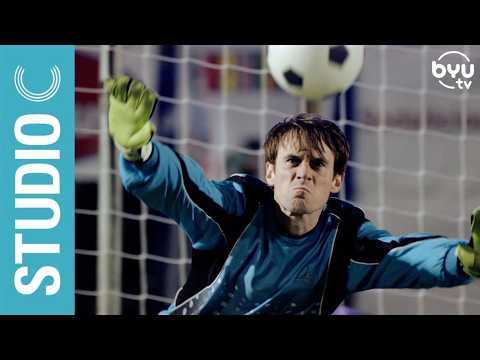 View 9 Items

Rocketing from 1 million views in five hours to 3 million views in under 48 hours and now 10 million views in 10 days, the latest video from BYUtv's sketch comedy group "Studio C" has gone viral on YouTube.
This season, the "Studio C" team made an extra effort to not only produce a good television show but to reach more viewers on YouTube, and several of its most recent videos have done just that.
On Nov. 14, the group released the video "Top Soccer Shootout Ever With Scott Sterling," a sketch written by actor Matt Meese that now has more than 11 million views.
Producer Jared Shores, as well as the cast and crew, didn't expect that this clip would be their first YouTube video to surpass 1 million views, let alone 10 million.
"When he first pitched it to us, everyone thought it was really funny, and we really enjoyed it, but I don't think anyone, even when it was posted, no one looked at each other and said, 'This is it. This is the one,' " Shores said. "We all just said, 'Oh, it turned out really good. This is good.' But we kind of say that about all of the stuff we do. We wouldn't put something out that we think, 'That's pretty bad.' "
In the video, Meese plays the role of a goalie for the Yale soccer team in a match against North Carolina. The video begins at the end of regulation with each team tied with two goals going into a penalty kick shootout. Each time Sterling takes his turn as goalie, he is able to block the shot with his face.
"We kind of treated it realistically like it's a real soccer game and what would happen if this poor soccer player just happened to get hit in the face every time, and his team thought he was a good luck charm, like they couldn't take him out; they couldn't afford to because he was doing so well," Shores explained.
Once the video was released, it began to pick up views all over the world, specifically in the United Kingdom and Eastern Europe.
"As soon as it got picked up and shared internationally, it was like, 'Oh yeah, that makes sense,' " Shores said. "We never really thought, 'Oh, this will hit a real international audience,' but it's been picked up and stolen by a lot of foreign Facebook pages. There's one in India that ripped it off and one in Spain that ripped it off, and they each have millions of views on it. It was weird. It's like this is so crazy that this is real. Everyone is picking up on it. … You don't even have to speak English apparently. You just have to watch people get pounded in the face."
Since releasing the video, Shores has been surprised by the number of viewers who continue to question whether the video is staged or real.
"It's interesting to see lots of people be like, 'Is this real or is it totally fake?' And we're like, 'Yeah, of course it's fake,' " Shores said. "We kind of write all our sketches with this 'what-if' mentality. What if someone got hit in the face five times on accident? What would that look like?"
Another question Shores has often received is how he was able to hit Meese with the ball in the right spot every time. Shores said that took a little "movie magic."
"I shot it such that if there's ever a soccer player and Matt when they're in the same shot, that wide shot, there's actually no soccer ball there," Shores explained. "Every time it's mimed by the soccer player. Then I would take it and shoot it the second time, so I would pull Matt out of the goal, and wherever we would have Matt kind of jump and fall, I would put a green board as a reference and have them kick the ball against a board so we could reference the physics of the soccer ball."
This process became even more complicated in the last shot of the video in which Meese blocked the soccer ball with his face after it ricocheted off the goal post. To film that shot, Shores had the soccer player actually kick the ball above the goal, and then he filmed a separate ball bouncing off the goal and into Meese.
"We matched it with computer effects, mirrored images," Shores said. "I had a great graphics team that was able to line up the ball and match it so it hits Matt right where it needs to and still have it (look) real because for us it was key that it looked as real as possible. The physics of it, it blows my mind away, but it was real important for us to feel like we have all those elements to get that authenticity."
As for the close-up shots, Shores explained that he let each cast member take turns hitting Meese in the face with a soft rubber ball.
"It sounds easy, but surprisingly it was hard to hit Matt right where we wanted to, so we had to do it a number of times," Shores said.
Shores was also grateful for the BYU men's soccer team's participation in the video, as well as fans who volunteered to sit in the stadium bleachers from 8 p.m. until 3 a.m., when they finally completed shooting.
"We had hard-core fans," Shores said. "It worked out really nice. ... We've easily got the best fans."
As the video continues to acquire views, Shores expressed his appreciation for being able to do what he loves and for the success the team has found.
"It's crazy," Shores said. "It's been like a roller coaster for us. We're all in shock and awe a little bit. It's been really cool, we're all really, really thankful. This season's been more of a breakout for us than any other seasons in the past, which has been really cool to see and to feel like all of our hard work is continually paying off for us because we, the whole cast and crew, we really jump into the show and devote our lives to it. It's cool to see that our sacrifice and hard work just really showed some positive results, that the show's been able to get out there and find more eyeballs and having a big appeal and a lot of positive feedback."
"Studio C" airs on BYUtv Monday nights at 8 p.m. MST.