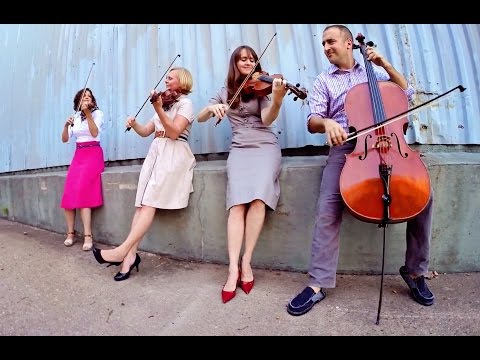 View 2 Items

"WALK BESIDE ME: A Classical Take on LDS Children's Favorites," by the Capitol String Quartet, Shadow Mountain Records, $13.98
Primary songs learned as children often stay as memories throughout adulthood. The Capitol String Quartet, based in the Washington, D.C., area, has created a album centered around Primary songs of The Church of Jesus Christ of Latter-day Saints in "Walk Beside Me: A Classical Take on LDS Children's Favorites."
The quartet features new arrangements of Primary favorites such as "Popcorn Popping," "I Feel My Savior's Love" and "I'm Trying to Be Like Jesus." Quartet members, violinists Karen Johnson and Haleigh Vance, violist Jennifer J. Lewis and cellist Justin W. Lewis have created a masterpiece of musical beauty with their talents.
The members of the Capitol String Quartet are all from military families. According to their website capitolstringquartet.com, they play music that "bring(s) a spirit of reverence and joy to its listeners while helping teach kids the lifelong benefits of listening to uplifting music." Also, they "are committed to using music to inspire patriotism and love of country."
The 12 Primary songs were arranged by Justin Lewis, Merrill Jenson, Richard Tolbert, Daniel Omer, Regan Brough and Michael Vance. Tyler Castleton produced the CD.
The arrangements are similar enough to the originals that the tunes are recognizable, yet different enough to make them exciting. Each song encapsulates the message and spirit of the originals. For instance, "Book of Mormon Stories" is performed in an emotional way — including portions that reflect the intensities of the wars that occur in the book and song — that connects with listeners.
Another popular song, "I Hope They Call Me On a Mission," has its own YouTube video. The quartet appears in the video and shows a depiction of a sister missionary reflecting on her childhood hopes of one day being called to serve a mission.
"Walk Beside Me" can be enjoyed by all ages. Children and adults alike can feel the spirit and be uplifted by these popular songs with instrumental arrangements. The CD is spunky, vibrant and captivating, yet reverent when needed.