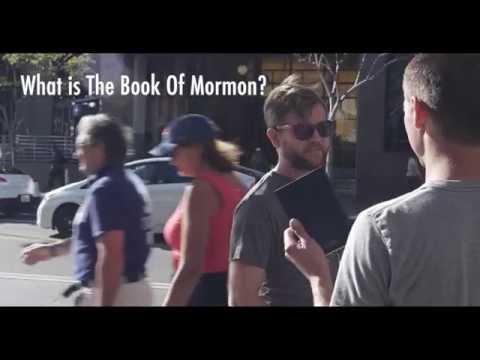 View 4 Items

One year ago, Jake Christensen, a member of The Church of Jesus Christ of Latter-day Saints from Eagle, Idaho, decided he wanted to share a video with his friends on Facebook about the Book of Mormon. When he found that the majority of the top search results on YouTube for "the Book of Mormon" were about the Broadway musical rather than the book itself, he decided something had to be done.
"It's such an important book, and it's made such a huge difference in my life," Christensen said. "The more I've read it, the more I've honestly grown closer to Christ … and I have become such a happier person because of the Book of Mormon, and I just want everyone to have that."
Christensen enlisted the help of two friends, Jacob Justice and Kyson Kidd, and the three BYU-Idaho students have embarked on an adventure. They call it "The Book of Mormon Project," and their goal is to release a seven-minute YouTube video on New Year's Day 2015 introducing people to the Book of Mormon.
The three returned missionaries have found motivation in a quote by former LDS Church President Ezra Taft Benson from his October 1988 general conference address titled "Flooding the Earth with the Book of Mormon."
"The time is long overdue for a massive flooding of the earth with the Book of Mormon for the many reasons which the Lord has given," President Benson said. "In this age of the electronic media and the mass distribution of the printed word, God will hold us accountable if we do not now move the Book of Mormon in a monumental way."
Noting that the Internet did not become popular among the public until the 1990s, Christensen feels that the responsibility of LDS Church members to share the Book of Mormon has only grown.
"If there was so much of a responsibility to share it back then, how much more of a responsibility do we have to share it now with all of the technology that we have?" Christensen asked.
The friends hope that the video will impact LDS Church members as well as those who are not members. They feel that the reason more people have not read the Book of Mormon is because they do not understand what it is.
"If people could really understand what the Book of Mormon is, they would cherish that book like their lives depended on it," Christensen said. "That's what we're hoping to do with this video is ignite the spark of the importance of the Book of Mormon so both members and nonmembers will have more of a desire to read it."
The friends have reached out to mission presidents around the world and enlisted their help in collecting video footage of members of the LDS Church holding up copies of the Book of Mormon. They have already received footage from Laos, Japan and Scotland.
"We want people to see that this isn't just for us," Christensen said. "This isn't just for me and you. This is for every single person on planet Earth. I think for members, it's going to be like, 'Wow, this is a cool thing I'm a part of.' And then for nonmembers it'll be like, 'Wow, this is a big deal. How have I not heard of it? How have I not read this yet?' "
Christensen said that he has already benefitted from his work on the project. As part of their project, the friends have issued weekly challenges on Facebook encouraging followers to strengthen their testimonies of the Book of Mormon. For example, the first challenge was to read the Book of Mormon every day until Jan. 1. Since posting that challenge, Christensen said he too has felt a responsibility to read.
"I've just felt such a need to read the Book of Mormon every single day," Christensen said. "I mean, we sent out the challenge, so we have to do it. It's really helped me to study the Book of Mormon a lot more, and it's just gotten me excited about the Book of Mormon again. It's given me that missionary fire again. I've been off my mission for four years … so doing this project has brought the fire from the mission back into me, and I just love that."
The friends began the project before Elder David A. Bednar of the Quorum of the Twelve Apostles encouraged members to "flood the earth" with gospel messages on social media, but they were excited to hear Elder Bednar's talk because they knew it would only help their video succeed. They believe that members are more willing than ever, thanks to Elder Bednar's talk, to share gospel messages online.
In an effort to promote the video and prepare people to flood the earth with the "What is the Book of Mormon?" video, they have set a goal of having 100,000 likes on their Facebook page before Jan. 1. At the time of publication, their Facebook page has garnered nearly 11,000 likes.
Although a great deal of work remains, they believe they are on pace to finish the video by Jan. 1, a date they carefully selected at the outset of their adventure.
"We actually decided that Jan. 1 would be best because that's the time of year that everyone is thinking about making changes in their lives," Christensen explained. "So we just thought that would be the perfect time to release it as they're thinking, 'OK, what can I do to better my life this year?' and then they see this video, and they think 'Oh, that could be something that could benefit my life this year. I'll try it.' That's what we're hoping people will say and do."
While some have questioned why the friends would devote their time and put their money into such a project, Christensen feels they are ultimately the beneficiaries of their efforts.
"What it really comes down to is when we share the gospel, and when we do missionary work, it betters us," Christensen said. "It makes us better people. It makes us happier people. It brings us closer to Christ. We are doing his work … that is following him, and that is what he ultimately asks of us is that we follow him."