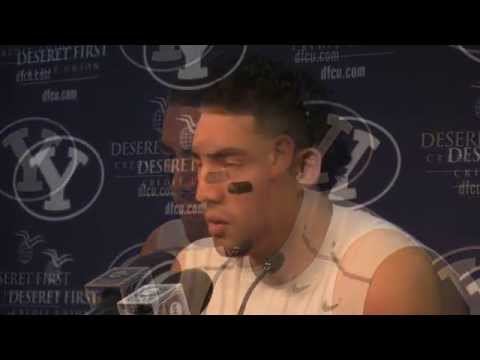 View 54 Items

PROVO — BYU almost delivered on homecoming night in LaVell Edwards Stadium.
Almost.
It's a theme the Cougars have carried for three games in the post-Taysom Hill era.
Nevada outscored BYU 29-7 in the second half to post a 42-35 victory over the Cougars. It's the second time a Mountain West team stood on LaVell Edwards Stadium field and celebrated this season.
The Cougars had Nevada on the ropes, leading 28-13 at the half. But just like the game at Central Florida, this squad, without the playmaking of Taysom Hill, could not overcome mistakes and miscues that included a shanked punt and three fumbles in crunch time; victory squandered away.
Saturday's loss made it three in a row for the Cougars. They now enter more than a month without victory heading to Boise State.
Nevada's Cody Fajardo, the best quarterback BYU has faced all year, found himself chasing BYU upstart Hill replacement Christian Stewart for most of this game. Stewart, like at UCF, put BYU in position for a win, 18 points up this time, then everything caved in. Again.
Stewart's last-gasp effort to drive BYU down the field for a win or overtime ended up in a scramble and fumble with half a minute left in the game.
Fajardo capitalized on a series of big BYU mistakes in the third and fourth quarter, including a strange lateral pass from Stewart to Terenn Houk that ended up in a fumble. Just before the third quarter ended, trailing 28-20, Fajardo took that midfield gift and marched down the field and tied the game at 28 on an 18-yard pass to Richie Turner. He threw and made the two-point conversion.
Déjà vu, BYU from Orlando.
Facing a third-and-8, Stewart got sacked on the ensuing possession. His offensive lineman Tejan Koroma took exception to action in the pile on Stewart and pulled off a Nevada defender, resulting in a personal foul. Nevada's big punt return again set up Fajardo at midfield.
In five plays, Fajardo scored from 27 yards out to put the Wolf Pack up 35-28 with 7:34 left in the game. He put on the capper, immediately after Matthew Lyons recovered a sack fumble by Stewart on BYU's next possession when James Butler got a standup TD run.
Like a week ago in Orlando, it was as if BYU's offense chugged to a stop in the second half after a big lead, and mistakes ruled the night.
Earlier in the game, Fajardo used the screen pass and his own legs to take advantage of BYU's pressure defense on attack that left the edge vulnerable. He threw big gainers to Don Jackson, 95 yards on just three catches. These were short passes that ended up gaining miles.
Ironically, the Cougars did a good job defending the bomb, a play made famous on the Cougar defense by Virginia, Utah State and Central Florida.
BYU's defensive issue Saturday night was losing the edge of the line time and time again with the screens and Fajardo's go-ahead TD run where nobody touched him until he dove for the pylon.
BYU never set the edge in the first half and couldn't do so in the second. Fajardo was happy to take advantage of BYU never adjusting, or finding someone who could do the job on the end, be it a defensive end or linebacker.
The Cougar defense had been the target of long bombs since leaving Austin, Texas, with a win over the Longhorns.
It wasn't the bombs that killed the Cougars Saturday night. BYU's defense gave up yards and points, but it was special teams play and three fumbles, all in the second half, that gave Nevada all it needed to creep back and win the game.
BYU outgained Nevada 601 to 411 total yards. Christian Stewart completed 39 of 63 passes for 408 yards and four touchdowns. It amounted to a loss.
Make no mistake, this was a setback for Bronco Mendenhall and his team. Nevada is a good football team, one that was a touchdown from ranked Arizona and a touchdown from Mountain West leader Colorado State. The Wolf Pack beat Washington State, which beat Utah in Salt Lake City.
But Nevada is a middle of the pack Mountain West team and an opponent on BYU's home field the Cougars should have put away but could not.
In this regard, BYU went from being ranked to playing like an average football team on a weekend alumni were welcomed back to town.
Dick Harmon, Deseret News sports columnist, can be found on Twitter as Harmonwrites and can be contacted at [email protected].