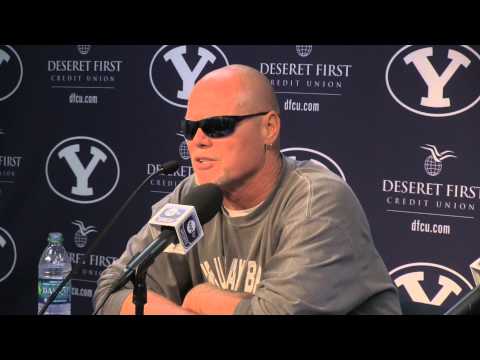 View 24 Items

Jim is my favorite teammate I ever had from Pop Warner to the NFL. He was so much fun to be around. He was a serious dude, a field general, a smart student of the game who played it to perfection and he had fun doing it. To go out to practice or play with Jim McMahon, it was like sandlot.

—BYU athletic director Tom Holmoe
PROVO — It was Jim McMahon night Friday at LaVell Edwards Stadium. The evening was the culmination of a week filled with significant hustle and bustle, dinners, luncheons, press conferences, presentations — pomp and pageantry galore.
Never in these parts has there been such idol worship.
It culminated with McMahon standing on a field where he played a larger-than-life role. Fans poured out unrestrained appreciation and adoration that even Thor, Hercules and Zeus would have savored.
All McMahon had to do to get this moment was get his college degree.
Standing with his four children and extended family and friends, McMahon waved in appreciation. Genuine gratitude from a guy who has never leaned on formalities.
"I've had tears since the day he said, 'I'm done," said BYU athletic director Tom Holmoe. "I've been crying for a month." Holmoe is a McMahon teammate who made it his mission to honor the former All-American quarterback someday — no matter how long it took — primarily answering a heartfelt plea by Jim's father.
It took McMahon five years to set 70 NCAA records but more than three decades to earn his college degree, a requirement for the BYU Hall of Fame and subsequent jersey retirement. "I tried several times when we had NFL strikes, but I couldn't do it. I couldn't do homework."
LaVell Edwards and McMahon's father, Jim Sr., both told him he had to get it done — time was running out for them to see it with their own eyes. "It kind of hit me, I'd better get it done," he said.
It came to fruition when McMahon earned his degree a month ago. He admits it took an army of help, and it almost killed him.
"I couldn't have done it without a lot of help," he said.
Just like the records he set, he told reporters. "I couldn't do it myself. I had teammates who blocked and caught the ball."
McMahon will forever be a fabled, historical figure in the annals of BYU football. He was a nonconformist, but also a fiercely loyal and beloved teammate who didn't so much demand respect of his teammates on the field, but earned it. His teammates knew he was a scalawag at times, someone who liked to flaunt his independent and unbridled spirit. But because he could deliver big plays, they trusted him and his machismo rubbed off on all of them.
He did the same for the 1985 Super Bowl champion Chicago Bears.
"Jim is my favorite teammate I ever had from Pop Warner to the NFL," said Holmoe, who has four Super Bowl rings. "He was so much fun to be around. He was a serious dude, a field general, a smart student of the game who played it to perfection and he had fun doing it. To go out to practice or play with Jim McMahon, it was like sandlot."
In the storied biographies of a long train of All-America quarterbacks and even a Heisman Trophy winner, it was McMahon who set the ultimate standard for expectations of BYU quarterback numbers: the QB watermark was 300 yards and three touchdowns a game and you'd done OK.
Among BYU Maxwell Award winners, Davey O'Brien winners, College Hall of Famers, Ty Detmer constantly credits BYU quarterbacks who went before him for building the platform he climbed to stand on in New York City and receive the 1990 Heisman Trophy. McMahon, indeed, was the chief carpenter.
McMahon and BYU, some critics will say, have had a long history of machinations, a relationship of schemes, plots and hypocrisy between the holier than thou and the wayward subject. But the accused Machiavellian path these two entities have tread the past 35 years is more like the tale of a father and son any parent can relate to. They were bound, cemented and inseparable for Friday night's fate.
Once these two entities returned to the same table this week it absolutely turned into the homecoming feast; a celebration; the reunion exemplified so well in the Biblical allegory.
"Jim belongs here, he always will," said Holmoe.
At Friday's halftime, McMahon stood with coaches, family, teammates and friends as the school gave him the ultimate tribute, retiring his No. 9 jersey and posting his name alongside his rightful place as part of the physical structure of LaVell Edwards Stadium — his name embosomed into the steel.
"It was fun playing for ya, thank you," said McMahon.
As the 55-year old McMahon faced the press box where the symbolic notation was revealed, he was met with a long, sustained ovation. Many in the stands had never seen McMahon play a down of football. Others, who had, never forgot. One-third of partisans in the stands, some 20,000, wore royal blue shirts with No. 9 on them, which were placed in their seats before the stadium opened to the public.
"I was with him as much as anybody at BYU," said his backup, Royce Bybee. "In the team room, film room, meetings with Doug Scovil. No one was more talented or savvy than Jim McMahon."
McMahon was so good, Bybee may have seen more mop-up time than any backup in NCAA history. He appeared in some 18 of his 26 games. "I just knew we'd be so far ahead, I would always get in."
So, when McMahon tells folks this week was an honor, that it touched him, is it so?
"Absolutely," said Bybee. "He deserves it. He deserves every honor they can give him because of what he accomplished, what he has done."
It became official Friday night, but in the hearts of his teammates, said Holmoe, it didn't really matter to them.
"We knew where he stood amongst the great ones," Holmoe said. "It didn't have to be formalized, but for all the other people it had to be formalized and I'm happy that it was."
Dick Harmon, Deseret News sports columnist, can be found on Twitter as Harmonwrites and can be contacted at [email protected].