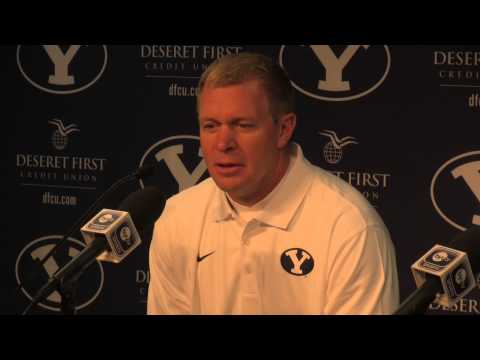 View 88 Items



PROVO — For No. 18 BYU, it was the ultimate nightmare scenario.
Not only did the Cougars lose to Utah State, 35-20, Friday night, they also lost their star quarterback, Taysom Hill.
On a night that saw BYU retire the No. 9 jersey of quarterback Jim McMahon, the Cougars' undefeated season came to an ignominious end, and Hill, regarded by many as a Heisman Trophy candidate, suffered a season-ending left leg fracture late in the first half.
"It was really difficult to watch Taysom go down," said BYU coach Bronco Mendenhall.
Hill is scheduled to undergo surgery Saturday at 7:45 a.m. Mendenhall estimated that the recovery process will take 3-4 months.
The Aggies (3-2), meanwhile, ended 36 years of frustration here, stunning BYU (4-1) before a sellout crowd of 64,090 at LaVell Edwards Stadium.
"I congratulate (coach) Matt Wells and Utah State," Mendenhall said. "It's a big win for them and their program. Their kids play really hard."
USU earned its first victory over the Cougars in Provo since 1978, snapping a 17-game road losing streak to BYU.
"They out-executed us and made a few more plays than we did," Mendenhall said of the Aggies. "They executed more cleanly from beginning to end."
This marked the highest-ranked team Utah State has ever beaten.
Cougar backup Christian Stewart replaced Hill, and BYU managed just six points with Hill out of the game. Stewart completed 9 of 29 passes for 172 yards and three interceptions.
"He tried really hard and was forcing things toward the end, but certainly the grit and determination and heart were there," Mendenhall said of Stewart.
"Of course it's a big loss for us," wide receiver Jordan Leslie said of losing Hill. "It knocks the wind out of us. He's a leader, he's a great athlete. It 's kind of just next man up and we have faith in Christian."
USU quarterback Darell Garretson, who replaced Chuckie Keeton — likely out for the season with a knee injury suffered a few weeks ago — torched the Cougar secondary through the air, completing 19 of 25 passes for 321 yards and three touchdowns.
"Most of (the damage) coming through the air and over the top of our corners," Mendenhall said. "Credit Utah State. They had some fast guys out there that ran by us a few times."
Early on, things started well for Hill and BYU.
On the first play from scrimmage, the junior quarterback completed a 53-yard pass to wide receiver Jordan Leslie, and four plays later, Hill scampered into the end zone to give BYU a 7-0 lead just 1:16 into the game.
With the scored tied 14-all in the second quarter, a muffed handoff exchange from Hill to Jamaal Williams resulted in a fumble that was recovered by USU. The Aggies scored one play later to take a lead it would not relinquish, 21-14.
Moments later, Hill suffered a leg injury when he went down awkwardly on a two-yard run.
With 55 seconds left in the half, Garretson connected with Hunter Sharp for a 72-yard touchdown pass and the Aggies went into the locker room at halftime with a 28-14 advantage.
That proved to be too big of a hole for the Cougars to crawl out of, as USU went up, 35-17, late in the third quarter on a drive highlighted by a 56-yard pass from Garretson to Sharp.
Penalties continued to haunt BYU. An offside penalty on BYU's Jordan Johnson during an Aggie field goal attempt gave USU new life. As a result, the Aggies ended up scoring a touchdown in the second quarter.
With 8:40 remaining in the game, the Cougars recovered a fumble on a kickoff, but the play was negated by another offside penalty.
Besides Hill, the Cougars had three other players suffer injuries — safety Dallin Leavitt, offensive lineman Brayden Kearsley and linebacker Alani Fua. All sustained ankle injuries, Mendenhall said.
BYU visits Central Florida Thursday while Utah State hosts Air Force next Saturday.