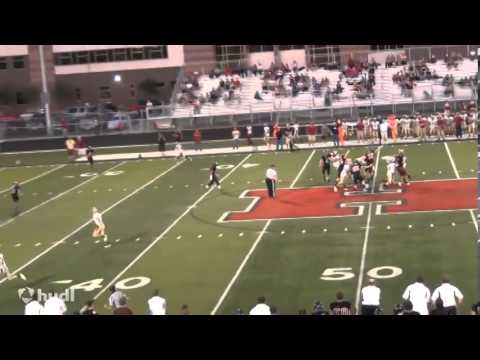 It's a load off of me and my family, and I know it was the right decision.

—Jeremiah Ieremia
HURRICANE — Top players often want to play with other top players, which is one of the big reasons Hurricane linebacker Jeremiah Ieremia decided to recommit to BYU this week.
Ieremia is a 6-foot-1, 231-pound inside linebacker prospect who held offers from Washington, Oregon State, Boise State and Utah State at the time of his commitment. He was also hearing from programs such as USC and had an official visit scheduled to Louisville.
The Hurricane standout had previously committed to the Cougars last spring before deciding with his family to play out the process a bit more. But after thinking about his options Ieremia came back to BYU.
"It's a load off of me and my family, and I know it was the right decision," Ieremia said. "I thought about all my options very carefully, prayed about it a lot, and just felt strongly BYU was the place I needed to be."
Ieremia plans to sign with BYU this coming February where he'll join with other prime linebacker prospects such as Fred Warner, who signed with BYU in 2014. According to Ieremiah, Warner played a big part in making his final decision.
"I remember attending a junior day at BYU which Warner did and being very impressed with how good he was," Ieremia said. "So I got to be good friends with him and followed his recruitment closely up until he signed with BYU."
Warner committed to BYU relatively early in the recruiting process but was pursued heavily by top programs such as USC up until National Letter of Intent Day. In the end, Warner rebuffed USC's overtures and held true to his BYU commitment.
"That really made an impression on me," Ieremia said. "He's a guy that could have played for a lot of other top schools but in the end chose BYU. I've talked to him since and he doesn't regret his decision at all. So yeah, that was a big reason for me choosing BYU."
The biggest reason for his BYU commitment, however, is the spiritual component inherit within the Cougar program.
"I chose BYU for spiritual reasons more than anything else," said Ieremia, who is a member of The Church of Jesus Christ of Latter-day Saints. "My faith is the most important thing in my life and my family's life, so that was the biggest reason. I know at BYU I'll be surrounded with good influences to help me grow spiritually."
Ieremia intends on serving on LDS Church mission, but has yet to decide when he'll leave.
Another big factor in Ieremia's final decision was playing for coach Bronco Mendenhall.
"I got to go to the Virginia game and seeing how Coach Mendenhall talked to the players at halftime — he's just exactly the type of coach you want," he said. "He cares for you as a person and he's much more than just a great football coach. He's a great mentor and that's what I want. I couldn't be more excited about being part of BYU's program."
Twitter: @BrandonCGurney