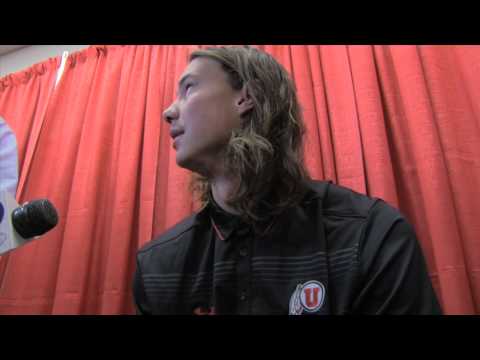 View 4 Items


In this league you've got to be able to throw the ball consistently week in and week out, and we didn't do that.

—Utah head coach Kyle Whittingham
SALT LAKE CITY — Utah quarterback Travis Wilson is well-aware of the problem. The Utes have now gone five quarters without a touchdown pass, including the last four in Saturday's 28-27 loss to Washington State in the Pac-12 opener.
Wilson, in fact, completed just 18 of 38 passes for 165 yards in the setback. Backup Kendal Thompson was 0 of 2.
"In this league you've got to be able to throw the ball consistently week in and week out," said Utah coach Kyle Whittingham. "And we didn't do that."
Wilson knows it, acknowledging that it was definitely frustrating that the Utes didn't execute well in that respect.
"It's something we've got to correct and it's something we've just got to make sure we get better and make sure we're ready to play this Saturday," Wilson said as Utah prepares to take on No. 8 UCLA at the Rose Bowl.
As for what happened against Washington State, the junior noted that he really couldn't pinpoint anything.
"I know I missed some throws I could have made. I definitely missed some opportunities that were there and that's all about my job," said Wilson, who vows to make sure he has a good week of practice and make sure he does everything right to prepare for the game.
Utah enters its Pac-12 road opener ranked 11th in the conference in passing with 247.3 yards per game. The performance against Washington State, obviously, had quite a statistical impact.
"We've got to be more productive throwing the football. The protection wasn't bad. It wasn't great but it wasn't bad," Whittingham said. "For whatever reason, we were just not in sync and not executing in that phase of the game."
Whittingham credited the Washington State defense — a group that he insisted was underrated prior to the game — for stepping up and doing some good things.
Utah's passing woes, however, are most likely internal.
"We're looking for every answer, every and any answer, we can come up with offensively," said Whittingham, who acknowledged that the coaching staff was looking at all possibilities to rectify the problem.
In hindsight, Whittingham noted that Thompson probably should have gotten a couple of series against Washington State.
Wilson admits that he is motivated by such talk.
"Obviously I want to be the starter for this team. I want to be the guy that all the coaches have faith in," Wilson said. "That's part of my job. I've got to make sure I stay consistent in my play each week. I've just got to make sure I'm doing everything right, during practice as well."
Part of the process, Wilson explained, is having a short-term memory and not letting adversity get the best of him.
"It definitely helps during the game as well. You make a bad play and it's all about just moving on to the next play," he said. "So I don't let any of that stuff really get to me."
Wilson, who insists he felt perfectly fine physically despite a nasty head-first tackle he endured at Michigan a week earlier, declined to pass blame on dropped balls by receivers. Wilson noted that such things go both ways.
"It's something that we've just got to make sure we execute during practice and make sure we're just getting a lot of reps during practice," he said.
Senior Dres Anderson, who leads the Utes in receiving yardage, didn't have any catches on Saturday. Wilson said he would love to get Anderson more opportunities, noting he's a playmaker.
Whittingham agreed.
"He's one of our biggest weapons, if not our biggest weapon on offense, and that hurt us not having him more involved, or more productive, I guess I should say," said Whittingham, who noted that Anderson was targeted and open a few times but just didn't come away with a catch — including one pass that was "right on the money" late in the game.
On a positive note, Wilson has yet to throw an interception this season. He's completed 56 of 96 passes for 783 yards. When a reporter reminded Whittingham that Wilson has yet to throw a pick, the coach responded by saying: "Thanks for jinxing him."
Whittingham, though, went on to praise Wilson, who threw 22 interceptions in his first two seasons with the Utes.
"There's no doubt Travis has done a great job protecting the football and taking care of it," Whittingham said. "That's one of the reason we're 3-1 and should be 4-0 — is because of the lack of turnovers."
Twitter: @DirkFacer