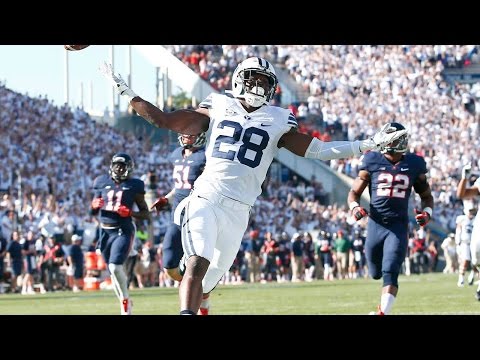 View 81 Items





Adam Hine's kick return was timely and really an amazing return. Those are hard to come up with. That was a great play for us.

—BYU coach Bronco Mendenhall
PROVO — As it turned out, turnovers weren't a problem for No. 21 BYU against Virginia.
While the Cavaliers entered the day leading the nation in takeaways, the Cougars didn't turn the ball over. But Virginia had other ways to keep the ball away from quarterback Taysom Hill and the BYU offense — by simply keeping them off the field.
"They had a good game plan," Hill said of the Cavaliers. "I think their best defense was keeping their offense out there."
Virginia's offense had possession for nearly 41 minutes, compared to the Cougars' 19 minutes; ran 102 plays compared to BYU's 60 plays; and the Cavaliers outgained the Cougars in total offense, 519 to 332.
But thanks to some big, quick-strike plays by both the offense and special teams, the Cougars held off Virginia, 41-33, on a sunny Saturday afternoon before a crowd of 59,023 at LaVell Edwards Stadium.
Adam Hine's 99-yard kickoff return for a touchdown with 7:48 remaining put some distance between BYU (4-0) and the resilient Cavaliers (2-2), propelling the Cougars to a 41-26 advantage.
"Adam Hine's kick return was timely and really an amazing return," said coach Bronco Mendenhall. "Those are hard to come up with. That was a great play for us."
Hine took the kickoff at the 1-yard line and streaked right up the middle.
"Before that we were huddled up and we said, 'We're taking it out,'" Hine said. "And that's exactly what we did … I saw it open up, I couldn't believe it, and just kept running."
"It was so much fun," Hill said Hine's heroics. "Last year he had so many (kickoff returns) he was close to (scoring touchdowns). I felt like it was a matter of time. It couldn't have come at a better time."
Earlier in the quarter, with BYU nursing a 27-19 lead, Hill rolled out during a scramble drill and found wide receiver Mitchell Juergens, who scored a 50-yard touchdown.
"Taysom saw me, hit me, and when I caught it and turned around and saw daylight, I was running as fast as I can to get into the end zone," Juergens said. "It was a dream come true. That's the first one of my career. I definitely won't forget it."
"I saw Mitchell's guy come up to me," Hill explained. "When he did that, I saw Mitch take the sideline. It was a pretty easy pitch and catch at that point."
For the first time all season Saturday, the Cougars trailed. In fact, BYU didn't take its first lead on Virginia until the third quarter after a 15-yard touchdown run by Hill.
Meanwhile, BYU punter Scott Arellano came up big, booting three punts more than 60 yards that forced the Cavaliers into poor field position.
"That's the difference in the game — field position and winning the turnover battle," Hill said. Virginia had two turnovers.
In the first half, the Cavaliers raced to a fast start after a 47-yard kickoff return, a 37-yard run in an opening series that saw Virginia seize a 7-0 lead less than two minutes into the game.
The Cavaliers led 16-13 at halftime. BYU had the ball for just 8:33 in the first half.
Virginia, which entered the contest ranked No. 98 in the nation in total offense, was able to move the ball both through the air and on the ground against BYU's defense. It kept drives alive by converting on third downs.
"Not great execution from play one all the way to the end of the game," Mendenhall said. "I would have loved to have seen us be more assignment-sound. Consistency was an issue."
"I don't want to say I was surprised (by Virginia's passing game), but I was impressed with their receivers, that they could go up and get the ball," said BYU safety Craig Bills. "There's a lot of things we could have eliminated, but give them credit for making plays."
BYU was whistled for a handful of pass interference penalties that sustained various Virginia drives.
"In the first half, we could have done a better job stopping the run," said defensive back Skye PoVey. "We take pride in that and we were a little offended that they came in here and moved the ball. In the second half, penalties kept a lot of drives alive that we could have avoided."
Mendenhall acknowledged that his team could have won by a larger margin.
"We had a number of opportunities to pull away," he said. "We aren't capable yet of being able to do that. But we are capable of winning games."
Said Hill: "We need that killer instinct."
The Cougars have a bye this week and they return to action on Oct. 3 at home against Utah State.