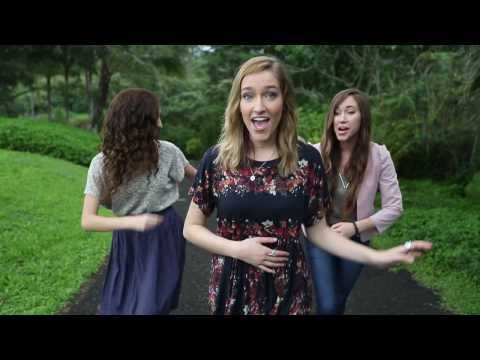 View 10 Items




The Gardiner family has a motto: If you work hard and put the Lord first, you can do anything you set your mind to.
That's what the father of Hailey, 21, Allie, 20, and Mandi, 19, taught his daughters years ago and continues to tell them today. And the women from North Carolina, known as the Gardiner Sisters, have taken it to heart. It motivates them to pursue their dream of making music that inspires and uplifts.
"We dedicate ourselves to trying to be the best people we can first, the best sisters that we can first, and then hopefully that will translate over into our music," Hailey told the Deseret News.
During the past year, the Gardiner Sisters have acquired millions of views on YouTube and thousands of Facebook followers, and on Aug. 29, they sold out their first ticketed concert in Los Angeles.
Mandi, Allie and Hailey's journey began at ages 6, 7 and 8, respectively. Music had always been a part of their lives, but it was then that their mother taught them three-part harmony.
"I think it was from that time on that we realized it was something that we really liked to do, and then we started singing at church, and then it turned into little festivals, and then it turned into concerts, and then it warped into what it is now," Allie said.
After setting up a YouTube channel in 2007 and posting covers of popular songs in 2009, the Gardiner family moved their eight children to Los Angeles to support the sisters' dream.
"Our whole family up and moved from North Carolina for a year, and actually we did that twice in high school," Hailey said. "Our parents have always believed in us and were so supportive of us pursuing our dreams."
Although the family moved back to North Carolina after a record deal didn't come through, the Gardiner Sisters continued to pursue their goal.
As their younger siblings grew older and became interested in their music, Hailey, Allie and Mandi added sisters Lindsay, 15, Abby, 12, and Lucy, 6, to their group.
Week after week, the Gardiner Sisters uploaded videos of themselves singing acoustic covers of popular songs. In 2012, a cover of the One Direction song "Kiss You," which now has more than 5 million views, struck a chord with viewers and became the Gardiner Sisters' first viral video.
"It's funny because we've been posting videos for fun for years and it was totally random. ... It was just kind of lucky the way ('Kiss You') exploded, and our channel has been growing pretty consistently since then," Allie said.
Today, the Gardiner Sisters continue to make videos with all six sisters, covering music from Disney love songs to Colbie Caillat and One Republic.
The Gardiner family also has two boys, Ben, 11, and Tim, 8, who don't enjoy singing as much as their sisters but are still involved.
"We gauge how funny our content is by if we can get our brothers to laugh or not because they're pretty hard critics," Hailey said. "But if we can get our brother Ben, especially, if we can get him to laugh at our videos, or if he asks to watch our videos, we're like, 'Yes!' That's our goal."
While the sisters admit they don't always get along, performing together is something they cherish.
"Ever since we were little, our dad always told us after we had fights, 'You guys are best friends,' and we'd be like, 'No we're not!' " Allie said.
"But as we've gotten older, we've gotten so much closer, and it's so much fun to work with your best friends in the world. … It's also a great support system. You can trust your sisters with anything. They're great people to have alongside you through ups and downs of the industry."
But it's been the support of their parents that has helped the Gardiner Sisters climb to where they are now.
"Our parents' support has been a world of difference in what we do," Mandi said. "They have supported us from day one. Our mom taught us everything we know. They continue to help us and believe in us."
Their parents have also instilled a love for The Church of Jesus Christ of Latter-day Saints and a spiritual perspective in them.
"I think in the industry what they say is it takes seven 'no's' to get a 'yes,' " Hailey said.
"Well, we've had about 700 'no's' and still waiting for that 'yes.' But our parents have always been there, and they've told us if you want this you can have it, you just have to put the work in, and if you are putting the Lord first and working to glorify him and move his work forward, he'll help you and he'll magnify your efforts. And we truly believe that."
The Gardiner Sisters' standards differentiate them from other YouTube groups.
"I think we decided when we were really young that we always wanted to share songs that were positive and uplifting and real and had good messages to them," Hailey said.
"Even if we have the option of changing lyrics, usually we just won't even cover the song if there is something questionable in it. We try and pick songs that reflect us and what we believe in. Everything that we put out is really stuff that we care about ourselves."
They also choose uplifting songs because they recognize the impact they can have on their audience.
"We try to be good examples for girls. That's kind of missing, I think, positive girls that you can look up to and know that all of our content will be clean," Allie said. "Parents don't have to worry about our channel and what we're posting."
As members of the LDS Church, the sisters use music to share the happiness their family finds in the gospel.
"We consider our band and our YouTube channel, we call it our mission, it is our mission we feel in this life. We have access to homes, and doors are opened for us to come in all over the world through the Internet, which is really powerful, and we don't take that for granted," Hailey said.
"We definitely are aware of the influence we can have, and we try every day to share the light and the joy of the gospel and to glorify our Savior Jesus Christ in everything that we do."
The Gardiner Sisters' original music can be found on iTunes.
Email: [email protected] | Twitter: @Sarah_DNews