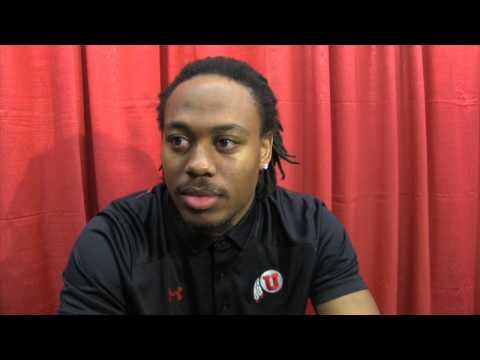 View 5 Items




SALT LAKE CITY — Kaelin Clay is making up for lost ground in a hurry. The senior, who didn't join the Utah Utes until just before preseason camp started while wrapping up academic issues, is quickly getting up to speed.
In his first game with the Utes, Clay wound up returning both a punt (46 yards) and a kickoff (100 yards) back for touchdowns. His contributions not only helped the team roll past Idaho State 56-14 at Rice-Eccles Stadium, it also landed Clay some impressive individual accolades. He topped the ESPN SportsCenter Top 10 highlights before adding special teams player of the week recognition from CBSSports.com and the Pac-12.
"He's a big play guy," said Utah coach Kyle Whittingham. "That was very apparent by when he touched the ball Thursday night."
Clay, who moved past Delshawn McClellon to become a starting wide receiver on this week's depth chart, said he's got the playbook down. Conditioning and adjustment to the altitude, however, are still works in progress.
"He's made a lot of progress. He's just about caught up and it was both from a physical and mental standpoint," Whittingham said. "He didn't get here until right before two-a-days started, so he was starting from square one."
Whittingham noted that the other newcomers to the program had the benefit of meeting twice a week all summer long and Clay missed out on that.
"But he certainly made up a lot of ground in the game with the big plays on the returns. Still, his stamina is not where it needs to be," Whittingham said. "He's still getting that part down with the attitude and the fast tempo that we're playing at. He was nowhere near ready for that at the very beginning. He's getting closer now."
Clay, though, is taking it all in stride.
"It just shows you that hard work pays off. I believe that," he said. "I'm living proof that hard work pays off."
And he's far from finished. Clay wants to get in the kind of shape that fellow receivers Dres Anderson and Kenneth Scott are in. He notes that the air is really thin in Utah, but it's nice and fresh.
So, too, is his approach to each game. Clay has no intentions of resting on his laurels.
"My philosophy is live with it for 24 hours and you get rid of it," he said of his performance in the opener. "You can't dwell on the past."
Clay wants to constantly keep working.
Even so, the 22-year-old from Long Beach, California, admits things got a little bit crazy after the Idaho State game. Once the highlights hit the airwaves, his cellphone heated up and actually stopped working for about an hour and a half. Clay estimates that he received about 200 phone calls, texts or Twitter messages during that time. He didn't know it until the next morning, and didn't see himself on ESPN until Friday afternoon.
During the game, though, former Utah standout Reggie Dunn was on the sideline. The record-setting return specialist offered Clay his support.
"He just told me to keep it up, keep up the good work, he'll be watching," said Clay, who was also encouraged to stay focused if he really wants to break Dunn's kickoff return records — as well as those of mentor Shaky Smithson when it comes to punts.
"It was great because after I took the punt return back he actually told me, he said 'OK, you might be able to get Shaky's record, but I want to see you take a kickoff return.' And I so I took the kickoff return back and he said 'OK, I believe it.' "
THIS WEEK: Whittingham opened his weekly press conference Monday by sizing up Fresno State. The Bulldogs come to Rice-Eccles Stadium Saturday on the heels of a 52-13 loss at USC last weekend.
"They're an athletic team. I know they didn't fare very well against the Trojans but they do have good players. They've certainly got all our attention, all our respect," said Whittingham, who noted that Fresno State was essentially one game away from reaching the BCS last season. "So even though last week was not real competitive for them, we fully realize how good they are and they're well coached and they've got plenty of good players. So we will need to play our best football."
The Bulldogs are 20-7 under head coach Tim DeRuyter.
STOPPING THE RUN: Giving up 179 rushing yards in the opener against Idaho State is what "irks" Whittingham and the Utes the most.
The porous run defense is something that's been addressed, he said, and was the glaring negative in the game.
"We've got to get that fixed," Whittingham said.
His nephew, starting linebacker Jason Whittingham, acknowledged it was pretty frustrating. However, he noted that the defense is going to put in a lot of work to be more aggressive and fill the gaps this week.
"I feel very confident in our ability to shore up the run game this next game up against Fresno," Jason Whittingham said.
HALL OF FAMERS: The 2014 Crimson Club Athletic Fund Hall of Fame honorees, who will be inducted in a ceremony Friday night, will be introduced at halftime of Saturday's game. This year's inductees include the 1964 Liberty Bowl championship team, Kevin Dyson (football), Elaine Elliott (women's basketball), Amy Kofoed (soccer), Andre Miller (men's basketball), Kim Turner (volleyball) and Sandy Woolsey (gymnastics).
EXTRA POINTS: Depth chart changes this week include the move of true freshman Tavaris Williams from wide receiver to cornerback. He's listed as the backup to Eric Rowe. … Sophomore Dominique Hatfield, who plays offense, defense and special teams, has moved up to co-starter at cornerback with Davion Orphey. … Utah had 10 true freshmen see action last week against Idaho State. The newcomers included: Christian Drews, Wallace Gonzalez, Boobie Hobbs, Lowell Lotulelei, Nick Mika, Monte Seabrook, Logan Stott, Marcus Williams, Tavaris Williams and Kenric Young. … Utah used 72 players in the opener.
Email: dirk@desnews.com
Twitter: @DirkFacer