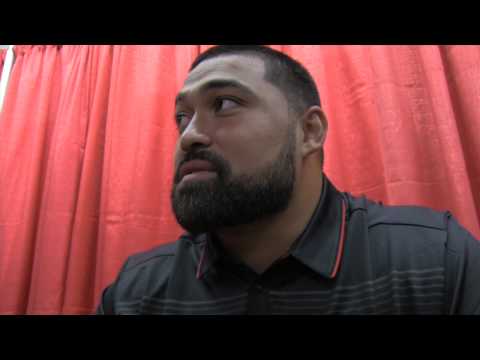 View 3 Items

He's a great leader — he's someone everyone on the team respects.

—Utah quarterback Travis Wilson
SALT LAKE CITY — It's a bit ironic that the guy known as "Junior" is the elder statesman of the Utah football team.
Junior Salt is the oldest player on the Ute team at 26½ years of age. He was born on New Year's Day in 1988 and is nearly nine years older than Ute freshman defensive back Marcus Williams, who doesn't turn 18 until next month. Salt's advanced age is due to sitting out a year of football, going on an LDS mission and redshirting a year after coming to Utah.
It doesn't bother Salt that he's "way older" that most of his teammates and might get called "old man" by some of his younger teammates or that he's nearly six years older than his quarterback, Travis Wilson.
"I definitely feel blessed,'' he said. "On this team we have a great group of guys. I'm one of the oldest guys on the team and these guys look up to me and I feel privileged that they do.''
Salt was recently named one of Utah's five captains along with fellow seniors Dres Anderson, Brian Blechen and Nate Orchard and sophomore kicker Andy Phillips.
Coach Kyle Whittingham praises Salt for his leadership and even though captains are chosen by a players' vote, he predicted several days before the vote that Salt would be one of the captains selected. Wilson also can't say enough about one of the players that protects him on the line.
"He's a great leader — he's someone everyone on the team respects,'' says Wilson. "He's a great athlete, he's a great friend, always somebody I can go up to and talk to. He was one of the captains I voted for. He's someone I really trust and will be a great leader. I'm really excited for Junior and I know he's going to have a great season for us."
While Salt was humbled to be selected as a team captain, he said, "Nothing's changed, I'm still the same guy. One thing I love is we all love and respect each other. The most important thing is to love one another regardless of the situation. The guys make my job easy.''
This year Salt has made the transition from the right side of the line, where he started last year, to the left side this year. He feels the O-line, which includes left tackle Jeremiah Poutasi at left tackle, Siaosi Aiono at center, Issac Asiata at right guard and J.J. Dielman at right tackle, came together well in camp and is ready for a solid season.
"The offensive line has learned to jell with one another,'' he said. "We definitely know how important communication is and try to communicate before and after the play call."
First-year offensive line coach Jim Harding loves the leadership Salt brings to the offensive line and the team as a whole.
"In terms of leadership, he's exactly what you want,'' Harding said. "He's not a rah-rah guy, he's very humble and soft-spoken. So when he has something to say, not only in the O-line room or to the entire team, it's safe to say, they listen.''
So where did "Junior" get his name? Salt is named after his father, Visesio Salt, and since he's the junior, that's what he goes by. As for his last name, that goes way back on his father's side. While most of his ancestors come from Tonga, Salt has a line that goes back to Great Britain, where his great-great-grandfather hailed from.
Salt grew up in the Glendale area of Salt Lake and attended Brighton High School, where he was an all-state lineman back in 2005 and also played for the Highland rugby team. He served an LDS mission to Tonga and upon returning, he had a role in the motion picture "Forever Strong" about his old coach Larry Gelwix and the Highland rugby team. As much as he enjoyed doing it, he says he doesn't plan on making acting a career.
In 2010, he went to Mt. San Antonio College in California, where he was first-team all-California for two seasons. He was recruited back to Utah and sat out the 2012 season as a redshirt. Last season he started at right guard for the Utes and played nearly every offensive snap and led the offensive line with 20 knockdowns.
"He's an extremely physical player,'' says Harding. "The other guys on the line know exactly what they're going to get from him every week, because he's very diligent about his preparation, and he always comes ready to play every practice. He's very easy to coach and a great ambassador for the program.''
One of the reasons Salt had to go the junior college route was because of grades, but he's made a turnaround in the classroom and already has finished his undergraduate degree.
"He's a good student,'' says Harding. "He's older in age, but just because you're older in age doesn't mean you necessarily mature. But he definitely is. The thing I like about him is he's probably more difficult on himself than I am in critiquing practice or game film. He doesn't have any sense of entitlement or anything like that.''
Harding said that was evident after the Idaho State game when Salt made some mistakes and didn't feel he played up to his ability.
"He made a couple of mistakes, but he was quick to critique himself,'' Harding said. "In fact, he texted me after watching the film and told me how he needs to be better. Not that he played poorly at all. But I expect him to come out and have a really good game on Saturday.''