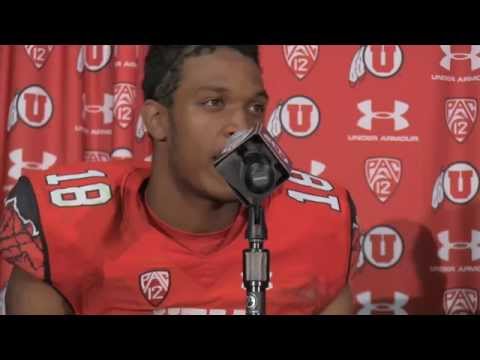 View 22 Items


SALT LAKE CITY — Kaelin Clay had a special night for the Utah Utes. The senior made quite a debut — returning a punt and a kickoff for touchdowns in Utah's 56-14 season-opening victory over Idaho State at Rice-Eccles Stadium.
Challenged before the season by former Utah return specialists Shaky Smithson and Reggie Dunn to break their school records, Clay got off to a great start. He had a 46-yard punt return for a touchdown in the second quarter and a 100-yard kickoff return in the third quarter.
Dunn was in attendance Thursday and challenged Clay after the punt return.
"He said, 'Take a kick return back,'" Clay noted. "And so, you know, I did it."
Clay thanked the return teams and the coaches for making it possible.
"They put us in great positions and I just had two great returns," he said.
When asked if he could do it again, Clay told reporters it's possible.
"You know what? I feel like I can do this every game," he said. "It may be a little tougher now. I may not get the kicks now, but you know what, I'm all up for it."
Utah coach Kyle Whittingham noted that: "Reggie Dunn was on the sideline and Shaky (Smithson) texted him and said, 'Hey, we may be in trouble with our punt return and kickoff return numbers.'''
BIG BUCKS: Idaho State received a nice $400,000 payout from Utah for Thursday's game. Utah athletics director Dr. Chris Hill acknowledged that when it comes to sharing the wealth with FCS teams down the road, local foes Southern Utah and Weber State are included.
"That's what we're doing. If you look at our future schedules we have Southern Utah (2016) and Weber State (2018) on the schedule and I guess having them too quick wouldn't be as much fun for them maybe and maybe our fans," Hill said. "So they're definitely on the docket to do that and share our money with them. That makes a lot of sense. It does. They're definitely there."
As for Idaho State, which will also play at Utah in 2019, Hill explained that you have to get a match.
"Somebody like that it's close for them," he explained. "It's just a matter of taking an Intermountain school rather than trying to get somebody really far away and it's less expensive for both of us, I think, that way."
HONORING ECCLES: The Utes wore commemorative decals on their helmets to celebrate the 80th birthday of prominent supporter Spence Eccles. The festivities also included a video tribute, the Utah Marching Band in an "80" formation, and the presentation of a framed No. 80 jersey to Eccles at halftime.
"He's such a loyal guy and so good to everybody in the community. So it's fun for us to be able to do it in this venue with his name on it to have a happy birthday — just a fun thing, just totally fun," said Hill.
STRONG SPECIAL TEAMS: Besides Clay's terrific game, Utah's special teams had an excellent overall game with contributions from several players.
Andy Philips never got a field goal attempt, but showed off a stronger leg as he didn't have any of his nine kickoffs returned all night, while making all eight PAT tries.
Tom Hackett landed a punt at the 1-yard line in the first half and at the 2-yard line in the second half, and also boomed a 62-yarder. He also showed off his running ability, picking up 28 yards from a punt formation early in the second half.
Also, Eric Rowe blocked an Idaho State field goal attempt in the first half when the Utes were leading 14-7.
"We had a lot of good things on special teams,'' Whitttingham said. "That's just one game and we've got to keep getting better.''
EXTRA POINTS: The attendance was 45,925 — fifth-largest in Utah history. ... Utah's captains were joined for the pregame coin toss by 6-year-old Matthew Burr, who is part of the Jesse Rees Foundation — an organization founded in honor of a 12-year-old who battled two brain tumors. Her mission was to help other kids fighting cancer and to "Never Ever Give Up." ... President Dieter Uchtdorf, second counselor to LDS Church President Thomas S. Monson, and his wife Harriet attended the game as special guests of the University of Utah administration. ... Scouts from the NFL's Chicago Bears, Jacksonville Jaguars and Minnesota Vikings were credentialed for the game, as was a representative from the Professional Developmental Football League.
Contributing: Mike Sorensen