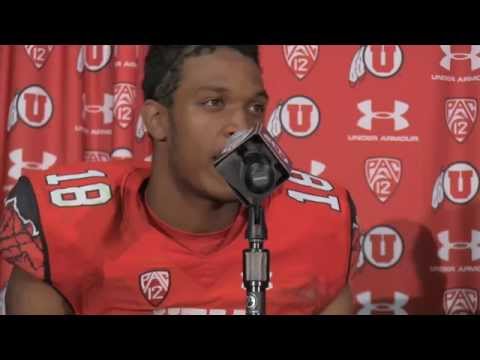 View 22 Items


SALT LAKE CITY — The offense was swift and sure, the defense an impenetrable wall. Special teams were special indeed. And all the coaches were smarter than smart.
If only they knew for sure.
The Utes opened their season with a 56-14 win over Idaho State, Thursday, answering one question but leaving blank the one that matters most: Does this translate into the serious games? When playing a team with a 45-game road losing streak, it's a lot like asking your wife, "How do I look?"
The most honest response: "Compared to what?"
So the Utes are All-World, one night into football season. They did what they should have, dismantling the Bengals in the first half and subbing in the reserves early. But there's only so much to learn from a rehearsal.
One sure thing they proved is that they aren't too cool for class. They went at ISU like they were going after the Michigan Wolverines — which they will in three weeks. Meanwhile, the Bengals of the Big Sky Conference will have to do.
"I'm not sure how much more we know about our team right now than we did before the game," coach Kyle Whittingham said.
The 2014 version of the Utes brought a dose of newness. Along with the up-tempo offense and backup quarterback Kendal Thompson, there was a new hole in the stadium. Crews recently removed the Hoberman Arch, which had been in the southeast corner since the 2002 Olympics, looping across the sky like a Ferris wheel.
But fans arrived Thursday to the sight of a scraped but fenced-off dirt area where the Arch once sat. It was fairly symbolic: tearing down last year's worries and putting something less cluttered in its place.
Not long after the fans were seated, the scoring began.
It was mostly what the Utes had hoped. Whittingham singled out a lack of scrimmage domination and no takeaways as disappointments, special teams and kicking as key positives. Still, the Utes allowed only one touchdown with the starters.
"We were very average," said defensive end Nate Orchard.
The quarterbacking was good, with no interceptions and a combined 22-32 for three 351 yards, spread among Thompson, Travis Wilson and Brandon Cox. Junior college transfer Kaelin Clay scored off both a punt and a kickoff, one of them field-length.
Coordinator Dave Christensen's offense was quick and forceful, rolling for 589 yards — good news for a team that finished 11th in total offense and 10th in scoring offense in the conference, last year. Yet Utah has played these games before and it has shed little light on the issue.
Often these games are considered a mockery — with good reason. Historically they're as one-sided as a tax audit. Last time Utah played an FCS team was in 2013, when it beat Weber State 70-7. In 2012 it was 41-0 over Northern Colorado. In 2011 the Utes got a slight scare, beating Montana State 27-10. But in 2006, it was 45-7 over Northern Arizona.
In 2012 and 2013, large margins against small teams didn't avert bad seasons. In 2011, they struggled to beat MSU, yet went 8-5 and won a bowl game.
All in all, Thursday was the sort of result that's expected when FCS and FBS teams meet in the early season.
"We fell in the well," said ISU coach Mike Kramer. "We set a goal to get a drink out of the bucket and we fell all the way in."
While his candidness was refreshing, truth is the Utes needed Thursday's game more than the Bengals. When there's not another sure win on the horizon, it's good to take the candy.
"We expected to be more dominating up front," Whittingham said.
He had a point. In the end, such wins are like doing push-ups from the knees: a false sense of accomplishment. And everyone goes home with what they thought they'd get. The Bengals got a $400,000 check, the Utes got a live workout.
Plus the sense they'd win the Big Sky Conference, going away.
Email: [email protected]; Twitter: @therockmonster; Blog: Rockmonster Unplugged