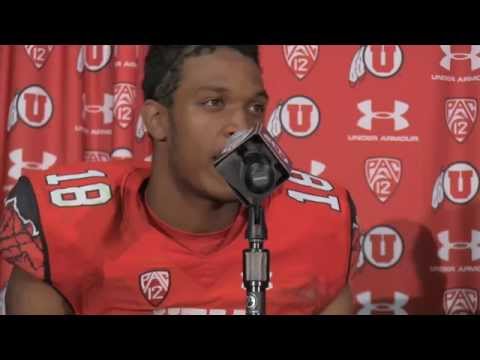 View 22 Items


SALT LAKE CITY — With the outcome never really in doubt, all eyes were on the Utah offense for Thursday night's opener against Idaho State.
The final numbers show the Utes put 56 points on the board and piled up 589 yards, but coach Kyle Whittingham wasn't exactly doing cartwheels about his offensive showing in the season opener.
"I thought Travis Wilson had a pretty good first half. ... Devontae Booker and Bubba Poole were productive. ... Pretty good in the throw game. ... The receivers caught the ball well,'' Whittingham said of his offense.
With a new offensive coordinator in Dave Christensen, the Utah football team was supposed to show off an up-tempo offense, and Whittingham praised the tempo. The problem was the Utes scored so quickly in the first half it was hard to employ a higher tempo.
"We had a lot of quick-strike drives, not sustained drives, where tempo was not a factor,'' Whittingham said.
The Utes only ran 78 plays Thursday, slightly more than the 72 they averaged last year, but they didn't need to make many thanks to their quick-scoring offense.
Utah's four first-half scoring drives added up to just three minutes, 46 seconds, as the Utes took 32 seconds for the first drive, 2:16 for the second, 42 seconds for the third, and 16 for the fourth. The other score was a 46-yard punt return by Kaelin Clay, which took less then 10 seconds, as Clay weaved his way downfield.
After going three-and-out on their first offensive series, the Ute offense got untracked and racked up 376 yards in the first half.
Wilson completed 13 of 18 passes for 265 yards and a touchdown in the first half and also ran for a touchdown, sprinting around the left end and leaping over a defender into the end zone.
Of his touchdown run, Wilson said, "I saw my chance to run and it was a spur-of-the-moment thing. I made a good play and I'm glad they called it a touchdown.''
Backup quarterback Kendal Thompson saw his first action as a Ute, starting the second half. He led the Utes on a 12-play, 75-yard touchdown drive after getting off to a shaky start.
Whittingham called it a "rough start for Kendal,'' and that he "sputtered" on his first series when he lost 5 yards because of a bad snap and was sacked on his next two plays for losses totaling 15 yards.
Thompson eventually finished with 6 of 10 passing for 69 yards and 7 net yards rushing.
"He got settled in and did some good things,'' said Whittingham, who added that Thompson will still be in the mix to play quarterback although "Travis is our guy.''
Brandon Cox came on midway through the fourth quarter and completed all three of his passes for 17 yards and ran twice for 22 yards, including a 16-yard touchdown run with 1:57 left.