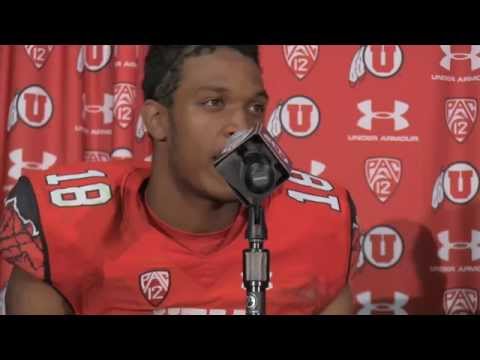 View 37 Items


SALT LAKE CITY — After opening his postgame press conference by noting there were a lot of positives in Thursday's 56-14 season-opening win over Idaho State at Rice-Eccles Stadium, Utah coach Kyle Whittingham opted to address many of the negatives early in his remarks.
Whittingham didn't think the Utes were physical enough on either side of the line of scrimmage. He also felt they gave up too many rushing yards (179) and didn't get enough push on the offensive line.
The two biggest negatives, Whittingham explained, were a lack of takeaways (none on defense) and a turnover on offense (a fumble), plus the line of scrimmage.
On the positive side, Whittingham noted the Utes did some solid things on special teams — highlighted by Kaelin Clay returning both a punt and a kickoff for touchdowns.
Utah racked up 589 yards of total offense, with starting quarterback Travis Wilson, wide receiver Dres Anderson and running back Devontae Booker posting good numbers.
"It was good to get the win, absolutely. I don't want to downplay that," Whittingham said. "The reality is we've got a lot of work to do. But we got a win. The degree of difficulty, like the last several years, gets harder in game two."
Utah hosts Fresno State on Saturday, Sept. 6. The Bulldogs visit USC this weekend. Whittingham noted that the Utes will watch that game closely, adding that Fresno State was one win from a BCS game last season.
"So we've got to be ready," he said. "We have to play better than we did today on the line of scrimmage — both sides."
After making a three-and-out debut, Utah's faster-paced offense under new coordinator Dave Christensen kicked into high gear over its next three possessions. The Utes scored touchdowns on drives that took little time off the clock, beginning with a 32-second march that ended with a 6-yard run by Bubba Poole.
The outburst, however, was interrupted by Idaho State's lone score of the half.
Trailing 7-0 after Andy Phillips added the PAT for the Utes, the Bengals moved the ball 75 yards on 10 plays to even things up. A 3-yard scoring strike from Justin Arias to Broc Malcolm and an extra-point kick from Zak Johnson made it 7-7 with 5:15 left to play in the first quarter.
Utah responded to the challenge by resuming its up-tempo success on offense. The ensuing drive covered 75 yards on eight plays as the Utes reclaimed the lead and kept it for good. Wilson, who connected with Booker on a 61-yard pass play along the way, dove into the end zone from 2 yards out for the touchdown.
Early in the second quarter, a 38-yard TD run by Booker capped a four-play sequence that lasted only 42 seconds.
And just like that — including a couple more PATs by Phillips — Utah had a 21-7 lead.
The margin grew before the half was complete thanks to a 46-yard punt return by Clay; a 26-yard touchdown toss from Wilson to Kenneth Scott; and more contributions from Phillips.
Besides a 35-7 halftime lead, the Utes held a 379-179 advantage in total offense. Wilson was 13 of 18 passing for 265 yards over the first two quarters, while Anderson had four catches for 111 yards.
Nate Orchard led the defense with eight tackles and 2 1/2 sacks in the first half.
After the break, backup Kendal Thompson replaced Wilson at quarterback. Although the Oklahoma transfer's initial series included two sacks, the Utes did end scoring another touchdown — thanks to a 4-yard run by Booker. The 12-play drive was kept alive on a risky fake punt deep in Utah territory when Hackett ran 28 yards for a first down.
Trailing 42-7, Idaho State cut into the deficit when Arias threw a 6-yard TD pass to KW Williams midway through the third quarter.
67
comments on this story
Utah retaliated swiftly. Clay returned the kickoff 100 yards for a touchdown, becoming the first Pac-12 player to take a kick and a punt back for a score in the same game since Deltha O'Neal of California did it in 1999.
"It felt great. I pride myself on special teams," Clay said. "It's one of those things that usually go unnoticed. But I take a lot of pride in it."
The Utes added another TD with just under two minutes remaining when redshirt freshman quarterback Brandon Cox contributed a 16-yard run.
"It was a great start to the season," Wilson said. "But there are still some things we need to improve."
Email: dirk@desnews.com
Twitter: @DirkFacer